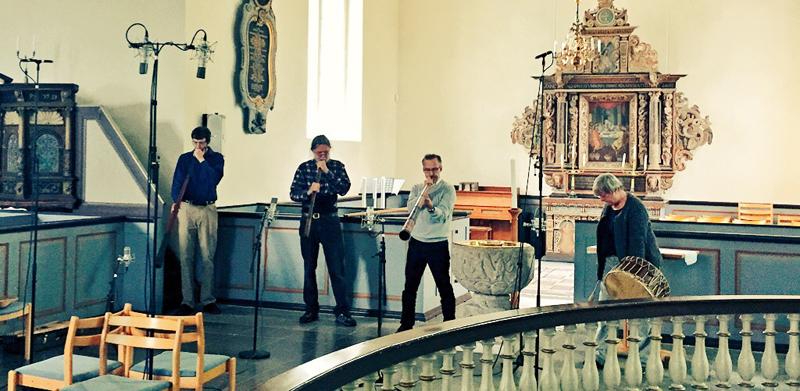 Hear music for voice soaring over a drone in works by Hildegard of Bingen, Sir John Tavener, & ancient music of Scandinavia, as performed by members of Ensemble Mare Balticum. 
Listen to ancient music of Scandinavia from Sweden's Ensemble Mare Balticum, part of the European Music Archaeology Project (EMAP.) It's from a record winningly titled "ICE and LONGBOATS," Volume 2 of a 5-part series of recordings where EMAP has imagined the instruments Vikings played and the voices they sang with - specifically from the early centuries of Christianity in Scandinavia.
There's music by German composer, abbess, writer, & mystic, Hildegard of Bingen, for voice and hurdy-gurdy, performed by Sequentia. Then, listen to a work by contemporary British composer Brian Elias for soprano and hurdy-gurdy, based on the Song of Songs. Also, hear music from Armenia in a work from the Haissmavourk Choir, along with a work by the late English composer & mystic, Sir John Tavener from the Louth Contemporary Music Society.
Then, hear music from the North Indian classical tradition involving the drone instrument, the tanpura (or tambura, tanpuri) which accompanies raga singing. From July of 2000, listen to an exclusive in-studio performance by F. Wasifuddin Dagar – the alap section (an improvisation section, a prologue of sorts, before the drums begin) of Raga Chaundrakauns. All that, and more. 
PROGRAM  #3990, voice and drone (First Aired: 6/06/2017)  
ARTIST(S)

RECORDING

CUT(S)

SOURCE

Sequentia

Music For Paradise: The Best Of Hildegard Von Bingen

 

Hildegard : O presul vere civitatis (sequence fol. 475v) [8:47]

Deutsche Harmonia Mundi 798305
Available at Arkiv music http://www.arkivmusic.com/classical/Drilldown?name_id1=5384&name_role1=1&comp_id=1447&bcorder=15&name_id=62235&name_role=4

Red Byrd

Songs of Love and Death

Brian Elias: Song, excerpt [4:48] (23:08:43 )

Facd 336 Out of print. 
 Info at www.cerysmaticfactory.info

Ensemble Mare Balticum

ICE and LONGBOATS: Ancient Music of Scandinavia

Lux Illuxit [5:52] (23:14:49)

Delphian
DCD 34181
Available via Amazon.com or http://www.prestoclassical.co.uk/r/Delphian/DCD34181

Faiyaz Wasifuddin Dagar

NS live 7/24/00

Raga Chaundrakauns, alap [7:12] (25:48)

This performance not commercially available.

Louth Contemporary Music Society

Path

Sir John Tavener: Samaveda [13:05] (23:33:06)

Louth Contemporary Music Society 1001
http://www.louthcms.org/recordings/path/

The Haissmavourk Choir

The Music of Armenia, Vol. 1 : Sacred Choral Music

Sirt im sasani (My heart is trembling) [4:38] (23:46:18)

Celestial Harmonies 13115
www.harmonies.com

Annea Lockwood/ Santa Monica High School Women's Chorus

Youtube?

Malolo, Lullabye on a Samoan text [3:24] (23:50:46)

Shirley Collins

Amaranth/Anthems in Eden Suite

Edi Beo Thu Hevene Quene [3:43] (23:55:21)

Beat Goes On
BGOCD 442
Out of print. Try Amazon.com for Vinyl or CD