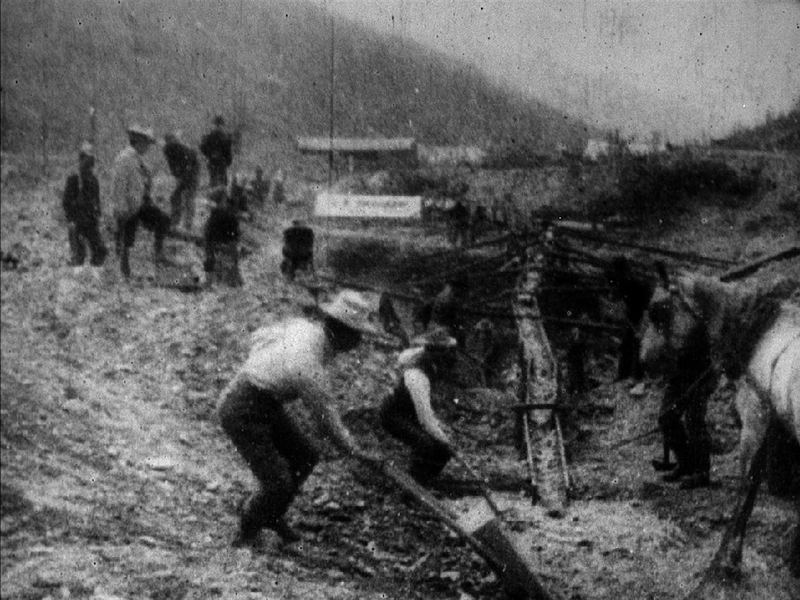 It's that time of the month again for the new releases show on New Sounds. John Schaefer carefully separates the wheat from the chaff for this show.  He'll sort through the stacks of new CDs, the Soundcloud files, and other digital submissions which have come across his desk and into his inbox over the past month to present some of the finest new releases. He'll skim off the cream. He'll pick the lentils from the ashes. You get it. 
Sample new music for the Bill Morrison film 'Dawson City:Frozen Time'. The film pieces together the history of a Canadian gold rush town, Dawson City, by chronicling its film collection, which was buried in a sub-arctic swimming pool for over 50 years. The area had been a hunting and fishing camp for a nomadic First Nation tribe called the Tr'ondëk Hwëch'in until they were displaced by the Klondike Goldrush. The influx of prospectors settled the town in 1896; Dawson City began showing films in 1902. The city was the last stop of a distribution chain that sent prints and newsreels to the Yukon throughout the 1910's and 1920's. The soundworld for the film is by Alex Somers (of Jonsi & Alex)  and John Somers, Alex's brother. 
Also, listen to new music from Iraqi composer Amir ElSaffar & Rivers of Sound, which combines santour (dulcimer) & oud (lute) with saxophone and trumpet along with piano, bass & drums. There's also a bit of music by composer & pianist Kate Simko & the London Electronic Orchestra, who marries classical strings with synthesizers and electronic grooves. Hear music from violinist Cornelius Dufallo (FLUX & ETHEL) by Syrian composer Kinan Azmeh for violin and digitally processed backing track. Azmeh dedicated the piece to the innocent victims of Syria's tragic civil war and humanitarian crisis.  Plus, music from Daniel Schmidt & The Berkeley Gamelan & more. 
PROGRAM #3987, New Releases, May 2017 (First Aired: 5/31/2017)  
ARTIST: Bill Morrison/Alex Somers
WORK: Dawson City/Frozen Time, excerpt [1:00]
RECORDING: Dawson City/Frozen Time
INFO: picturepalacepictures.com
ARTIST: Daniel Schmidt & The Berkeley Gamelan
WORK: In My Arms, Many Flowers [7:03] 
RECORDING: In My Arms, Many Flowers
SOURCE/INFO: recitalprogram.com
ARTIST: Bill Morrison/Alex Somers
WORK: Dawson City/Frozen Time, excerpts [6:43]
RECORDING: Dawson City/Frozen Time
INFO: picturepalacepictures.com
ARTIST: Cornelius Dufallo
WORK: Kinan Azmeh: How Many Would it Take [6:34]
RECORDING: Journaling 2
SOURCE: Innova 960
INFO: innova.mu
ARTIST: Amir ElSaffar/Rivers of Sound
WORK: Jourjina Over Three [7:13]
RECORDING: Not Two
SOURCE: New Amsterdam Records
INFO: Due out June 16 | newamsterdamrecords.bandcamp.com
ARTIST: Kate Simko & London Electronic Orchestra
WORK: Cairo [5:31]
RECORDING: Kate Simko & London Electronic Orchestra
SOURCE: The Vinyl Factory 204
INFO: katesimko.com, available at juno.co.uk
ARTIST: Collin Sherman
WORK: Instance of Coincidence [7:46]
RECORDING: Biologic Obligations
SOURCE/INFO: collinsherman.bandcamp.com
ARTIST: Colin Stetson
WORK: All this I do for glory [7:20]
RECORDING: All this I do for glory
SOURCE/INFO:  colinstetson.bandcamp.com