New Sounds
#3985: Music For an Imaginary American West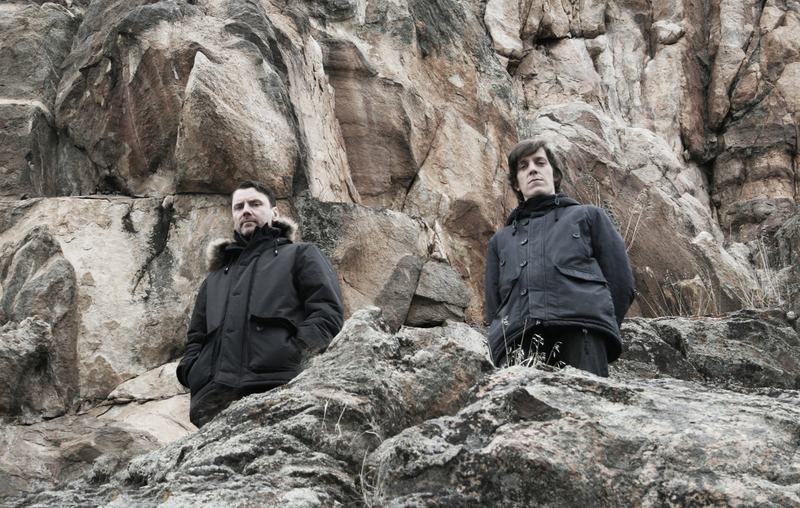 Listen to the latest record from Cuban-American Delia Gonzalez, a composer & multi-disciplinary artist based in both New York City & Berlin. Hear "Roulette" from Horse Follows Darkness, which gradually layers in interlocking piano rhythms and riffs, along with sweeping synths, rolling in like a storm sweeping across an open expansive sky. Gonzalez thought of these instrumentals as a soundtrack to her return from Berlin, but also "saw parallels between her journey and American Western films of the 1960s," writes J. Edward Keyes, in a review on Bandcamp.
There's also music from the duo High Plains, which is electronic musician Scott Morgan (loscil) and the Madison, Wisconsin-based cellist Mark Bridges. Recorded in oxygen-thin air of Saratoga, Wyoming, in a refurbished school house, their record, Cinderland is a collection of cinematic soundscapes inspired by the "rugged mythic landscape" with a "wild, sprawling, uncertain edge." Plus, hear a collaborative film score by the Austin, TX band, Explosions in the Sky, who, together with David Wingo, made the soundtrack to the independent film Prince Avalanche. 
Listen to more music for an imaginary American west on this New Sounds, including twangy-nourish surf guitar (and the iconic whistled melody) from The Good, The Bad & the Ugly, along with the theme from Twin Peaks, and a bit of Ry Cooder's score to the Wim Wenders' film, Paris, Texas. Then, hear music from composer and tuba player Tom Heasley, evoking the Western sky, as well as layers of pedal steel guitar from composer and instrument builder, Chas Smith.  
PROGRAM #3985, Music For an Imaginary American West (First Aired: 5/25/2017) 
ARTIST: Delia Gonzales
WORK: Roulette, excerpt [1:00]
RECORDING: Horse Follows Darkness
SOURCE: DFA Records 
INFO: deliagonzalez.bandcamp.com
ARTIST: Ennio Morricone
WORK: The Good, the Bad &The UglyTheme [2:39] 
RECORDING: The Good, The Bad & the Ugly [Original Motion Picture Soundtrack]
SOURCE: Capitol Records 4701889 
INFO: Available at Amazon.com or iTunes
ARTIST: Angelo Badalamenti
WORK: Twin Peaks Theme [5:10]
RECORDING: Twin Peaks Soundtrack
SOURCE: Warner Bros. #26316
INFO: Available for purchase at Amazon.com
ARTIST: High Plains
WORK: Blood that ran the Rapids [3:27] 
RECORDING: Cinderland
SOURCE: Kranky KRANK206
INFO: kranky.net |  highplainskranky.bandcamp.com
ARTIST: Delia Gonzales
WORK: Roulette  [7:39] 
RECORDING: Horse Follows Darkness
SOURCE: DFA Records 
INFO: deliagonzalez.bandcamp.com
ARTIST: Ry Cooder
WORK: Paris, Texas [2:45] 
RECORDING: Paris, Texas: Original Motion Picture Soundtrack
SOURCE: Warner #25270
INFO: Available at Amazon.com
ARTIST: Explosion In The Sky & David Wingo
WORK: Alone time [4:59] 
RECORDING: Prince Avalanche
SOURCE: Temporary Residence TRR 222CD
INFO: temporaryresidence.com
ARTIST: Chas Smith
WORK: Joaquin Murphey [7:01] 
RECORDING: Nakadai
SOURCE: Cold Blue 0029
INFO: coldbluemusic.com
ARTIST: Chas Smith
WORK: Joaquin Murphey [7:01] 
RECORDING: Nakadai
SOURCE: Cold Blue 0029
INFO: coldbluemusic.com
ARTIST: Tom Heasley
WORK: Western Sky, excerpt [11:18]
RECORDING: Where the Earth Meets the Sky
SOURCE: Hypnos #2135
INFO: hypnos.com