New Sounds
#3983: Music From East and Southeast Africa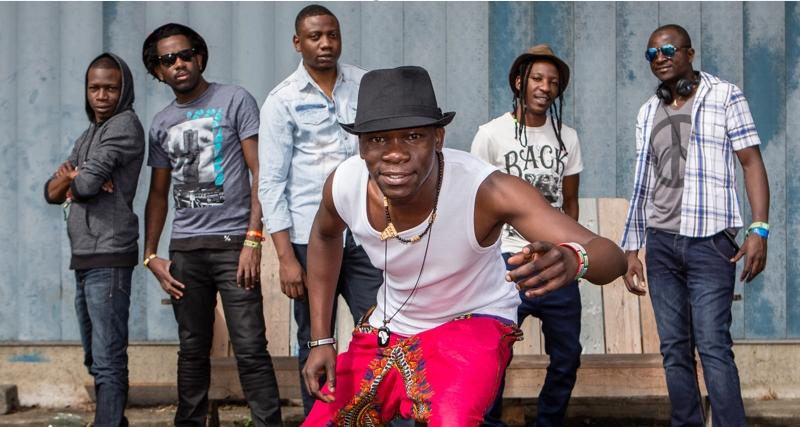 Listen to music from parts of east and southeast Africa on this edition of New Sounds. Hear new music from the Zimbabwean 6-piece band Mokoomba, (which means means "deep respect for the river.") Their songs are a unique blend of Tonga and Luvale traditional rhythms, infused with soukous, funk, and ska. On the latest record, Luyando, Mokoomba dig into their Tonga heritage, singing most of the songs in that language (spoken by the first inhabitants of the Zambezi Valley of Southern Africa) as well as other tunes sung in Shona, Luvale, and Ndebele.
There's also music from Zanzibar and Uganda, along with cross-cultural music with roots in Zimbabwe, Mozambique, Norway and Sweden from Monoswezi, and Kenyan musicians recorded by German percussionist Sven Kacirek. Plus, listen to a work from Evan Ziporyn which contains samples of Tanzania instruments from an album made in East Africa in 1950, along with a Kenyan choir singing the Kyrie from the Missa Luba, an African mass.
Listen to music by Monoswezi, where Zimbabwean mbira and vocals come together with Mozambican percussion and cool Scandinavian jazz. Also, listen to a musical journey through Kenya, from German percussionist/producer Sven Kacirek, who collected field recordings from musicians he met along the Kenyan coast. Then, hear mbira music from Stella Chiweshe, a Zimbabwean player who is one of the few female players of the instrument, which is seldom played by women. 
PROGRAM #3983, Music from east and southeast Africa (First Aired: 5/17/2017)      
ARTIST: Evan Ziporyn
WORK: Malume Remix, excerpt [1:00]
RECORDING: In My Mind and In My Car
SOURCE: Airplane Ears
INFO: Digital download only. airplaneears.com
ARTIST: Mokoomba
WORK: Mokole (Smoke that thunders) [4:14]
RECORDING: Luyando
SOURCE: Out | Here Records OH030
INFO: outhere.de/outhere/mokoomba
ARTIST: Stella Chiweshe
WORK: Mugomba [3:05] 
RECORDING: Ambuya?
SOURCE: Shanachie 65006, out of print.
INFO: Try the "Best of Stella Chiweshe" through www.shanachie.com OR try Amazon's other sellers
ARTIST: Tau Ea Linare (Lesotho)
WORK: He O Oe Oe [3:03]
RECORDING: In The Blood
SOURCE: Rykodisc 20174
INFO: Available at Amazon.com
ARTIST: Kikundi cha Sanaa za Maonesho Zanzibar 
WORK: Mbaya Kufanya Jema [4:17] 
RECORDING: The Music of Zanzibar - Taarab 3
SOURCE: Globe Style 40
INFO: acerecords.co.uk/taarab-3
ARTIST: Conjunto Nimala de Lalauah
WORK: Noijukuru [4:50]
RECORDING: Saba Saba!
SOURCE: Globe Style CDORBD 077
INFO: http://acerecords.co.uk/-41
ARTIST: Monoswezi
WORK: Wadadisa [3:37]
RECORDING: Monoswezi Yanga
SOURCE: TUGCD 1090
INFO:  worldmusic.net | monoswezi.com
ARTIST: Sven Kacirek
WORK: Dear Anastasia [5:28]
RECORDING: the Kenya Sessions
SOURCE: Pingipung #20
INFO: pingipung.de
ARTIST: Tarika Sammy
WORK: Fanaon'ny Ankizy [2:23] 
RECORDING: A World Out of Time; Henry Kaiser & David Lindley In Madagascar
SOURCE: Shanachie 64041
INFO: shanachie.com OR Amazon.com
ARTIST: Evan Ziporyn
WORK: Malume Remix [3:14]
RECORDING: In My Mind and In My Car
SOURCE: Airplane Ears
INFO: Digital download only. airplaneears.com
ARTIST: Various Artists
WORK: Jirani na Waganga [2:52]
RECORDING: Africa Acoustic, Vol. 2: Kenya Dry Guitar 1950-1965
SOURCE: Original Music #110 (1988)
INFO: Out of print.
ARTIST: Muungano National Choir, Kenya
WORK:  Missa Luba: Kyrie (Guido Haazen) [4:08]
RECORDING: Missa Luba: Muungano National Choir
SOURCE: Philips 426836
INFO: Reissued on Decca in 2009
Try Arkiv Music OR Amazon.com
ARTIST: Samite of Uganda
WORK: Muno Muno  [5:37]
RECORDING: Pearl Of Africa Reborn
SOURCE: Shanachie #65008. 
INFO: Try Amazon.com