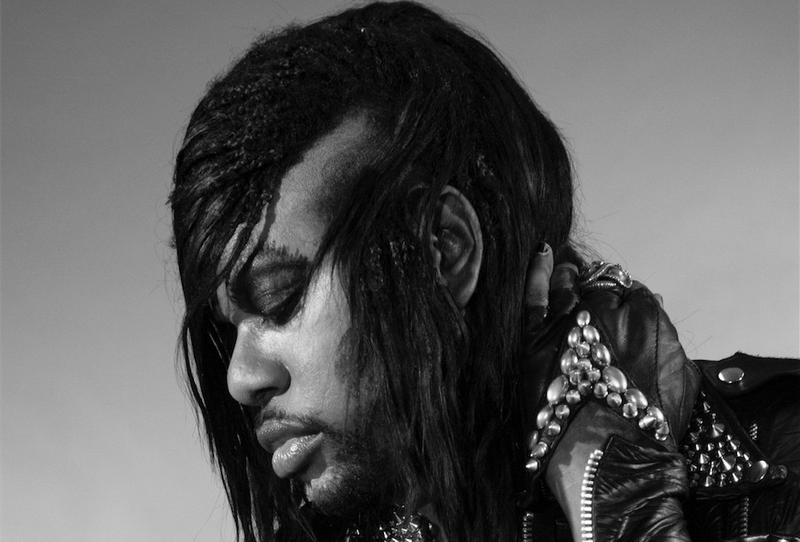 On this edition of New Sounds, listen to music from the countertenor M. Lamar, which draws from spirituals, folk music, opera, and contemporary metal. Hear music from the composer, drummer, and bandleader, David T. Little, prepared piano with effects from composer Kelly Moran, and a work from the Norwegian doom-jazz trio Splashgirl. There's also heavy and sorrow-laden music from Colin Stetson, and dark tremolo guitar work from composer & member of Krallice, Mick Barr.
Listen to a work from pianist/composer and metal/minimalism theorist Kelly Moran. She has all kinds of metal going on inside the piano she has prepared, for her work called "glacial," from her record of recent material called Optimist. Then, listen to a work conceived of as a lament from within the bowels of a slave ship by countertenor M. Lamar from his record, Speculum Orum: Shackled to The Dead. Speculum Orum refers to a device use on slave ships to force feed captured Africans who had refused food. Hear his "Trying to leave my body" which is about death and death's "sweet release from a world that has become unlivable," as he writes. (As a side note, Diamanda Galas has insisted that M. Lamar is rather more a mezzo soprano and said that "his singing is luscious.")
There's also music by Colin Stetson- his reimagining of the late Polish composer Henryk Gorecki's "greatest hit" – the Symphony No.3, "Symphony of Sorrowful Songs." Instead of a symphony orchestra, Stetson has altered and compressed the work for mixed rock & classical ensemble and elicits "climactic moments that echo the rhythmic and textural tension of black metal," (John Schaefer, Soundcheck). Hear droning and snarling saxophone, the poignant strings (Sarah Neufeld of Arcade Fire, Rebecca Foon of Esmerine), synthesizers, and electric guitars, together with drummer Greg Fox and operatic soprano- his sister, Megan Stetson singing the Polish text which deals explicitly with loss and grief.
Then listen to music from the Iceland-based composer Ben Frost. (Ben Frost's record, By the Throat is still one of the most frightening pieces of music I have ever heard – Caryn Havlik, NSAPA.) Hear music from Frost's opera "The Wasp Factory," which, like his work, By The Throat, "asks where—and whether—the boundary can be drawn separating the human animal from the terrible, destructive brutality of nature." Plus, hear a sample from composer & heavy metal drummer David T. Little's opera "Soldier Songs," which captures the extremes of the battlefield. 
Also, listen to music by New York-based avant metal guitarist/composer Mick Barr under his OCRILIM moniker. Others might know his chamber music or his work in the band Krallice. Rounding out the show is ambient guitar music by the mighty Kevin Hufnagel (Gorguts, Dysrhythmia, Sabbath Assembly, Vaura.)
Hugest thanks to John Schaefer for this birthday indulgence. –Caryn Havlik, NSAPA 
PROGRAM #3982, A hint of metal (First Aired: 5/16/2017)     
ARTIST: Kelly Moran
WORK: Mgla interpretation [:24]
RECORDING: Twitter
SOURCE/INFO: twitter.com/kellymoran
ARTIST: Mgla
WORK: With Hearts Toward None I [:30] 
RECORDING: With Hearts Toward None
SOURCE: Malignant Voices
INFO: no-solace.bandcamp.com
ARTIST: Kelly Moran
WORK: glacial [3:47]
RECORDING: Optimist
SOURCE/INFO: kellymoran.bandcamp.com
ARTIST: Colin Stetson
WORK: Part II [10:13]
RECORDING: Sorrow: A Reimagining of Gorecki's 3rd Symphony
SOURCE: 52hz 52HZ001CD
INFO: Kartel Music Group,  colinstetson.com

ARTIST: Ben Frost / Reykjavík Sinfonia
WORK: My Greatest Enemies are Women & the Sea [4:16]
RECORDING: The Wasp Factory
SOURCE: Bedroom Community
INFO: benfrost.bandcamp.com
ARTIST: David T. Little
WORK: Warrior IV. Still Life with Tank and iPod [2:18]
RECORDING: Soldier Songs
SOURCE: New Amsterdam NWAM026
INFO: newamsterdamrecords.com | newspeakmusic.org
ARTIST: M. Lamar
WORK: Trying To Leave My Body [5:28]
RECORDING: Speculum Orum: Shackled to The Dead
SOURCE/INFO: mlamar.com/store
ARTIST: Splashgirl
WORK: Bleak Warm Future [6:32] 
RECORDING: Hibernation
SOURCE: Hubro HUBROCD2559 /HUBROLP3559
INFO: hubromusic.com
ARTIST: Kevin Hufnagel
WORK:  Damaged Clouds [4:46] 
RECORDING: Backwards Through the Maze
SOURCE/INFO: kevinhufnagel.bandcamp.com
ARTIST: Ocrilim (Mick Barr)
WORK: Grey, excerpt [3:23]
RECORDING: SRILIMIA
SOURCE/INFO: ocrilim.bandcamp.com