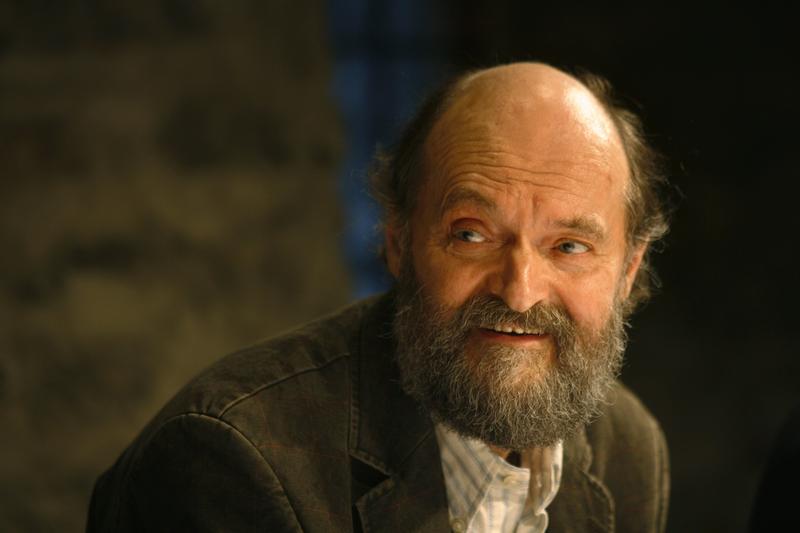 Hear music by Estonian composers Arvo Pärt and Mirjam Tally, as well as music from the late Estonian composer Veljo Tormis, who died in early 2017. Listen to a "lament for the living" by Estonian composer Arvo Pärt, from his larger work, Lamentate. There's also Arvo Pärt's setting of De Profundis, as sung by The Hilliard Ensemble, together with organ & gong.
Then, hear "Sinu vari" (Your shadow) for chorus, orchestra and electronics from Estonian composer Mirjam Tally, who now lives and works in Sweden.  Also, there's music by the late Veljo Tormis, his "Curse Upon Iron," a suggestive symphony for voices, which uses glissandos, shouts, shrieks, and percussive singing together with pounding percussion. He wrote a lot of pieces based on traditional Estonian folklore; this one based on a chant that was traditionally performed while shaping an iron weapon or tool, sung so that it doesn't come back to kill you. At the work's climax, the chorus sings (in Estonian) about nuclear warheads and plutonium as it imitates the hair-raising sound of an air-raid siren.
Plus hear music with a sacred cast by Urmas Sisask, based on scales derived from the orbits of the planets. The ratios of the planetary orbits gave a scale close of that to the pentatonic scale. Rounding out the show is a work by Erkki-Sven Tüür, which combines renaissance textures and melody with the rockenroll's driving rhythms. 
PROGRAM #3977, new music from Estonia (First Aired: 5/2/2017)  
ARTIST: Veljo Tormis / Estonian Philharmonic Chamber Choir
WORK: A Curse Upon Iron, excerpt [1:00]
RECORDING: Litany to Thunder
SOURCE: ECM 1687
INFO: ecmrecords.com
ARTIST: Hilliard Ensemble; Lubimov, SWR Stuttgart
WORK: Arvo Part: Lamentate: Lamentabile  [5:46]
RECORDING: Lamentate
SOURCE: ECM 1930
INFO: ecmrecords.com
ARTIST: The Hilliard Ensemble
WORK: Arvo Pärt: De Profundis [6:51]
RECORDING: Arbos
SOURCE: ECM 1325
INFO: ecmrecords.com

ARTIST: Collegium Musicale Chamber Choir, conductor Endrik Üksvärav
WORK: Mirjam Tally - Sinu Vari (poem: Kristiina Ehin) [6:57]
RECORDING: Live from Kultuurikatel in Tallinn, Estonia
SOURCE: By Estonian Classical Radio
INFO: soundcloud.com/collegium-musicale/mirjam-tally

ARTIST: Estonian Philharmonic Chamber Choir, Paul Hillier, cond.
WORK: Urmas Sisask : Oremus, from Gloria Patri [8:08]
RECORDING: Baltic Voices 2
SOURCE: Harmonia Mundi #907331
INFO: harmoniamundi.com

ARTIST: Veljo Tormis / Estonian Philharmonic Chamber Choir
WORK: A Curse Upon Iron [9:58]
RECORDING: Litany to Thunder
SOURCE: ECM 1687
INFO: ecmrecords.com
ARTIST: Absolute Ensemble
WORK: Erkki-Sven Tuur - III "Postmetaminimal Dream", excerpt [8:45]
RECORDING: Architectonics
SOURCE: CCn'C Records 01812
INFO: Out of print, but try iTunes, Amazon.com or Emusic.com