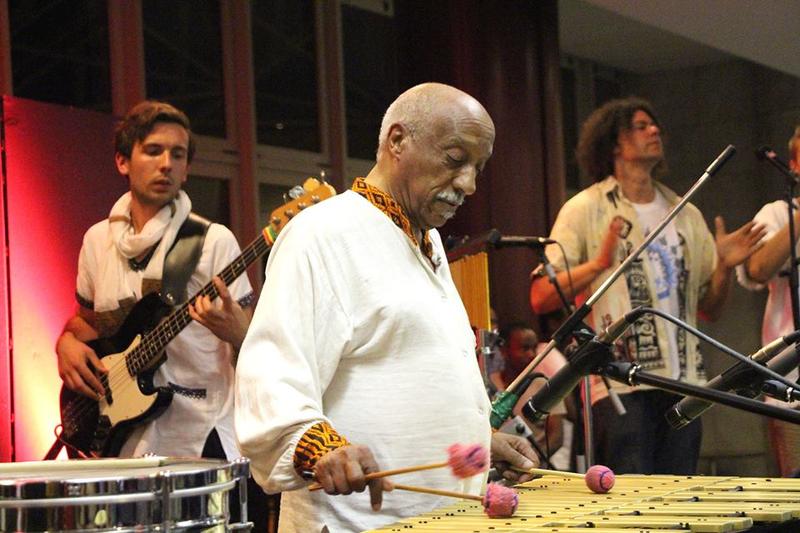 Hear music both old and new from great African big bands, like Fela Kuti & Africa 70, Franco & Le TPOK jazz, and the Ethiojazz of Mulatu Astatke, representing Nigeria, Congo, and Ethiopia, respectively.
Listen to music by Fela Kuti, the father of the style known as "Afrobeat" music. For those paying attention, Fela repeatedly gave credit to his drummer Tony Allen for his work in creating the style. Also, hear a tune from Tony Allen and his band's forthcoming EP, A Tribute to Art Blakey, another giant of a drummer.
From Benin, listen to music by the Gangbe Brass Band and Orchestre Poly-Rythmo, as well as a tune from the supergroup of great women musicians calling themselves Les Amazones d'Afrique, featuring the Beninese singer/musician Angelique Kidjo, among other great vocalists and musicians from Gabon, Mali, and Nigeria who are part of the collective.
Then, hear music from one of the grand old bands of West African music, Orchestre Baobob, from their most recent record, Tribute to Ndiouga Dieng, dedicated to one of the band's original vocalists who died in November of 2016. And more. 
PROGRAM #3975, African big bands (First Aired: 4/27/2017)
ARTIST: Fela Kuti
WORK: Everything Scatter, excerpt [1:00]
RECORDING: Best of the Black President Vol. 2
SOURCE: Knitting Factory Records KFR1029-0
INFO: knittingfactoryrecords.com
ARTIST: Mulatu Astatke
WORK: Mulatu [5:04]
RECORDING: Mulatu of Ethiopia
SOURCE: Strut Records (Reissue)
INFO: Due out May 5, 2017 strut-records.com
ARTIST: Tony Allen
WORK: Politely [6:41] 
RECORDING: A Tribute to Art Blakey
SOURCE: Blue Note Records
INFO: Due out May 19, 2017 | bluenote.com
ARTIST: Les Amazones d'Afrique - Angelique Kidjo
WORK: Dombolo [5:13]
RECORDING: Republique Amazone
SOURCE: Real World Records  CDRW217 
INFO: realworldrecords.com
ARTIST: Gangbé Brass Band
WORK: Akoué  [4:36] 
RECORDING: Go Slow to Lagos
SOURCE: Buda Musique
INFO: budamusique.com
ARTIST: Orchestre Poly-Rythmo
WORK: Tegbe [4:24] 
RECORDING: Cotonou Club
SOURCE: STRUT 077
INFO: strut-records.com | polyrythmo.com
ARTIST: Orchestra Baobab
WORK: Magnokouto [4:54]
RECORDING: Tribute to Ndiouga Dieng
SOURCE: World Circuit Records 
INFO: shop.worldcircuit.co.uk
ARTIST: Franco & Le TPOK Jazz
WORK: Nzube oleka te [4:36]
RECORDING: Francophonic -A retrospective Vol.1 1953-1980
SOURCE: Sterns Africa/ Discovery Records STCD3041-42
INFO: discovery-records.com
ARTIST: Fela Kuti
WORK: Everything Scatter [10:33]
RECORDING: Best of the Black President Vol. 2
SOURCE: Knitting Factory Records KFR1029-0
INFO: knittingfactoryrecords.com