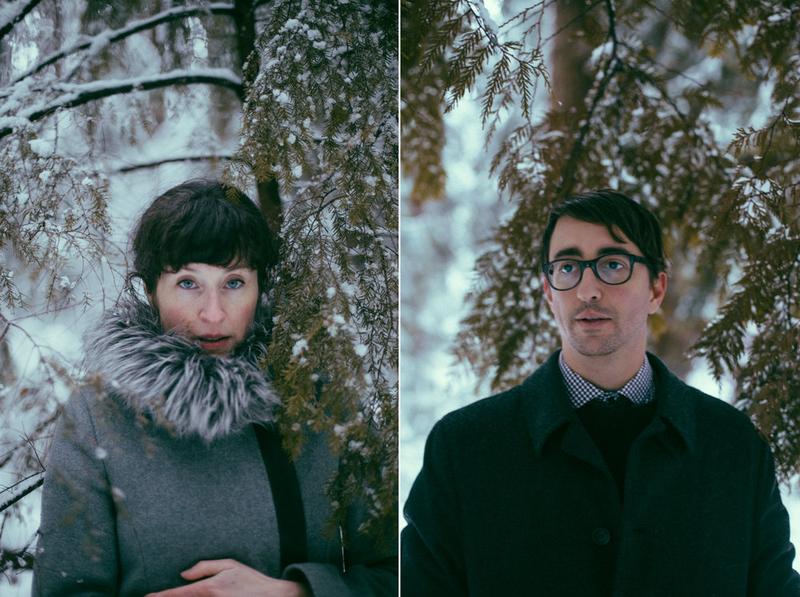 For this New Sounds, hear the weird and the dark in the world of folk music, bookended by the tale of "Two Sisters" or "The Cruel Sister" or "The Wind and Rain." In between, hear music from the Canadian North, from Finland, from the Moravian folk tradition, and Brussels/Paris-based Balkan-influenced renaissance dance music.
There's new music from Dálava, a project led by vocalist Julia Ulehla & guitarist Aram Bajakian along with a band of improvisers, who channel traditional Moravian folk music on their latest record, The Book of Transfigurations. Sample "The bloody wall," the story of a young man's murder told in a Rashomon-like trading of vantage points, featuring a dove. Ulehla writes in the liner notes that the dove often represents a deceased person who has come to communicate with the human world once again. Also, she writes that the text of this song is "one of the strangest texts I have encountered," in her PhD research of Moravian folk song. Here's the translation:
The bloody wall
A dove flew from the neighbor's window
She sat on the gate, what are you doing my son
At the son's, behind the door, there's a bed with big covers
On that bed, the son is lying, he holds his busted head
What my love, what did you do, that you let the son get beat up
I was defending, I could not, I took a kerchief and I cried
On white wall of the neighbors there flows innocent blood
The girl paints over it but innocent blood seeps through
Don't seep through innocent blood, you used to be my love once
Don't paint over it, you won't get relief from it, unless you part properly
Already the wall is painted over, my love parted with him
Then listen to Tyrolean harp, Renaissance flutes, and the relentless percussion in the menacing folk-pop of Lolomis, who are a Parisian/Belgian quartet. On their latest record, Boukane, they also explore throat-singing, and the Inuk breathing games that women play. Then, listen to said Inuk throat games at the root of the folk-rooted alt-country of the Jerry Cans, from Iqaluit, Nunavut in the Canadian Arctic. The Jerry Cans perform many of their songs in Inuktitut, incorporating traditional throat singing, while representing northerners and challenging common mis-perceptions about life in the Arctic.
Hear multiple takes of the traditional murder ballad, "Two Sisters," one by indie folk-rocker Andrew Bird, another by singer-songwriter Will Sheff of Okkervil River, and a setting by Nico Muhly featuring folk singer Sam Amidon.  Plus, listen to music by the Finnish wildman, Pekko Käppi, and his jouhikko, a Finnish variation of a bowed lyre. 
PROGRAM #3974,  the dark side of folk music (First Aired: 4/24/2017)    
ARTIST: Andrew Bird
WORK: Two Sisters [4:14]
RECORDING: Music of Hair (1996)
SOURCE/INFO: andrew-bird-webstore.myshopify.com
ARTIST: Lolomis
WORK: Ezlani [3:40]
RECORDING: Boukane
SOURCE: Buda Musique
INFO: Due out April 28, 2017 | lolomis.net
ARTIST: Lolomis
WORK: Pourquoi n'es tu pas la [2:49]
RECORDING: Boukane
SOURCE: Buda Musique
INFO: Due out April 28, 2017 | lolomis.net
ARTIST: Dálava
WORK: Dyby ňa moja maměnka stara / Grass [3:07]
RECORDING: The Book of Transfigurations
SOURCE/INFO: arambajakian.bandcamp.com
ARTIST: Dálava
WORK: Vyletěla holubička / The bloody wall [5:45]
RECORDING: The Book of Transfigurations
SOURCE/INFO: arambajakian.bandcamp.com
ARTIST: Okkervil River  
WORK: Oh The Wind and Rain [3:57]
RECORDING: Black Sheep Boy (10th anniv ed.)
SOURCE: JAGJAGUWAR JAG280
INFO: secretlystore.com

ARTIST: The Jerry Cans
WORK: Nirliit [4:21] 
RECORDING: Inuusiq
SOURCE: Aakuluk Music
INFO: Due out May 5th | http://www.thejerrycans.com
ARTIST: The Jerry Cans
WORK: Ukiuq [4:47] 
RECORDING: Inuusiq
SOURCE: Aakuluk Music
INFO: Due out May 5th | http://www.thejerrycans.com
ARTIST: Pekko Käppi
WORK: Käärmetyttö [4:10]
RECORDING: Rammat Jumalat
SOURCE: Helmi064
INFO: www.recordshopx.com Listen via soundcloud.com/helmi-levyt
ARTIST: Pekko Kappi & K:H:H:L
WORK: Pirun ja papin polska [4:35]
RECORDING: Arctic Paradise 2016
SOURCE: musicfinland.fi
INFO: arcticparadise2016.tumblr.com

ARTIST: Nico Muhly/Sam Amidon
WORK: Muhly: The Only Tune Pt. 3 The Two Sisters [4:47] 
RECORDING: Nico Muhly: Mothertongue
SOURCE: Brassland #018 / Bedroom Community HVALUR 5
INFO: brassland.org | bedroomcommunity.net | nicomuhly.com