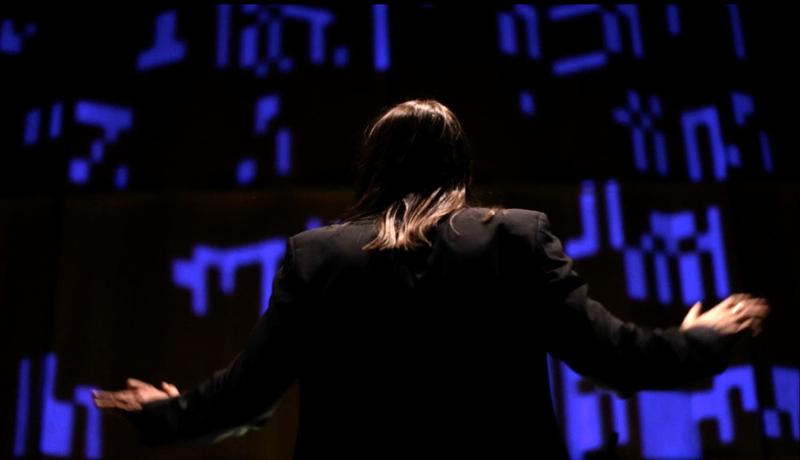 From prepared piano, bowed piano, player piano, piano and electronics, listen to new music centered on the piano for this New Sounds. Hear piano-based music set in electronic haze from Armenia's Tigran Hamasyan. His work is both composed and improvised, and sometimes, as in this case, is overlaid, or atop a bed of electronic production. Then listen to music by Canadian-born composer and pianist John Kameel Farah, who splits time between Toronto and Berlin, from his record, Time Sketches.
Hear a somewhat dank percussion orchestra in prepared piano music from Kelly Moran, from her record, Bloodroot. Plus, hear music from the piano insides from the Stephen Scott Bowed Piano Ensemble, from Vikings of the Sunrise. The music consists of sound patterns inspired by ancient and heroic sagas of the first long-distance ocean navigators – the Polynesians- and is created by rubbing fishing line against the piano strings, among other techniques. 
Listen to music by Max Richter based around motoric piano, and flowing strings, which is part of a ballet, based on Virginia Woolf's novel Mrs. Dalloway. Also, hear Poland-born, New York-based composer Jakub Ciupinski's four-part suite for Vicky Chow, "Morning Tale."Plus, listen to a bonus track from Icelandic composer Ólafur Arnalds' Island Songs, music by Ludovico Einaudi, and more. 
PROGRAM #3968, Piano-based New Music (First Aired: 4/11/2017)    
ARTIST: Max Richter / Louisa Fuller, Natalia Bonner, John Metcalfe, Ian Burdge, Chris Worsey
WORK: Mrs Dalloway: Meeting Again, excerpt [1:00]
RECORDING: Max Richter Three Worlds: Music from Woolf Works
SOURCE: Deutsche Grammophon 0289 479 7158 
INFO: deutschegrammophon.com
ARTIST: Tigran Hamasyan
WORK: Leninagone [3:54]
RECORDING: An Ancient Observer
SOURCE: Nonesuch Records 559114
INFO: nonesuch.com
ARTIST: John Kameel Farah
WORK: Grasshopper Dance [5:34] 
RECORDING: Time Sketches
SOURCE: Neue Meister / Edel Kultur Label  0300945NM
INFO: neue-meister-music.com

ARTIST: Kelly Moran
WORK: Bloodroot [3:28]
RECORDING: Bloodroot
SOURCE: Telegraph Harp TH 011
INFO: telegraphharp.com

ARTIST: Stephen Scott's Bowed Piano Ensemble
WORK: Vikings of the Sunrise, excerpt [9:00]
RECORDING: Vikings of the Sunrise: Fantasy on the Polynesian Star Path Navigators
SOURCE: New Albion 84
INFO: newalbion.com

ARTIST: Max Richter / Louisa Fuller, Natalia Bonner, John Metcalfe, Ian Burdge, Chris Worsey
WORK: Mrs Dalloway: Meeting Again [6:07]
RECORDING: Max Richter Three Worlds: Music from Woolf Works
SOURCE: Deutsche Grammophon 0289 479 7158 
INFO: deutschegrammophon.com
ARTIST: Vicky Chow
WORK: Jakub Ciupinski: Morning Tale i. Nocturne [3:34],  Morning Tale ii. Alba [1:28]
RECORDING: Aorta
SOURCE: New Amsterdam Records NWAM083
INFO: newamrecords.com

ARTIST: Vicky Chow
WORK: Jakub Ciupinski: Morning Tale iii. Awakening [2:20],  Morning Tale iv. The Miracle of Being Earnest [4:38]
RECORDING: Aorta
SOURCE: New Amsterdam Records NWAM083
INFO: newamrecords.com
ARTIST: Lubomyr Melnyk
WORK: Solitude No. 1 [7:37] 
RECORDING: Illirion
SOURCE: Sony Classical 88985315582

ARTIST: Ólafur Arnalds
WORK: Study For Player Piano (II) [3:38]
RECORDING: Island Songs
SOURCE: mercuryclassics.com
INFO: islandsongs.is   

ARTIST: Whitetree /Ludovico Einaudi
WORK: ulysses and the cats, excerpt [1:15]
RECORDING: Cloudland
SOURCE: Ponderosa 062
INFO: ponderosa.it