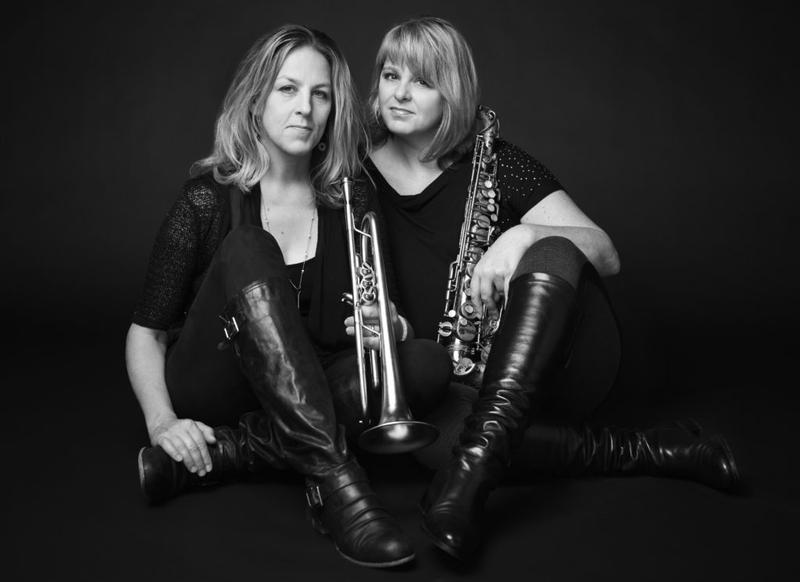 For this New Sounds, hear music which may enter the realm of jazz, but admits other sounds from other parts of the world and other genres. From Canada, sample music from the Jensen sisters -trumpeter Ingrid, and sax player Christine- along with featured guitarist Ben Monder, whose guitar lines intertwine with Christine's alto sax on the tune "Octofolk." Then hear brand-new music from Lapland, Sweden by jazz/folk guitarist Torbjörn Ömalm which involves loops, layers and handclaps, along with brand-new music from trumpeter Christian Scott aTunde Adjuah, over a bed of electronica- and hiphop-influenced production. 
Then there's whispery chamber jazz from Norwegian trumpeter Arve Henriksen, which involves a string ensemble, along with music from UK-based trumpeter/improviser Laura Jurd which also involves a string quartet, and is dedicated to the Czech violinist/vocalist Iva Bittova. Plus, hear music from Toronto-based quartet BADBADBADNOTGOOD, featuring additional saxophone reinforcements from none other than Colin Stetson. 
Listen to jazz-with-a-groove music with shifting meters (7/8 and 3/4, for those counting along) from the Jon de Lucia Group, wickedly titled, "Seven Ate Three For You." Hear post-rock, folk-jazz and art-rock -also with odd time signatures- in music from Serbia. From the quartet EYOT, straight out of the kitchen of sound engineer Steve Albini, hear a work (in fives) dedicated to one of the greatest Serbian scientists, Milutin Milankovic. Also, from Serbia, there's folk-jazz music (in sprightly sevens) from Nenad Vasilic.
PROGRAM #3964, A Touch of Jazz (First Aired: 3/24/2017)  
ARTIST: Arve Henriksen
WORK: Svante Henryson:  Keen, excerpt [1:00]
RECORDING: The Nature Of Connections
SOURCE: RCD 2161
INFO: Rune Grammofon
ARTIST: Christian Scott aTunde Adjuah
WORK: The Reckoning, excerpt [:45]
RECORDING: Ruler Rebel
SOURCE: Ropeadope Records, Due out March 31, 2017
INFO: christianscott.bandcamp.com
ARTIST: EYOT
WORK: Canon of Insolation [4:48]
RECORDING: Innate
SOURCE: Ninety and Nine Records
INFO: eyot.bandcamp.com
ARTIST: Jon De Lucia Group
WORK: Seven Ate Three For You [3:40]
RECORDING: As The River Sings
SOURCE: Fresh Sound New Talent FSNT 221 
INFO: jondelucia.com
ARTIST: Nenad Vasilic
WORK: Budenje [4:49]
RECORDING: Seven
SOURCE/INFO: vasilic.com 
ARTIST: BADBADBADNOTGOOD (Feat. Colin Stetson)
WORK: Confessions Pt II [6:25]
RECORDING: IV
SOURCE/INFO: badbadnotgoodil.bandcamp.com
ARTIST: Christian Scott aTunde Adjuah
WORK: The Reckoning [3:16]
RECORDING: Ruler Rebel
SOURCE: Ropeadope Records, Due out March 31, 2017
INFO: christianscott.bandcamp.com
ARTIST: Torbjörn Ömalm
WORK: Huhta [4:33]
RECORDING: Muutos: Short Letters to Unknown Recipients
SOURCE/INFO: torbjrnmalm.bandcamp.com
ARTIST: Arve Henriksen
WORK: Svante Henryson: Keen [5:13]
RECORDING: The Nature Of Connections
SOURCE: RCD 2161
INFO: Rune Grammofon
ARTIST: Ingrid & Christine Jensen
WORK: Octofolk [6:52]
RECORDING: Infinitude
SOURCE: Whirlwind Recordings
INFO: whirlwindrecordings.com
ARTIST: Laura Jurd ft. Elliot Galvin, piano; Conor Chaplin, double bass; Corrie Dick, percussion, with The Ligeti Quartet
WORK: The Lady of Bruntal [5:26]
RECORDING: Landing Ground
SOURCE: Chaos Collective
INFO: chaos-collective.com Or soundcloud.com/laurajurd 
Available at amazon.co.uk or Emusic.com