New Sounds
#3961: Roomful of Teeth & Nick Zammuto from New Sounds Live/Ecstatic Music Festival 2017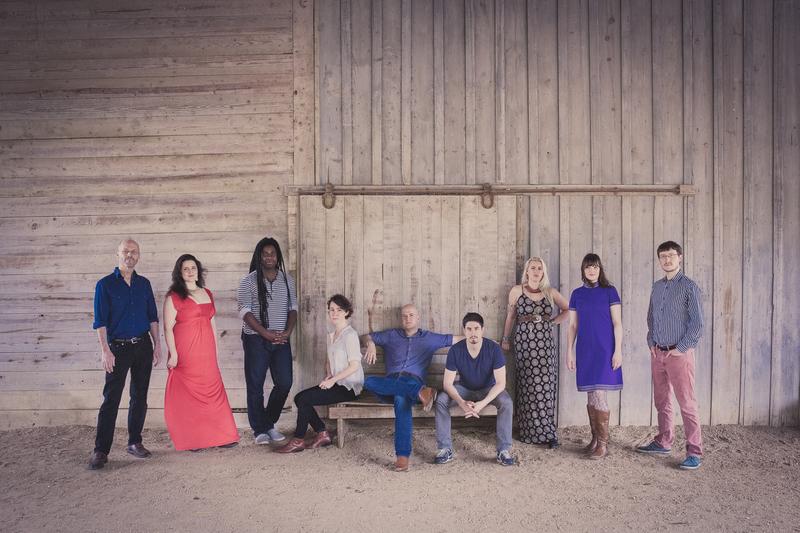 From the 2017 New Sounds Live concert series & the Ecstatic Music Festival at Merkin Hall, listen to vocal-driven adventures via octet, with a bit of augmentation from composer Nick Zammuto, along with the New York Premiere of a brand-new work by Pulitzer Prize-winning composer, vocalist, and violinist, Caroline Shaw. Her piece, "The Isle," inspired by Shakespeare's "The Tempest," sets speeches of Ariel, Calaban, & Prospero.  
Also, hear a work by Nick Zammuto (The Books), intended for each of the eight voices of Roomful of Teeth, "ToBeGinAGain." As the composer explains, "In each part, a soloist sings through a stereo pitch/delay unit that shifts their performance in time and melody against their real voice in various ways. The rest of the group supports the soloist and their imposter copies in real time. A counterpoint is created between the "original" and the "copy" much as we are constantly trying to catch up with our virtual identities in the digital world. I find that the copied and shifted voices are somewhere between supernatural and unnatural in a way that makes me simultaneously fascinated and discomforted."
All that, and a work from German singer/songwriter/composer  Alev Lenz, originally featured in the closing episode of the 2016 edition of the show, "Black Mirror." Plus, hear a short piece by Judd Greenstein, and a work by William Brittelle which has traces of Inuit breathing games. 
PROGRAM #3961, Roomful of Teeth performs Caroline Shaw, Nick Zammuto, William Brittelle, Alev Lenz (First Aired: 3/16/2017) 
ARTIST: Roomful of Teeth
WORK: Caroline Shaw: Partita, excerpt [1:25]
RECORDING: Roomful of Teeth
SOURCE: New Amsterdam NWAM 041
INFO: roomfulofteeth.org
ARTIST: Roomful of Teeth
WORK: William Britelle: High Done No Why To [4:48]
RECORDING: New Sounds Live/Ecstatic Music Festival at Merkin Hall, 3/12/17
SOURCE: This performance not commercially available.
INFO: williambrittelle.com

ARTIST: Roomful of Teeth & Nick Zammuto
WORK: Nick Zammuto: ToBeGinAGain- Parts 1, 2, 3, 5, 6 [11:07]
RECORDING: New Sounds Live/Ecstatic Music Festival at Merkin Hall, 3/12/17
SOURCE: This performance not commercially available.
INFO: zammutosound.com

ARTIST: Roomful of Teeth
WORK: Caroline Shaw: The Isle [15:25]
RECORDING: New Sounds Live/Ecstatic Music Festival at Merkin Hall, 3/12/17
SOURCE: This performance not commercially available.
INFO: carolineshaw.com

ARTIST: Roomful of Teeth
WORK: Judd Greenstein: Montmartre [5:15]
RECORDING: New Sounds Live/Ecstatic Music Festival at Merkin Hall, 3/12/17
SOURCE: This performance not commercially available.
INFO: juddgreenstein.com

ARTIST: Roomful of Teeth
WORK: Alev Lenz: Fall Into Me [3:59]
RECORDING: New Sounds Live/Ecstatic Music Festival at Merkin Hall, 3/12/17
SOURCE: This performance not commercially available.
INFO: alevlenz.tumblr.com