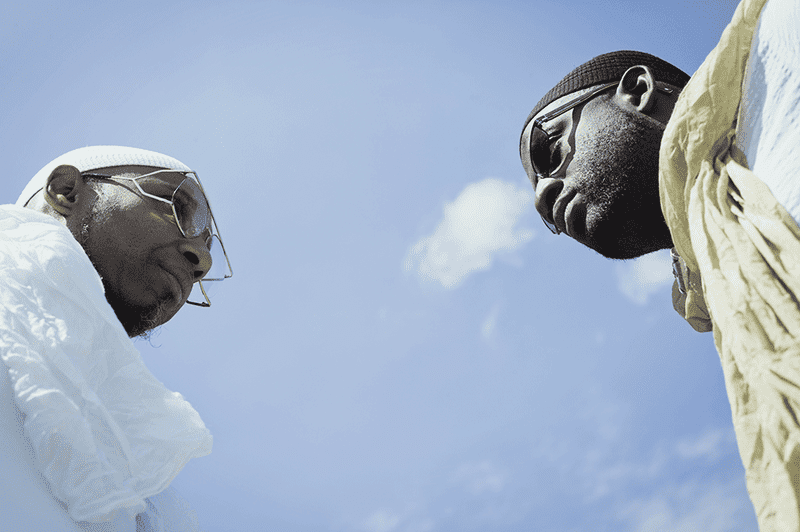 Hear music with an Afro-Cuban connection for this New Sounds. Listen to music from the brand-new release from Cuban pianist Omar Sosa and Senegalese kora master, Sekou Keita, called Transparent Water. It's a stunning record, one which conjures translucence and flowing light; it is also deeply spiritual in the shared dialolgue between the musicians.
Then, listen to music from Cuban pianist Roberto Fonseca, from his recent "ABUC," which, please note, is "Cuba" spelled backwards. Plus, revisit music from a record worth repeated spins, AfroCubism, featuring a long-overdue collaboration between Malian and Cuban musicians, whose first attempt at collaboration, much thwarted by travel restrictions, yielded the lauded Buena Vista Social Club.
Also, hear music from legendary Beninese band, Orchestre Poly-Rythmo. There's something from another legend or two in music from Cuban singer Omara Portuondo, accompanied by Roberto Fonseca, and a sneak peek at music from the Preservation Hall Jazz Band. All that, and more.
PROGRAM #3958, Afro-Cuban Connection (First Aired: 3/10/2017)    
ARTIST: Roberto Fonseca
WORK: Afro Mambo, excerpt [1:00]
RECORDING: Abuc
SOURCE: Impulse! 002571502
INFO: Available at Amazon.com or iTunes
ARTIST: Omar Sosa & Seckou Keita
WORK: Dary [5:09]
RECORDING: Transparent Water
SOURCE: Otá Records / World Village OTA 1031
INFO: omarsosa.com | melodia.com
ARTIST: AfroCubism
WORK: Mali Cuba [5:37]
RECORDING: AfroCubism
SOURCE: Nonesuch 525993
INFO: nonesuch.com
ARTIST: Omar Sosa & Seckou Keita
WORK: Tama-Tama [4:55]
RECORDING: Transparent Water
SOURCE: Otá Records / World Village OTA 1031
INFO: omarsosa.com | melodia.com
ARTIST: AfroCubism
WORK: Jarabi [5:57]
RECORDING: AfroCubism
SOURCE: Nonesuch 525993
INFO: nonesuch.com
ARTIST: Roberto Fonseca
WORK: Afro Mambo  [3:44]
RECORDING: Abuc
SOURCE: Impulse! 002571502
INFO: Available at Amazon.com or iTunes
ARTIST: Le Tout-Puissant Orchestre Poly-Rythmo
WORK:  Madjafalao ("Watch Out") [7:20]
RECORDING: Madjafalao
SOURCE: Because Music BEC 5156646
INFO: forcedexposure.com or Amazon.com
ARTIST: Preservation Hall Jazz Band
WORK: Santiago [4:01]
RECORDING: So It Is
SOURCE: Due out April 21, 2017 
INFO: preservationhalljazzband.com
ARTIST: Omara Portuondo & Roberto Fonseca
WORK: Drume Negrita("Sleep, little black girl") [4:27]
RECORDING: Live on Soundcheck, Feb. 2009
SOURCE: This performance not commercially available.
INFO: The song is available on her album, Palabras via Intuition Music (INT 31862)
ARTIST: Roberto Fonseca with Mike Ladd
WORK: Mi Negra Ave Maria [5:22]
RECORDING: YO
SOURCE: Concord Jazz PRO-CJ-0575
INFO: concordmusicgroup.com | robertofonseca.com