New Sounds
#3955: Unusually Constructed Chamber Ensembles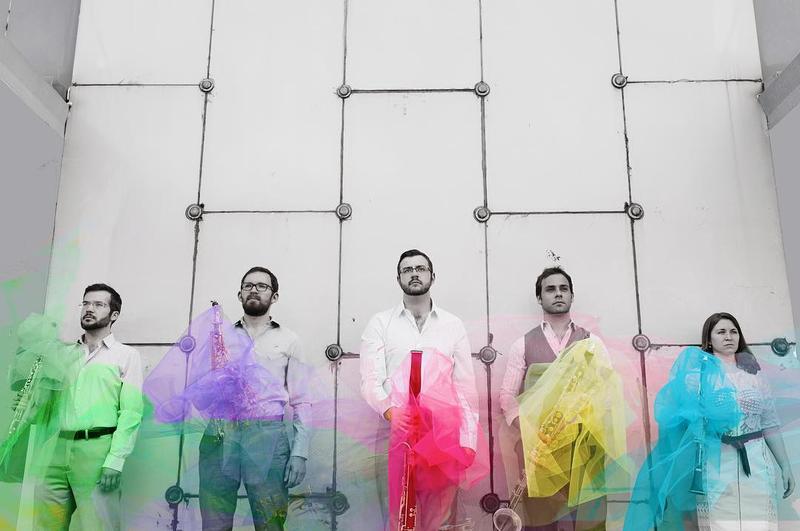 From the Akropolis Reed Quintet (sax, oboe, clarinet, bassoon, bass clarinet), to a percussion armada of Third Coast Percussion and Due East which includes metal, stone, wood, & bowls of water, to the Tarkovsky Ensemble, a European-based foursome consisting of cello, piano, soprano sax, and accordion, to a string quartet with a banjo player (Brooklyn Rider & Bela Fleck), listen to unusually constructed chamber ensembles on this New Sounds. 
OK. Busted. It's just fun to say "Death Metal Chicken" – the subtitle of the first movement of the piece, "Refraction" by Michigan-based composer David Biedenbender. It was inspired by a viral YouTube video capturing "the absurdity of a rooster crowing to overdubbed death metal and the humans who watch him." The work is played by the Ann Arbor-based Akropolis Reed Quintet. 

Then, hear music from a gaggle of percussionists and one flute player in music by Wisconsin-based Jeff Herriott, featuring the two musicians of Due East and Third Coast Percussion. It's from Herriott's concert work written for Due East called "The Stone Tapestry" where he allows attention to be drawn to our natural landscape by using percussion like Metal (\m/), stone, wood, and bowls of water.
Also, hear music from PRISM, along with the Tarkovsky Quartet. Plus a new work from Bela Fleck and Brooklyn Rider -  the work "Griff," composed on a G riff… 
PROGRAM #3955, Unusually Constructed Chamber Ensembles (First Aired: 3/2/2017)  
ARTIST: Akropolis Reed Quintet
WORK: David Biedenbender: Refraction I – Death Metal Chicken [1:41]
RECORDING: The Space Between Us
SOURCE: Innova 969
INFO: Due out March 24, 2017 | innova.mu
ARTIST: PRISM Quartet
WORK: Gregory Wanamaker: Speed metal Organum Blues [1:14]
RECORDING: Dedication
SOURCE: Innova 800
INFO: innova.mu
ARTIST: PRISM Quartet
WORK: Tim Ries: Lu [2:38]
RECORDING: Dedication
SOURCE: Innova 800
INFO: innova.mu
ARTIST: PRISM Quartet
WORK: Roshanne Etezady: Inkling [1:10]
RECORDING: Dedication
SOURCE: Innova 800
INFO: innova.mu
ARTIST: Tarkovsky Quartet
WORK: Traum VI [2:24]
RECORDING: Nuit Blanche
SOURCE: ECM 2524
INFO: ecmrecords.com
ARTIST: Akropolis Reed Quintet
WORK: David Biedenbender:  Refraction II -Kyrie For Machaut [4:31]
RECORDING: The Space Between Us
SOURCE: Innova 969
INFO: Due out March 24, 2017 | innova.mu
ARTIST: Tarkovsky Quartet
WORK: Nuit Blanche [5:38]
RECORDING: Nuit Blanche
SOURCE: ECM 2524
INFO: ecmrecords.com
ARTIST: Due East & Third Coast Percussion
WORK: Jeff Herriott: Clouds of Stone (section 1) [15:46]
RECORDING: Jeff Herriott: The Stone Tapestry
SOURCE: New Focus Recordings FCR 175
INFO: newfocusrecordings.com
ARTIST: Bela Fleck & Brooklyn Rider
WORK: Griff (G riff) [14:39]
RECORDING: The Juno Concerto
SOURCE: Rounder Records
INFO: Due out March 3, 2017 | belafleck.com