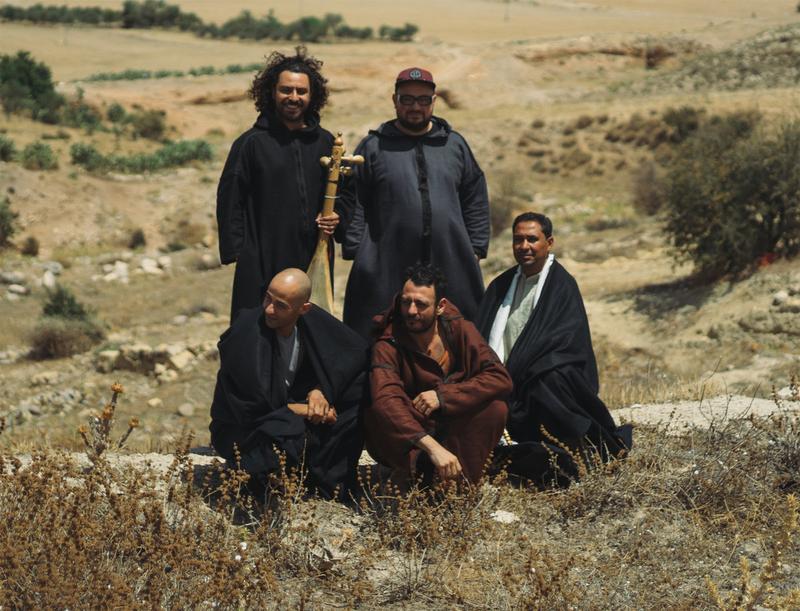 For this New Sounds, hear some recent releases that look to North Africa; between Tunisia and Algeria, as far east as Ethiopia, and music which builds on the sounds of the traditional Gnawan trance rhythms of Morocco.
Listen to North African folk-rock from Bargou 08, which takes its name after the rural isolated town of Bargou, in northern Tunisia, between the mountains and the Algerian border. The region is home to a musical heritage known as Targ, one which singer Nidhal Yahyaoui and the producer Sofyann Ben Youssef have revived. Using local musicians playing frame-drums, loutar (lute), local reed instruments the gasba and zokra, and endblown flutes, they're calling the resulting blend of Berber and Arabic music "electro-trad."
Also, hear "psyche-delicious" music from the Belgium based Ethiodubgroove band Black Flower, who describe their music as if "John Zorn put on Fela Kuti's shoes and imbibed Mulatu Astatke's whirls." Then, there's minimalist modal jazz Moroccan trance music from Joshua Abrams and a shifting-line up of musicians - the 'Natural Information Society'. On their latest album,  Simultonality, they use traditional & electric instrumentation to explore stasis, continuity, repetition and layering. Plus, listen to hypnotic, pulsing music from the enhanced duo known as 75 Dollar Bill (featuring sax, violin, & bass, in addition to guitars, and percussion) that "weaves an ecstatic line from raw electric blues, Arabic modes and entrancing folk minimalism." That, and more. 
PROGRAM #3953,  music inspired by North Africa (First Aired 2-27-2017)    
ARTIST: Hassan Hakmoun
WORK: Chbakrou Allah Allah, Excerpt [:20]
RECORDING: Spirit
SOURCE: Healing Records 2005 
INFO:  cdbaby.com
ARTIST: Joshua Abrams & Natural Information Society
WORK: Sideways Fall, Excerpt [1:00]
RECORDING: Simultonality
SOURCE: Eremite Records / Glitterbeat
INFO: Due out April 14, 2017 | eremite.com 

ARTIST: Tinariwen
WORK: Sastanàqqàm [3:21]
RECORDING: Elwan
SOURCE: Anti Records
INFO: anti.com/tinariwen
ARTIST: 75 Dollar Bill
WORK: Beni Said [12:30]
RECORDING: Wood​​/​​Metal​​/​​Plastic​​/​​Pattern​​/​​Rhythm​​/​​Rock
SOURCE: 75-dollar-bill.bandcamp.com / Glitterbeat Records
INFO: Due out April 7, 2017
ARTIST: Bargou 08
WORK: Tarjaachi layem [5:30]
RECORDING: Targ
SOURCE: Glitterbeat Records
INFO: bargou08.bandcamp.com
ARTIST: Black Flower
WORK: Abeba Zeybekiko [4:44]
RECORDING: Artifacts
SOURCE: Zephyrus Music 
INFO: blackflower.be | blackflower1.bandcamp.com
ARTIST: Black Flower
WORK: Realm And Era [6:44]
RECORDING: Artifacts
SOURCE: Zephyrus Music 
INFO: blackflower.be | blackflower1.bandcamp.com
ARTIST: Joshua Abrams & Natural Information Society
WORK: Sideways Fall [12:12]
RECORDING: Simultonality
SOURCE: Eremite Records / Glitterbeat
INFO: Due out April 14, 2017 | eremite.com