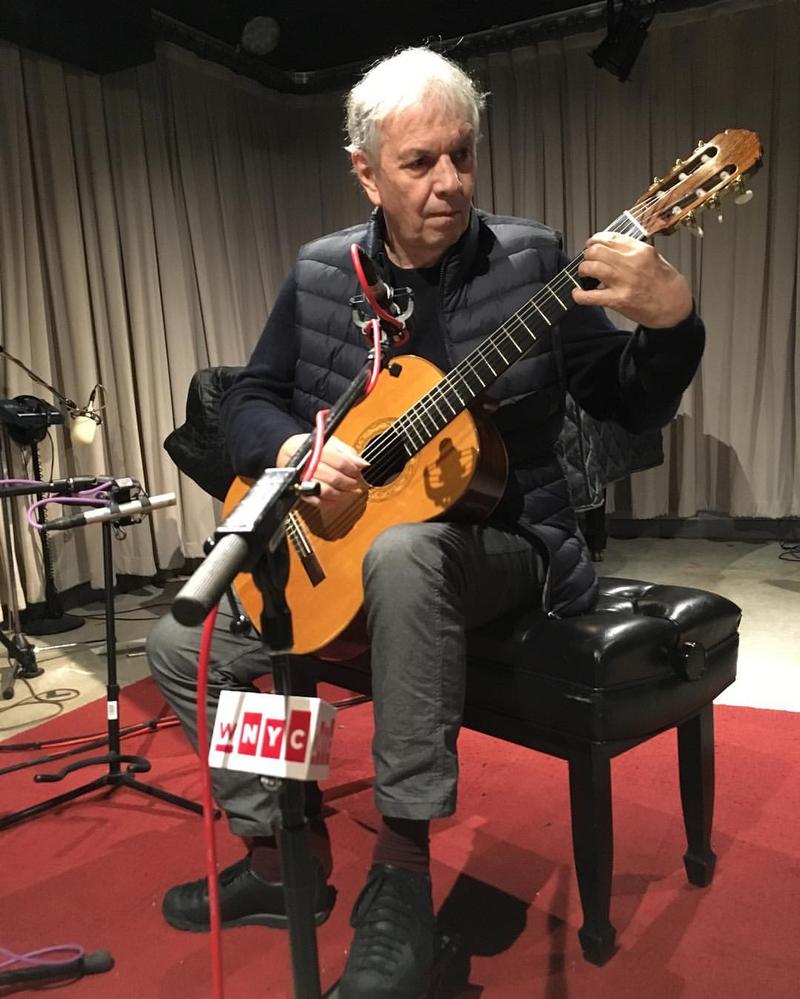 Guitarist, pianist, and composer Ralph Towner, who is also a co-founder of the group Oregon, and an original member of the Paul Winter Consort besides, joins us in the studio for a session filled with guitar-artistry for this New Sounds. His latest record, My Foolish Heart (ECM Records), is a collection of original works for solo guitar, but for the title track, which is Towner's adaptation of the Victor Young/Ned Washington standard. He recalls that it was the 1961 recording by jazz pianist Bill Evans of "My Foolish Heart" which prompted him to dive into learning the piano in order to figure out Evans' playing. Towner didn't even start to learn the guitar until he was 22.
That said, listen to Towner's guitar acrobatics live from the session, as he performs original instrumental works like "Saunter," and "I Will Sing To You," along with a tune drawn from the blues - "Blue As In Bley," reminiscent of the way that the late Canadian pianist Paul Bley played. Also, hear selections from the record, like "Dolomiti Dance," which sounds like could be from Northern Italy, according to Manfred Eicher, the record producer and founder of ECM Records.
Arrangements of music by George Gershwin from the late Larry Coryell from a 1991 in-studio performance round out the show. 
PROGRAM #3951, With Ralph Towner (First Aired 2-23-2017)  
ARTIST: Ralph Towner
WORK: Victor Young/Ned Washington: My Foolish Heart [3:51]
RECORDING: My Foolish Heart
SOURCE: ECM Records 2516
INFO: ecmrecords.com           
ARTIST: Ralph Towner
WORK: Saunter [5:00], I Will Sing To You [4:06]
RECORDING: Live, WNYC, Feb. 16, 2017
SOURCE: This performance not commercially available. 
INFO: The tunes appear on "My Foolish Heart"(ECM Records)
ARTIST: Ralph Towner
WORK: Clarion Call [4:40]
RECORDING: My Foolish Heart
SOURCE: ECM Records 2516
INFO: ecmrecords.com    
ARTIST: Ralph Towner
WORK: Blue as in Bley [3:54]
RECORDING: Live, WNYC, Feb. 16, 2017
SOURCE: This performance not commercially available. 
INFO: The tune appears on "My Foolish Heart"(ECM Records)
ARTIST: Ralph Towner
WORK: Dolomiti Dance [4:24]
RECORDING: My Foolish Heart
SOURCE: ECM Records 2516
INFO: ecmrecords.com    
ARTIST: Larry Coryell
WORK: Gershwin: Rhapsody in Blue, arr. Coryell/Ryuta Suzuki [5:16]
RECORDING: Live, WNYC, July 1991
SOURCE/INFO: This performance not commercially available
ARTIST: Larry Coryell
WORK: Gershwin: Summertime, arr. Coryell, excerpt [2:49]
RECORDING: Live, WNYC, July 1991
SOURCE/INFO: This performance not commercially available