New Sounds
#3947: English Folk - Traditional Tales of Love & Woe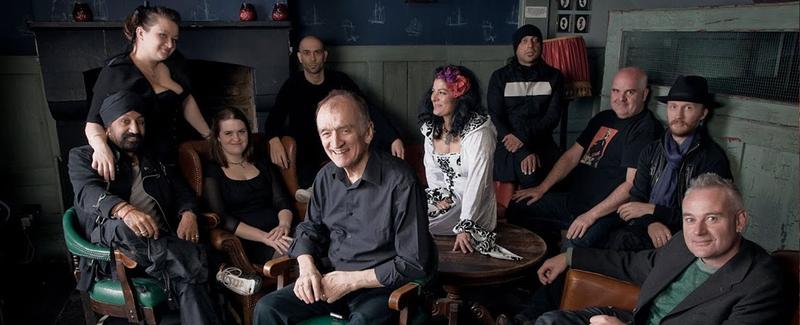 Sample the traditional sounds of English folk music, going back to Fairport Convention and Steeleye Span, up to and including recent music from The Imagined Village project, and encompassing the Anglo-Indian singer Sheila Chandra. Hear tales of love gone wrong, songs about the sea, & other old folk songs in interesting, sometimes multicultural arrangements.  
Hear music from The Imagined Village, a project founded by Simon Emmerson of the Afro Celt Sound System. Listen to the song, "Cold Hailey Rainy Night," a tale of loving and leaving, where a soldier beseeches a young maiden to let him in out of the weather, despite her parents being up and walking around the house. Spoiler: he doesn't marry her. This tune features performances by Eliza Carthy, Chris Wood, Transglobal Underground and The Young Copper Family.
Plus, more music in the  tradition of love gone wrong from the folk-tronica band Tunng, from their record, Comments of the Inner Chorus. Then, there is music about the sea from Robert Wyatt as sung by the Unthanks, and another tune from Tunng. 
Also, hear classic recordings from Fairport Convention and Steeleye Span, along with music by Sheila Chandra, and more. 
PROGRAM #3947, English folk/rock (First Aired 2-14-2017) 
ARTIST: The Imagined Village
WORK: Cold Hailey Rainy Night, excerpt [1:00]
RECORDING: Real World 25
SOURCE: Real World Records - #CDRW 203 (3 CD Set) 
INFO:  realworldrecords.com
ARTIST: Tunng
WORK: Sweet William [3:36]
RECORDING: Comments of the Inner Chorus
SOURCE: Full Time Hobby FTH019
INFO: fulltimehobby.co.uk OR tunng.co.uk
ARTIST: Tunng
WORK: Song of the sea [3:55]
RECORDING: This is Tunng: mother's daughter and other songs
SOURCE: Static Caravan [VAN88] 
INFO: tunng.co.uk
ARTIST: Rachel Unthank & the Winterset (now The Unthanks)
WORK: Robert Wyatt - Sea Song [6:10]
RECORDING: The Bairns
SOURCE: Real World #1158
INFO:  realworldrecords.com
ARTIST: Andrew Cronshaw, ft June Tabor
WORK: Ship in distress [7:52]
RECORDING: The Great Dark Water
SOURCE: LP, Waterfront WF 009 (1982), and on cassette Waterfront WF 009c (1991)
INFO: Re-released on CD in 2010 by Acrobat Music Ltd as Trapeze TRACD6502 discovery-records.com
ARTIST: Steeleye Span ft. Maddy Prior
WORK: When I was on Horseback [6:07]
RECORDING: Ten Man Mop or Mr. Reservoir Butler Rides Again
SOURCE: Shanachie #79049
INFO: Available at Amazon.com  
ARTIST: The Imagined Village
WORK: Cold Hailey Rainy Night [6:10]
RECORDING: Real World 25
SOURCE: Real World Records - #CDRW 203 (3 CD Set) 
INFO:  realworldrecords.com
ARTIST: Sheila Chandra
WORK: The Enchantment [4:32]
RECORDING: Weaving my Ancestors Voices
SOURCE: Caroline 2322 / Real World Records
INFO: realworldrecords.com
ARTIST: Fairport Convention
WORK: Reynardine [4:29]
RECORDING: Liege & Lief
SOURCE: A&M #SP-4257,
INFO: Reissued on CD in 1990; available for purchase at Amazon.com
ARTIST: The Village Band
WORK: Pilsdon Pen, excerpt [2:12]
RECORDING: Imagined Village
SOURCE: Real World Records 884108-0142
INFO: realworldrecords.com