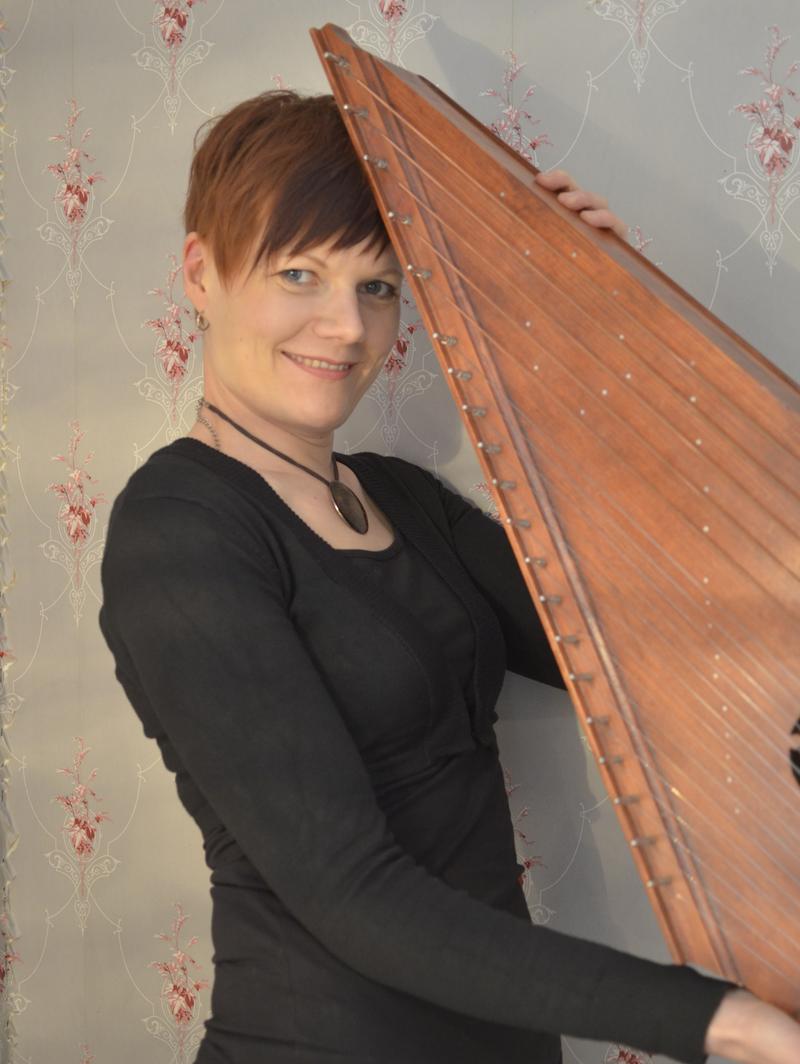 Sample new music from Finland by kantele artist Pauliina Syrjälä, along with music by Awa Poulo from Mali near the border with Mauritania, & music from Poland from the most recent Warsaw Village Band record. Plus hear music from Burkina Faso by the Kanazoé Orkestra, a song from Bosnia by Damir Imamovic's Sevdah Takht, & music drawing upon traditions of Ethiopia & Egypt from The Nile Project.
Pauliina Syrjälä plays the traditional Finnish table-harp, the kantele. However, she has a few untraditional methods of making sounds with it, including striking it as though it were a hammered dulcimer, but with knitting stick [needle] and paintbrush. Hear a work from her record, Lunkula. Then, listen to The Nile Project, a group of musicians who represent Ethiopia, Egypt, Sudan, Kenya, all of the countries through which the Nile River flows. They came together in the Ugandan town of Jinja, borrowing from very diverse places in their cross-cultural musical collaborations. Instead of trying to make one big mishmash of cultures, they're careful and measured in their exploration of hybrids, like on "Tenseo," which explores the meeting of Ethiopian pop and classical Egyptian music, featuring the oud. 
Listen to Bosnian singer Damir Imamović, who comes from a family of sevdah singers, one of the great musical styles of the Balkans, and one which invites comparisons to the drama and struggle & pain embodied in the blues or Portuguese fado. From his record, hear "Tambur", which is a long-necked lute that resembles a guitar. (Damir Imamovic plays a custom-made tambur.) Also, hear music from the group Moussu T e lei jovents, which draws on Marseilles music from the 1930s, a mixture of Provencal songs and operetta, along with blues and jazz, together with Caribbean music and the drums of north-eastern Brazil.
Hear music of Bollywood in a new collaboration by London-based Bollywood Brass Band together with violinist Jyotsna Srikanth. Then, listen to music from Burkina Faso by the young genius of balafon, Kanazoé and his musicians - Kanazoé Orkestra. Plus there's new music from Polish folk trailblazers, the Warsaw Village Band. And more. 
PROGRAM #3946,  Some Recent World Music (First Aired 2-10-2017)
ARTIST: The Nile Project
WORK: Tenseo, excerpt [1:00]
RECORDING: Jinja
SOURCE: The Nile Project/Zambaleta
INFO: nileproject.org
ARTIST: Pauliina Syrjälä
WORK: Matkalla jonnekin [8:03]
RECORDING: Lunkula
SOURCE: Kansanmusiikki-instituutti
INFO: kauppa.kansanmusiikki-instituutti.fi 
ARTIST: Warsaw Village Band
WORK: She Celebrated Kupala [5:12]
RECORDING: Sun Celebration
SOURCE: Jaro Medien / Discovery Records 
INFO: discovery-records.com
ARTIST: The Nile Project
WORK: Tenseo [12:11]
RECORDING: Jinja
SOURCE: The Nile Project/Zambaleta
INFO: nileproject.org
ARTIST: Kanazoé Orkestra
WORK: Dianfa [5:18]
RECORDING: Miriya
SOURCE: Buda Musique / Antipodes Music
INFO: budamusique.com
ARTIST: Awa Poulo
WORK: Djara Wilam [4:31]
RECORDING: Poulo Warali
SOURCE: Awesome Tapes From Africa
INFO: awapoulo.bandcamp.com  
ARTIST: Moussu T e lei Jovents
WORK: Liseron [4:30]
RECORDING: Navega !
SOURCE: Manivette Records
INFO: moussuteleijovents.bandcamp.com
ARTIST: Damir Imamovic's Sevdah Takht
WORK: Tambur [4:26]
RECORDING: Dvojka
SOURCE: Glitterbeat Records
INFO: damir-imamovic.bandcamp.com
ARTIST: Jyotsna Srikanth, Bollywood Brass Band
WORK: Aa Ante Amalapuram [3:57]
RECORDING: Carnatic Connection
SOURCE: Bollywood Brass Band
INFO: bollywoodbrassband.bandcamp.com