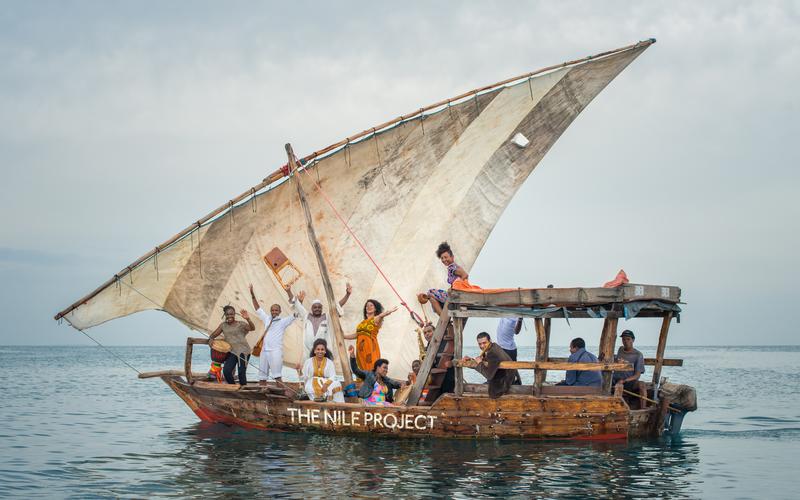 Listen to music from Yo Yo Ma and the Silk Road Ensemble (Japan, China, Syria, Iran), along with music from The Nile Project (Ethiopia, Rwanda, Uganda, Sudan, Kenya, Burundi & Egypt), as well as music from the Montreal-based ensemble Constantinople (Turkey, Iran, Armenia) - all cross-cultural musical collaborations among artists from very diverse places.  
Hear music from The Nile Project, which brings together artists from the 11 Nile countries – from East Africa and Ethiopia to Sudan and Egypt. Their harps, lyres, and voices blend African and Arabic scales, Ethio-jazz and taqsim (instrumental improvisation), the sacred and profane, while supporting 10 languages. The song we'll hear, "Allah Bagy" is a love song contrasting Egyptian and Sudanese Arabic dialects. 
The Nile Project perform in NYC at Joe's Pub on April 29. 
Then, hear Constantinople, a Montreal-based ensemble of musicians from Armenia, Turkey, and Iran, who together create brilliant open-border music that speaks to the migration and the mixing of cultures of the Mediterranean and Middle East. Also, listen to music from Yo Yo Ma and the Silk Road Ensemble, who explore the music of the famed trade route. From their record, Silk Road Journeys: Beyond the Horizon, hear music by Iranian Kamancheh player, composer and master of classical Kurdish and Iranian traditional music, Kayhan Kalhor.  Hear The Silk Road Ensemble from the Soundcheck Podcast from 2016.

Plus, music from Los Angeles-based musician Dexter Story who borrows from Ethiopia, Eritrea, Sudan, Somalia, and Kenya, in East African-influenced song, "Without an Address," featuring the Sudanese-born, Brooklyn-based (by way of Yemen) singer, Alsarah. Also, Niger meets Brittany in music from Serendou. And more. 
PROGRAM #3944,  Immigrant Songs (First Aired 2-07-2017) 
ARTIST: Yo Yo Ma & Silk Road Ensemble
WORK: Kayhan Kalhor: Mountains Are Far Away, except [1:00]
RECORDING: Silk Road Journeys: Beyond the Horizon
SOURCE: Sony #93962
INFO: sonyclassical.com 
ARTIST: The Nile Project
WORK: Allah Baqy [5:04]
RECORDING: Jinja
SOURCE: The Nile Project/Zambaleta
INFO: nileproject.org
ARTIST: Dexter Story, ft Alsarah
WORK: Without An Address [4:06]
RECORDING: Wondem
SOURCE: Soundway Records
INFO: soundwayrecords.com
ARTIST: Mounir Troudi, The Orchestra of Syrian Musicians
WORK: Rakeb 3al Hamra [6:16]
RECORDING: Africa Express Presents… the Orchestra of Syrian Musicians & Guests
SOURCE: Transgressive Records 
INFO:  transgressiverecords.com | africaexpress.co.uk
ARTIST: Orchestra di Piazza Vittorio
WORK: Ninderli [5:25]
RECORDING: L'Orchestra di Piazza Vittorio
SOURCE: Self #AP 001
INFO: orchestrapiazzavittorio.it
ARTIST: Constantinople
WORK: Devr-e-Raksan [7:44]
RECORDING: Passages
SOURCE: Buda Musique 
INFO: budamusique.com | constantinople.ca
ARTIST: Yo Yo Ma & Silk Road Ensemble
WORK: Kayhan Kalhor: Mountains Are Far Away  [6:09]
RECORDING: Silk Road Journeys: Beyond the Horizon
SOURCE: Sony #93962
INFO: sonyclassical.com 
ARTIST: Amir ElSaffar
WORK: Love Poem (Complete) [7:09]
RECORDING: Crisis
SOURCE/INFO: amirelsaffar.com
ARTIST: Serendou
WORK: Dibigabana, excerpt [1:53]
RECORDING: Zinder
SOURCE: Hirustica Music
INFO: Available through rootsworld.com (H/T to RootsWorld)