New Sounds
#3937: John Schaefer's Top Ten for 2016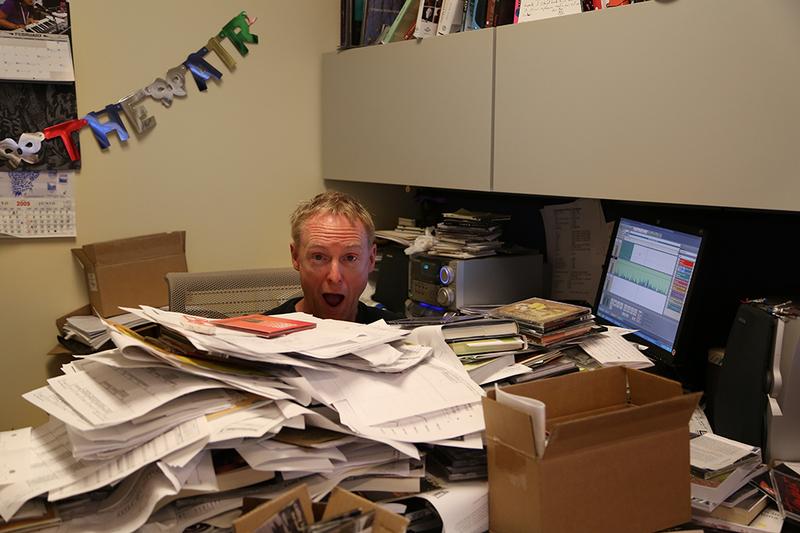 John Schaefer reveals his Top Ten Of 2016 list, long after most best-of lists have gone to print or air. In fact, due to the musical talent that joined the great hereafter in 2016, quite honestly, the usual scheduling of a top ten list didn't occur to us, until we were reminded about it. (Thank you!) Without further delay, some of the 2016 highlights include vocal works, some collaborations, a plea for the planet, and a reworking of a composer's "greatest hit."
In no particular order, hear some of the most memorable music that made waves last year, according to John Schaefer. Included among the short list of Schaefer's Top Ten is the ecological meditation, On Behalf of Nature, from vocal music innovator Meredith Monk. There's music from Icelandic composer Ólafur Arnalds, who made a seven week recording journey around towns and villages in Iceland, collaborating with local musicians. Listen to the one-woman orchestra of Emily Wells, with her voice and violin, augmented by percussion and other sounds, all layered and looped from her terrific record, "Promise."  
Also, hear an excerpt from Colin Stetson's "Sorrow," a reworking of Henryk Gorecki's "greatest hit" – his Symphony No.3, "Symphony of Sorrowful Songs." Then, sample unbelievable music from South African guitar virtuoso Derek Gripper, who adapts music that was originally meant for the 21 stringed lute-harp, the kora. Plus, listen to music from Jaimeo Brown's Transcendence, rearrangements of work/field songs built around samples of old recordings of road gangs, churches, quilters or stonemasons. All that, and more. 
PROGRAM #3937,  John Schaefer's Top Ten of 2016 (First Aired 1-18-2017)    
ARTIST: Ólafur Arnalds
WORK: Doria, excerpt [1:20]
RECORDING: Island Songs
SOURCE: Mercury Classics 0289 481 1486
INFO: deutschegrammophon.com
ARTIST: The Gloaming
WORK: The Pilgrim Song, excerpt  [4:06]
RECORDING: The Gloaming 2
SOURCE: HWY-052
INFO: store.brassland.org
ARTIST: Emily Wells
WORK: Adagio [4:38]
RECORDING: Promise
SOURCE: Thesis + Instinct Records
INFO: emilywellsmusic.com
ARTIST: Jeremy Flower
WORK: Blow Up, excerpt [3:56]
RECORDING: The Real Me
SOURCE/INFO: jeremyflower.bandcamp.com
ARTIST: Jaimeo Brown Transcendence
WORK: Be So Glad [5:53]
RECORDING: Work Songs
SOURCE: Motema Music
INFO: motema.com
ARTIST: ICE (International Contemporary Ensemble)
WORK: Phyllis Chen: Chimers [5:35]
RECORDING: On the Nature of Thingness
SOURCE: Starkland ST 233
INFO: starkland.com
ARTIST: Ólafur Arnalds
WORK: Doria [3:14]
RECORDING: Island Songs
SOURCE: Mercury Classics 0289 481 1486
INFO: deutschegrammophon.com
ARTIST: ETHEL & Robert Mirabal
WORK: Chant [4:00]
RECORDING: The River
SOURCE: Innova 946
INFO: innova.mu, available on Amazon and iTunes
ARTIST: Derek Gripper
WORK: Bafoulabe [3:55]
RECORDING: Libraries on Fire
SOURCE: New Cape Records NCR4558
INFO: newcape.bandcamp.com; Available on Spotify and iTunes
ARTIST: Colin Stetson
WORK: Sorrow II, excerpt [4:22]
RECORDING: Sorrow - A Reimagining Of Gorecki's Third Symphony
SOURCE: 52hz 52HZ001CD
INFO: Kartel Music Group,  colinstetson.com
ARTIST: Meredith Monk
WORK: Evolution [4:39]
RECORDING: On Behalf of Nature
SOURCE: ECM 4812794
INFO: ecmrecords.com