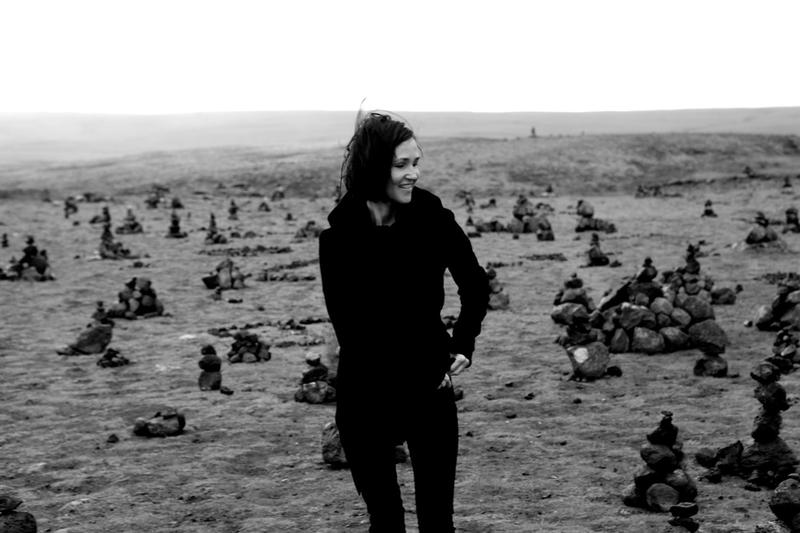 The Icelandic composer Anna Thorvaldsdottir joins John Schaefer for this New Sounds. Listen to her music, represented by four very different works - one involving metallic percussion called klakabond, another with clouds of quarter tones, one that employs acoustic music with textures that might evoke electronic music, and still another that is a choral work.
Thorvaldsdottir's work sometimes evokes the quiet landscape of Iceland, and might feel brittle or cold, but there are pockets of glittery brilliance. Although she likes working with acoustic music, she does so in a way that might be informed by electronic music, as she is familiar with a wide range - everything from Stockhausen to Kraftwerk- as well as the textures of more recent electronic music. At times, microtonality works its way into Thorvaldsdottir's music, gliding between pitches and bending harmonies, as she explores the spectrum of tone color between harmonic overtones and noise, not unlike composers of the "spectral sound school" like Gérard Grisey and Tristan Murail.
Hear some of Anna Thorvaldsdottir's "In the Light of Air" written for viola, cello, harp, piano, percussion & electronics - specifically, the section, "Remembrance," which uses an installation of metallic ornaments (designed by the composer) called klakabond in Icelandic ("a bind of ice") for a solo percussion section. Also, there's music from her record, Rhizoma, containing some soundscape-like works which evoke the Icelandic tundra. Then, listen to "Aeriality" for orchestra, which has echoes of her work with electronic sound and involves building a cloud of quarter tones. Plus, hear her choral music, a setting of Icelandic psalm, with the text taken from an old Icelandic manuscript.
Thorvaldsdottir was recently named New York Philharmonic Kravis Emerging Composer and is writing a new piece for the orchestra. Her "Aeriality" is to be performed at the New York Phil's David Geffen Hall in May of 2017.
PROGRAM #3936,  With Anna Thorvaldsdottir (First Aired 1-12-2017)
ARTIST: Anna Thorvaldsdottir, Tinna Þorsteinsdóttir
WORK: Anna Thorvaldsdottir: Trajectories, excerpt [1:00]
RECORDING: Anna Thorvaldsdottir: Aerial
SOURCE: Deutsche Grammophon / Universal Music Classics 00028948113545 
INFO: deutschegrammophon.com
ARTIST: Anna Thorvaldsdottir/Kaput Ensemble
WORK: Streaming Arhythmia, excerpt [13:00]
RECORDING: Rhizoma
SOURCE: Innova 810
INFO: innova.mu
ARTIST: International Contemporary Ensemble (ICE)
WORK: In the Light of Air: Remembrance, excerpt [12:10]
RECORDING: In the Light of Air
SOURCE: Sono Luminus
INFO: sonoluminus.com
ARTIST: Iceland Symphony Orchestra / Ilan Volkov, conductor
WORK: Anna Thorvaldsdottir: Aeriality for Orchestra, excerpt [9:38]
RECORDING: Anna Thorvaldsdottir: Aerial
SOURCE: Deutsche Grammophon / Universal Music Classics 00028948113545 
INFO: deutschegrammophon.com
ARTIST: Skylark
WORK: Anna Thorvaldsdottir: Heyr þu oss himnum a  (Hear Us From Heaven Above), excerpt [2:45]
RECORDING: Crossing Over
SOURCE: Sono Luminus
INFO: sonoluminus.com