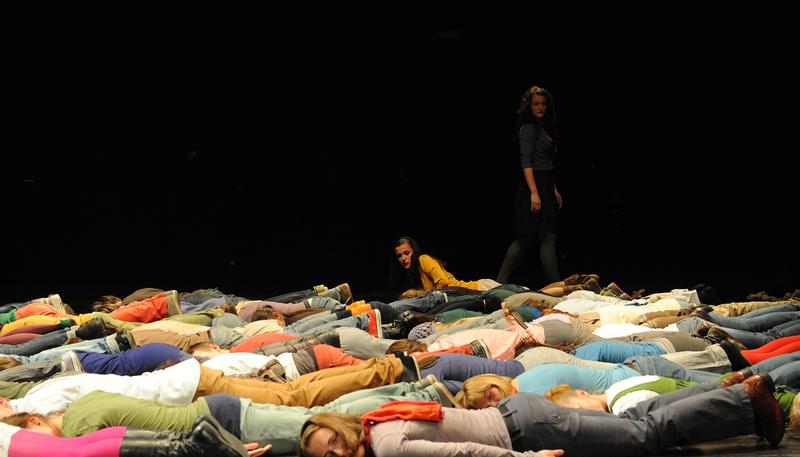 Hear music inspired by a story, an image, or a theatrical experience for this New Sounds, including selections from dance scores, music theatre and opera works, as well as a soundtrack to a 1973 war.
Listen to selections from the musical score to the Pavel Zuštiak and Palissimo Company's The Painted Bird: Amidst dance performance, featuring works by violist, composer, and sound designer Christian Frederickson (Rachel's) and composer, drummer and sound designer Ryan Rumery (The Broken Spoke), along with help from the late Jason Noble (Rachel's). The music consists of viola, guitar and keyboard, together with bass and drums, and the work got its premiere back in 2011. The record release for The Painted Bird: Amidst is Friday night, 1/6, 17 at 10PM at LaMama.
Listen to Irish composer Linda Buckley's setting of Icelandic text from the tradition of rimur poetry, featuring layers of soprano Elizabeth Hilliard. Inspired by everything from medieval music to electronica, "Númarímur" is Buckley's ode to the Icelandic landscape, whose expansive beauty she had only imagined, not yet having visited the country when she wrote the work. Also, hear the phantom resonances of memory in diffused and elegant music from Icelandic composer Anna Thorvaldsdottir, from her Rhizoma album. Then, listen to some music for voice and electronics from the opera, "The Wasp Factory" by Ben Frost, and instrumental music by Yair Yona that was written as a soundtrack of the Yom Kippur War.
PROGRAM #3933, Music for an Experience (First Aired 1-05-2017)     
ARTIST: Elizabeth Hilliard, soprano
WORK: Linda Buckley: Númarímur [12:41]
RECORDING: Sea To The West
SOURCE: Metier MS 8551
INFO: chandos.net
ARTIST: Ben Frost
WORK: The Bomb Circle [7:53]
RECORDING: The Wasp Factory
SOURCE/INFO: benfrost.bandcamp.com
ARTIST: Anna Thorvaldsdottir
WORK: Hidden - 1. Inwards [3:58]
RECORDING: Rhizoma
SOURCE: Innova 810
INFO: innova.mu

ARTIST: Christian Frederickson, Jason Noble, Ryan Rumery
WORK: Slide Show [3:06], Maps [5:45]
RECORDING: The Painted Bird: Amidst
SOURCE: christianfrederickson.bandcamp.com
INFO: Due out Jan. 6, 2017
ARTIST: Christian Frederickson, Jason Noble, Ryan Rumery
WORK: Mirage [2:54], To Be One Of Them [3:00]
RECORDING: The Painted Bird: Amidst
SOURCE: christianfrederickson.bandcamp.com
INFO: Due out Jan. 6, 2017
ARTIST: Yair Yona
WORK: Seven Days in Complete Darkness [6:00]
RECORDING: Sword
SOURCE: Yair Yona / Kamea Independent Music Group
INFO: yairyona.bandcamp.com