New Sounds
#3930: Modern Cumbia and The Chicha Renaissance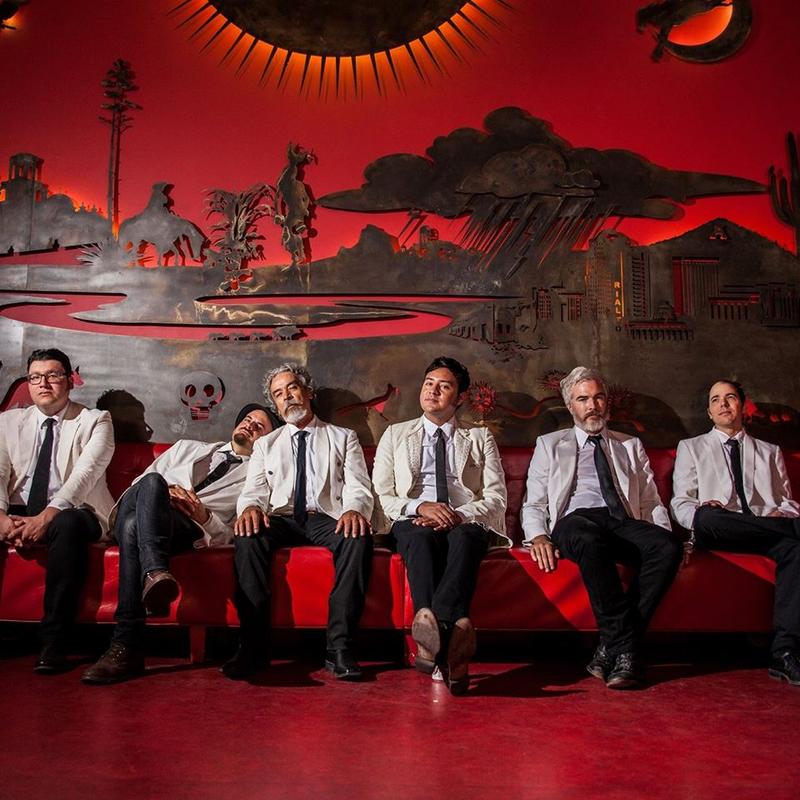 From the reverb-drenched psychedelia of 1960's and 1970's, but with South American rhythms and tropical feels, the better to help think warm thoughts, listen to modern takes on the Cumbia rhythm and Chicha style. Hear music from Peru and Colombia, along with music from Austin, Texas and the American southwest, where a lot of this music thrives, from here in New York, and from Switzerland.
There's infectious, exhilarating, trippy music from Money Chicha, an Austin-based outfit featuring members of the Grammy-award winning Latin orchestra Grupo Fantasma as well as music from the Tuscon, Arizona-based Orkesta Mendoza. They share a member with Calexico, and swirl together a psychedelic tex-mex slice of indie cumbia and mambo, which crosses multiple borders. Also, hear music from Austin-based nine piece Latin funk orchestra Grupo Fantasma (who also backed the dearly departed Prince at his 3121 Club in Las Vegas.)
Then, hear music from South America, most specifically from Argentina, by way of France. From "The First Lady of Electro Cumbia," La Yegros (real name Mariana Yegros), there's music featuring a guest appearance on ronroco by none other than fellow Argentine Gustavo Santaolalla. Plus, hear tropical cumbia from Lima, Peru, by Bareto, and more cumbia from Colombia by way of Switzerland-based Palenque la Papayera.
Plus, hear music from Argentine producer and DJ Chancha Via Circuito, Brooklyn-based Chicha Libre, and more. 
PROGRAM #3930,  Modern Takes on Cumbia and The Chicha Renaissance (First Aired 12-15-2016)     
ARTIST: Money Chicha
WORK: 3 Balls, excerpt [1:14]
RECORDING: Echo en Mexico
SOURCE: Vampisoul Records
INFO: munster-records.com
ARTIST: Orkesta Mendoza
WORK: Cumbia Volcadora [3:29]
RECORDING: !Vamos A Guara-Char!
SOURCE/INFO: orkesta-mendoza.bandcamp.com
ARTIST: XIXA
WORK: Cumbia del Platero [4:04]
RECORDING: Shift and Shadow
SOURCE: Barbès Records
INFO: barbesrecords.com
ARTIST: Money Chicha
WORK: Cumbia Del Tamborcito [6:36]
RECORDING: Echo en Mexico
SOURCE: Vampisoul Records
INFO: munster-records.com
ARTIST: Grupo Fantasma
WORK: Montañozo [4:03]
RECORDING: El Existential
SOURCE: Ingrooves / Nat Geo Music NGM006
INFO: Available at Amazon.com or iTunes
ARTIST: La Yegros (feat. Gustavo Santaolalla, ronroco)
WORK: Chicha Roja [3:05]
RECORDING: Magnetismo
SOURCE: Soundway Records SNDWCD 079 / SNDWLP 079
INFO: soundwayrecords.com
ARTIST: Chicha Libre
WORK: Danza Del Millonario [3:51]
RECORDING: Canibalismo
SOURCE: Barbes Records 34
INFO: barbesrecords.com
ARTIST: Palenque la Papayera
WORK: La Millonaria[3:48]
RECORDING: Ramón en Palenque
SOURCE: Buda Musique
INFO: budamusique.com
ARTIST: Chancha Via Circuito 
WORK: Cumbion de las aves [4:45]
RECORDING: Rio Arriba
SOURCE: ZZK Records
INFO: zzkrecords.com
ARTIST: Bareto
WORK:  Mama Motelo [3:53]
RECORDING: Impredecible
SOURCE: World Village 450030
INFO: worldvillagemusic.com
ARTIST: Orkesta Mendoza
WORK: Cumbia Amor De Lejos [4:43]
RECORDING: !Vamos A Guara-Char!
SOURCE/INFO: orkesta-mendoza.bandcamp.com
ARTIST: Chicha Libre
WORK: The Ride Of The Valkyries [4:06]
RECORDING: Canibalismo
SOURCE: Barbes Records 34
INFO: barbesrecords.com