New Sounds
#3929: With Dublin Guitar Quartet's Brian Bolger & Composer Michael Gordon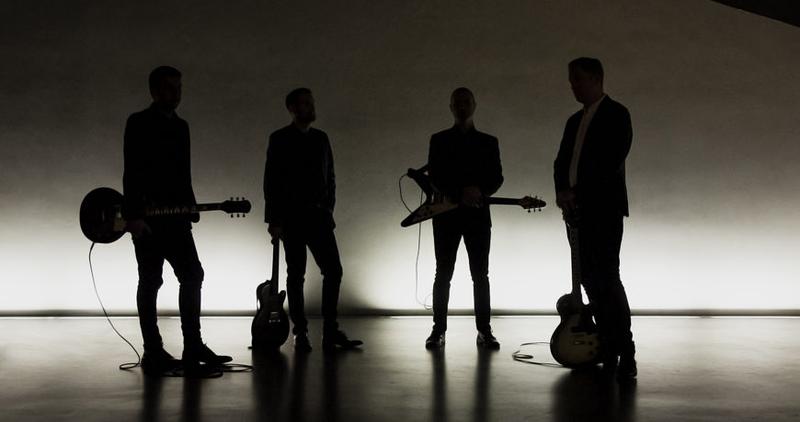 Hear the Dublin Guitar Quartet go electric for Bang on a Can Co-Founder Michael Gordon's work, "Amplified," and then acoustic for other works.
"Amplified" is part of Gordon's series of 24 pieces, one for each hour of the day, in increasing multiples, very much in the way of John Cage's number piece. So far, Gordon has written three: "Rushes" for bassoon septet, and "Timber" for percussion sextet, and "Amplifed" for guitar quartet. There are pulses and swells of guitars, as Gordon explores the untapped (ahem) possibilities of that instrument, culminating in something that sounds like floating clouds of electric guitar. Both the composer Michael Gordon and Brian Bolger of the Dublin Guitar Quartet join John Schaefer to present excerpts from "Amplified." 
"Amplified" is part of BAM's Next Wave Festival and runs through Saturday, Dec. 17th:
Also, listen to the Philip Glass String Quartet, No. 3, "Mishima" after the score for the 1985 Paul Schrader film. The subject was the gifted Japanese author Yukio Mishima, who was a proponent of extreme political views; he notoriously committed ritual suicide on top of a military building in Tokyo.  Kronos Quartet originially recorded the film score, but listen to The Dublin Guitar Quartet, as they have arranged the entire work for guitars. Plus, listen to a work by Irish composer David Flynn for the Dublin Guitar Quartet inspired by music of Zimbabwe, "Chimurenga."
PROGRAM #3929,  With Dublin Guitar Quartet's Brian Bolger & Michael Gordon (First Aired 12-14-2016)        
ARTIST: Dublin Guitar Quartet
WORK: Glass: String Quartet No. 3, "Mishima," arr. for guitar qt., excerpt [1:00]
RECORDING: Glass: Dublin Guitar Quartet Plays Philip Glass
SOURCE:Orange Mountain Music OMM0092
INFO: orangemountainmusic.com
ARTIST: Dublin Guitar Quartet
WORK: David Flynn: Chimurenga [4:10]
RECORDING: Dublin Guitar Quartet
SOURCE/INFO: daveflynn.com
ARTIST: Dublin Guitar Quartet 
WORK: Michael Gordon: Amplified, beginning, excerpt [5:00] / middle: [4:38] /conclusion: [3:50]
RECORDING: Dublin Guitar Quartet plays Michael Gordon
SOURCE/INFO: Due out on Cantaloupe Music in April 2017
cantaloupemusic.com
ARTIST: Dublin Guitar Quartet
WORK: Glass: String Quartet No. 3, "Mishima," arr. for guitar qt. [18:16]
RECORDING: Glass: Dublin Guitar Quartet Plays Philip Glass
SOURCE:Orange Mountain Music OMM0092
INFO: orangemountainmusic.com