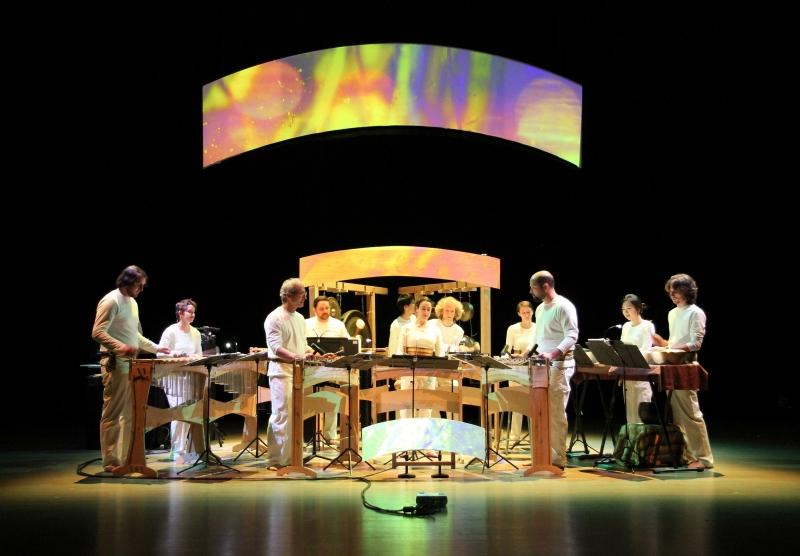 Hear chamber music that mixes influences from different parts of the world on this New Sounds. Where else can you hear instruments of the Indonesian court meeting a string quartet, western music for gamelan featuring an Irish dancer, and Ethiopian music for string quartet?
Hear a collaborative work featuring gamelan and contemporary string quartet from Bay Area Lightbulb Ensemble and the JACK Quartet. LBE performs on Indonesian-style metallophones, wooden marimbas, and other instruments designed, tuned, and built by American composer Brian Baumbusch, the group's founder and director. New York-based JACK Quartet is an adventurous foursome of string players dubbed "superheroes of the new music world" by the Boston Globe.
The Lightbulb Ensemble Presents: "Hamsa – Five Tales" at Roulette in Brooklyn, on Sunday, 11/20.
Listen to the percussive, almost gamelan-like piano played by Vicky Chow, from her recent record Aorta. Hear "Bones" from Aorta by Daniel Wohl, along with music by Andy Akiho clearly written for Vicky Chow - "Vick(iy)." Then the Cork Gamelan Ensemble plays a work by Linda Buckley called "Telephones and Gongs," featuring the sounds of and improvised Irish dancer. There's also Ethiopian groove music with a warrior bent by sax player Getatchew Mekuria, arranged by Stephen Prutsman and played by the Kronos Quartet. 
PROGRAM #3921, World/Chamber Music (First Aired 11-16-2016) 
ARTIST(S)

RECORDING

CUT(S)

SOURCE

Lightbulb Ensemble with JACK Quartet

Private recording

Brian Baumbusch: H(2)O, excerpt

Full release by Lightbulb Ensemble due out on New World Records, January 2017

Vicky Chow

Aorta

Daniel Wohl: Bones from Aorta [3:07]

NWAM083
http://newamrecords.com/chow-aorta

Due out November 18, 2016

Lightbulb Ensemble with JACK Quartet

Private recording

Brian Baumbusch: Hydrogen(2)Oxygen, conclusion [5:31]

Due out on New World Records, January 2017

Cork Gamelan Ensemble

The Three Forges

Linda Buckley: Telephones and Gongs [4:05]

Diatribe Records
shop.diatribe.ie

Kronos Quartet

A Thousand Thoughts

Aha Gèdawo [5:07]

Nonesuch 536952
www.nonesuch.com

Vicky Chow

Aorta

Vick(iy) [15:12]

NWAM083
http://newamrecords.com/chow-aorta

Due out November 18, 2016

Vladimir Martynov, with Huun Huur Tu

Children of the Otter

Vladimir Martynov - Children of the Otter, excerpt [8:06]

DVD release only
Greenwave Music 
greenwavemusic.ru

Anton Batagov

Selected Letters of Sergei Rachmaninoff


Letter from Sergei Rachmaninoff to Vladimir Martynov, excerpt [4:13]

Fancymusic 
soundcloud.com or download from Emusic.com