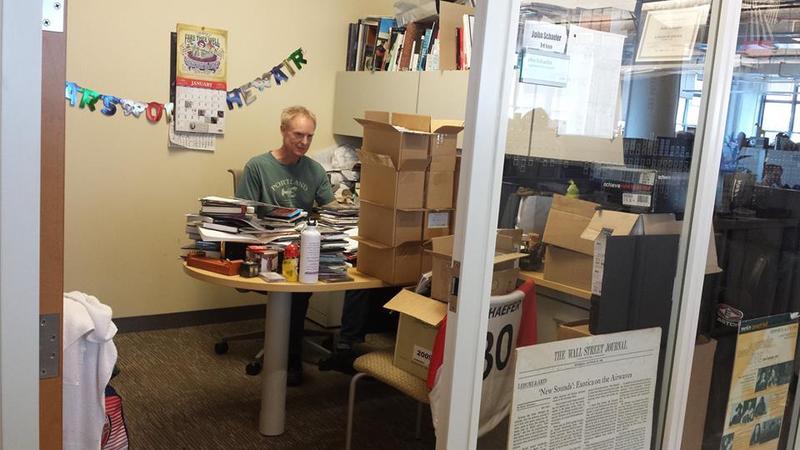 It's that time again- the end of the month where John Schaefer personally selects only the finest of the new music that has crossed his desk this past October 2016. Schaefer has carefully sorted through the stacks of highly anticipated digital submissions, new CDs, private Soundcloud and Bandcamp files, and the like which have come across his desk and into his inbox over the past month to present some choice new releases. He'll skim off the cream. He'll pick the lentils from the ashes. You get it.
There's cinematic "underwater" music from Norwegian guitarist, session player and instrument collector Geir Sundstøl, along with song-like jazz-ish music from Toronto bassist/cellist/composer Andrew Downing and his ensemble, Otterville. Listen to a preview of music from the adventurous Canadian (Inuk)  throat singer, Tanya Tagaq, from her forthcoming, "Retribution." Plus, hear kora music from the Denmark-based Gambian griot Dawda Jobarteh.
Then, listen to the Brazilian bow-like instrument, the berimbau, from Northern Illinois University, in DeKalb, IL. Hear a work called "Chip," a quartet for custom, tunable berimbau from Gregory Breyer, the middle section of which, was written for one segment of an original soundtrack for a short film. Also, listen to another unusual instrument, the theremin, paired with a string quartet. And more.
PROGRAM #3917, New Releases, October 2016 (First Aired 10-27-2016)           
ARTIST: Arcomusical
WORK: Gregory Beyer: Berimbau Quartet no 1, "Chip", excerpt [1:30]
RECORDING: MeiaMeia: New Music for Berimbau
SOURCE: Innova 922
INFO: innova.mu
ARTIST: Geir Sundstøl
WORK: Bek [4:59]
RECORDING: Langen ro
SOURCE: HUBROCD 2576 
INFO: hubromusic.com
ARTIST: Carolina Eyck & ACME
WORK: Carolina Eyck: Leyohmi (Luminescence) [6:06]
RECORDING: Fantasias for Theremin & String Qt
SOURCE: Butterscotch Records BSR015
INFO: butterscotchrecords.net
ARTIST: Otterville
WORK: Andrew Downing: Wish [5:16]
RECORDING: Otterville
SOURCE: andrewdowning.com
INFO: Available at iTunes.
ARTIST: Arcomusical
WORK: Gregory Beyer: Berimbau Quartet no 1, "Chip" [5:18]
RECORDING: MeiaMeia: New Music for Berimbau
SOURCE: Innova 922
INFO: innova.mu
ARTIST: Dawda Jobarteh
WORK: Our Time in Tanjeh [3:00]
RECORDING: Transitional Times
SOURCE: Sterns Music STCD1128
INFO: sternsmusic.com
ARTIST: Tanya Tagaq
WORK: Nacreous [4:01]
RECORDING: Retribution
SOURCE: Six Shooter Records
INFO: sixshooterrecords.com
ARTIST: Faith I Branko
WORK: Rose [4:42]
RECORDING: Brexit Blues
SOURCE: Riverboat Records
INFO: Due out 25 November 2016
ARTIST: Nordic Fiddlers Bloc
WORK: Hjaltaren, excerpt [:40]
RECORDING: Deliverance
SOURCE: NFB Records
INFO: thenordicfiddlersbloc.com
ARTIST: Leah Paul 
WORK: This One's Coming True [3:10]
RECORDING: We Will Do The Worrying
SOURCE: Skirl Records 
INFO:  leahpaul.bandcamp.com Due out November 20, 2016
ARTIST: Nico Muhly & Teitur
WORK: Coffee Expert [4:36]
RECORDING: Confessions
SOURCE: Nonesuch Records 556783
INFO: nonesuch.com