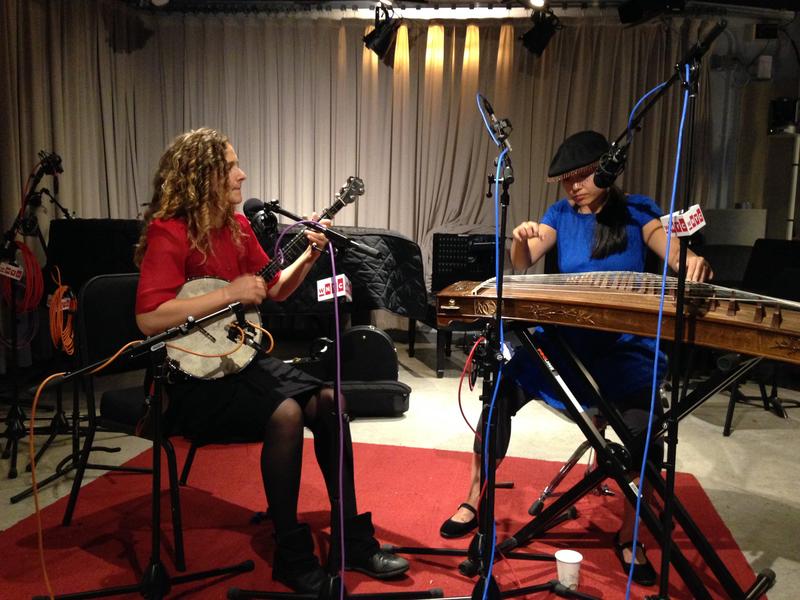 "We've gone to the corners of the sky and edges of the oceans, playing our instruments and singing our songs" is the translation of one of the tunes that they've merged/translated/adapted for their picking, plucking, bending, strumming duo, "Banjo / Guzheng-picking girls." (And it rules, just like they both do.) 
For this New Sounds, Beijing-born, Nashville-based Composer and guzheng performer Wu Fei joins Illinois-born, Nashville-based clawhammer banjo player/singer/songwriter (and East-Asian Studies major) Abigail Washburn for a commingling of Chinese and Appalachian folk music, live in the studio. 
Listen to performances woven together from the threads of two traditions, drawing from the "musical argot" of both players ranging from Chinese classical, folk and opera, Wu Fei's background in free improvisation, along with Abigail's Chinese traditional song, American bluegrass and traditional Appalachian folk music. 
Also, hear Vietnamese zither (dan tranh) player Tri Nguyen and oud player Qaïs Saadi uniting the Mekong and Mediterranean as the traditional melodies of Vietnam come together with the modes of the Arabic classical music. Plus, music from a talented trio of musicians from Madagascar, Mali and Morocco. Hear a short work from Madagascan valiha star Rajery, the Malian kora-player Ballaké Sissoko and the Moroccan oud maestro Driss El Maloumi, and more. 
PROGRAM #3914, with Abigail Washburn and Wu Fei (First Aired 10-21-2016)    
ARTIST: Abigail Washburn & The Sparrow Quartet
WORK: Taiyang Chulai [2:36]
RECORDING: Abigail Washburn & The Sparrow Quartet
SOURCE: Nettwerk Records 307922 
INFO: Available at Amazon.com
ARTIST: Abigail Washburn & Wu Fei
WORK: "Cindy's Little Hand" [2:56]
RECORDING: Live, WNYC, 10/17/2016
SOURCE: These performances not commercially available.
INFO: wufeimusic.com
ARTIST: Abigail Washburn & Wu Fei
WORK: Wusuli Boat Song / The Water is Wide [4:26]
RECORDING: Live, WNYC, 10/17/2016
SOURCE: These performances not commercially available.
INFO: wufeimusic.com
ARTIST: Wu Force (Kai Welch, Abigail Washburn, Wu Fei)
WORK: Muckrakers [1:43]
RECORDING: Muckrakers (unreleased demo)
SOURCE/INFO: https://wuforce.bandcamp.com/
ARTIST: Abigail Washburn & Wu Fei
WORK: Banjo Guzheng-picking girls [2:21]
RECORDING: Live, WNYC, 10/17/2016
SOURCE: These performances not commercially available.
INFO: wufeimusic.com
ARTIST: Tri Nguyen (feat. Qaïs Saadi)
WORK: Golden Skies [7:42]
RECORDING: A Journey Between Worlds
SOURCE/INFO: http://www.cdbaby.com/cd/tringuyen2
ARTIST: Van-Anh Vanessa Vo w/Kronos Quartet
WORK: Green River Delta/Luu Thuy Truong [4:40]
RECORDING: Three-Mountain Pass
SOURCE: Innova 866
INFO: innova.mu
ARTIST: Rajery & Ballaké Sissoko, Driss El Maloumi
WORK: Toufoula [3:27]
RECORDING: 3 MA
SOURCE: projet3ma.com
INFO: available at Amazon.com