New Sounds
#3913: New Sounds Live at Brookfield Place, 2016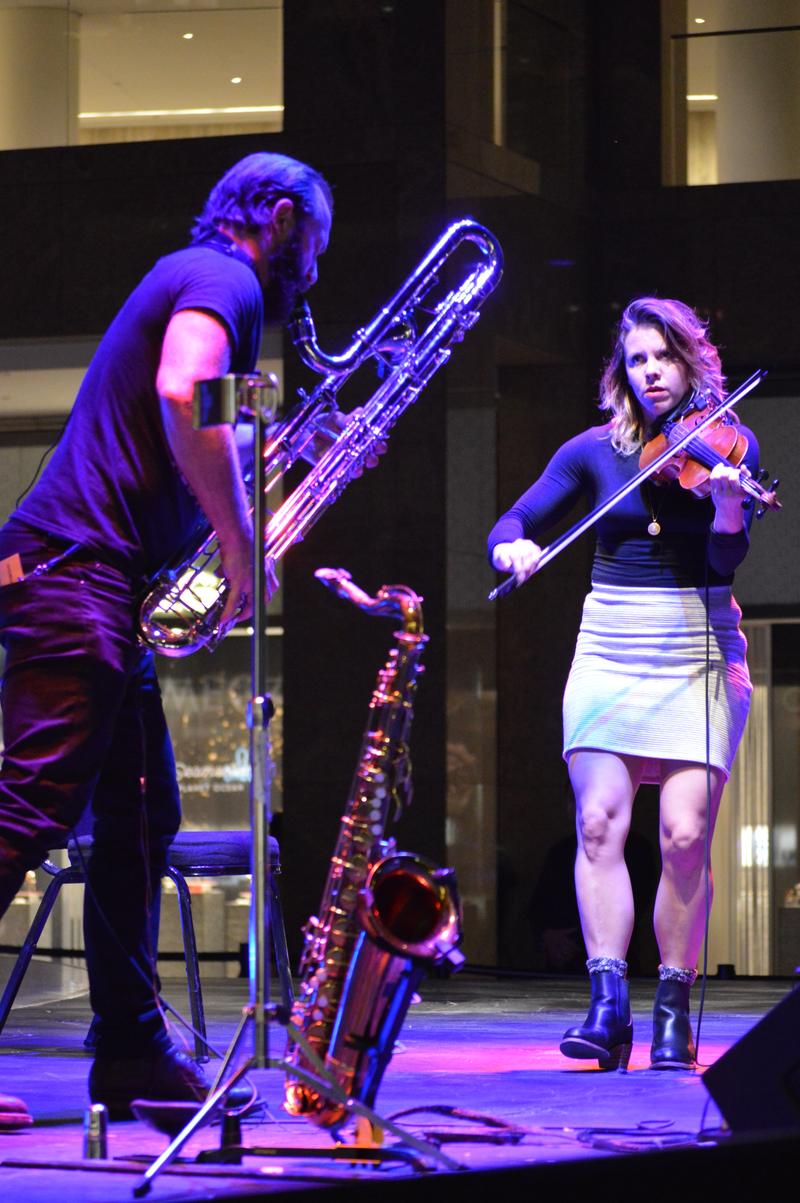 From the New Sounds Live Concert Series, hear music performed within Pete M. Wyer's sound installation, including music from violinist Sarah Neufeld with her guest Colin Stetson on sax and clarinet, along with music by Vernon Reid and Laraaji, and music from The Crossing choir.
All of this music was performed within the splendour of dawn chorus recordings from Cornwall, west London and Suffolk in 18-channel surround, corresponding to the 18 speakers mounted in the Winter Garden at Brookfield Place. A listener experiences the music and nature immersively, with human voices, or violin, guitar and zither, banjo and kalimba, or violin and sax, counting as another species in the dawn chorus.
Hear music by Sarah Neufeld, along with Colin Stetson, along with the recordings of nature. Then, hear guitarist/composer Vernon Reid and multi-instrumentalist Laraaji in live improvisations, in the same sound environment. Plus, listen to music from The Crossing choir, by composer Santa Ratniece and more. 
PROGRAM #3913, Pete Wyer's "Song of the Human" (First Aired 10-20-2016)  
ARTIST: Pete M. Wyer, the Crossing
WORK: Song of the Human, excerpt [5:00]
RECORDING: Live at Brookfield Place, 10/12/16
SOURCE: This performance not commercially available.
INFO: Pete M. Wyer | The Crossing
ARTIST: Sarah Neufeld & Colin Stetson
WORK: The Sun Roars Into View [9:39]
RECORDING: Live at Brookfield Place, 10/13/16
SOURCE: This performance not commercially available.
INFO: Sarah Neufeld  | Colin Stetson
ARTIST: Sarah Neufeld 
WORK: Dirt [4:34]
RECORDING: Live at Brookfield Place, 10/13/16
SOURCE: This performance not commercially available.
INFO: Sarah Neufeld  
ARTIST: Vernon Reid & Laraaji
WORK: Improvisation 3 [7:59], Improvisation 1 [3:29]
RECORDING: Live at Brookfield Place, 10/14/16
SOURCE: This performance not commercially available.
INFO: Vernon Reid | Laraaji
ARTIST: The Crossing
WORK: Santa Ratniece - Horo Horo Hata Hata [10:00]
RECORDING: Live at Brookfield Place, 10/12/16
SOURCE: This performance not commercially available.
INFO: The Crossing