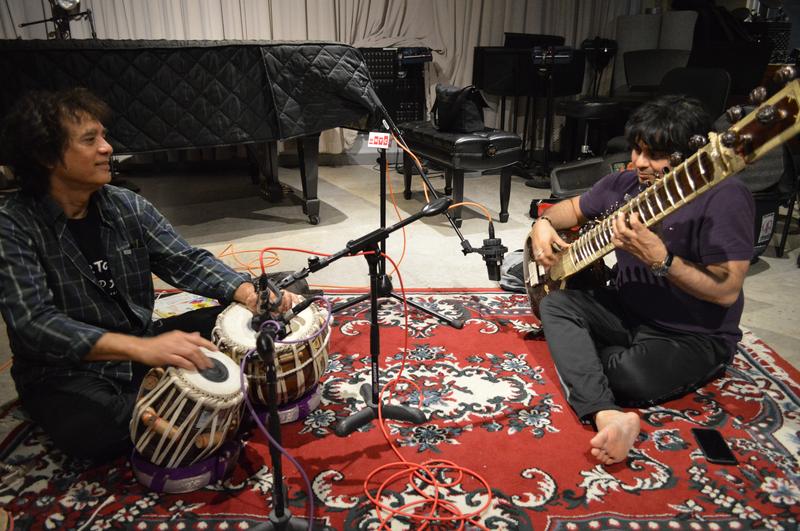 "Indian music does not stop and start with Ravi Shankar." So says tabla master Zakir Hussain, who, along with young sitar virtuoso, Niladri Kumar, joins John in the studio for a live performance.  
Zakir Hussain, son of Ustad Alla Rahka, isn't just a genius Indian tabla player and composer, as well as a virtuoso improviser - he is, bar none, one of the world's great percussionists working in many genres. Zakir is a global citizen open to all kinds of collaborations, playing with everyone from George Harrison to the Mickey Hart of the Grateful Dead, from John McLaughlin's Shakti and Yo Yo Ma's Silk Road Project; he's laid down beats for Scottish fiddlers Charlie McKerron (Capercaillie) and Patsy Reid (formerly of Breabach), and performed and recorded with scores of Indian classical musicians. Then, there was the recording by the Detroit Symphony Orchestra conducted by Leonard Slatkin of a triple concerto featuring fellow soloists Bela Fleck and Edgar Meyer, along with Zakir Hussain's own showcases of otherworldly drum wizards, the Masters of Percussion. 
Now, Niladri Kumar, who made his first public performance at the age of 6, comes from a long line of sitar players -which goes some five generations back; his father was Pandit Kartik Kumar. Niladri also did recording sessions for Hindi films from a very young age, and happens to be in a band called Sitar Funk, a global fusion of Hindi film music, Indian classical, and Western music. He's even gone electric, creating an invention called the Zitar, a combination of sitar and guitar. It has fewer strings (5 instead of 20) with an electric pickup inside, so that Niladri can get a rock guitar sound out of it. OH – and he plays chords on the sitar. Niladri Kumar has been part of the Masters of Percussion tour, and this is his second duo tour with Zakir Hussain.
Niladri Kumar and Zakir Hussain perform a radio-friendly (short) Raga Charukeshi, for Rupak Tal (a seven beat rhythmic cycle) and Raga Bhairavi in Teental (16 beats.) 
Not to gush, but Zakir Hussain can communicate in so many languages – Persian, Gujarati, German, English- that it's no wonder that he is also versed in many musical languages – like being able to speak jazz or Afro-Cuban rhythms, Nigerian talking drums, or Indonesian gamelan.  To him, improvising is like speaking that language. (Perhaps for percussion nerds,) Zakir also treats us to a spoken drum conversation, or "reciting the Bols" – the syllables that correspond to the strokes of the tabla- like "Dha ti ra ki ta" and "na ga dhin na dhin na gin na."