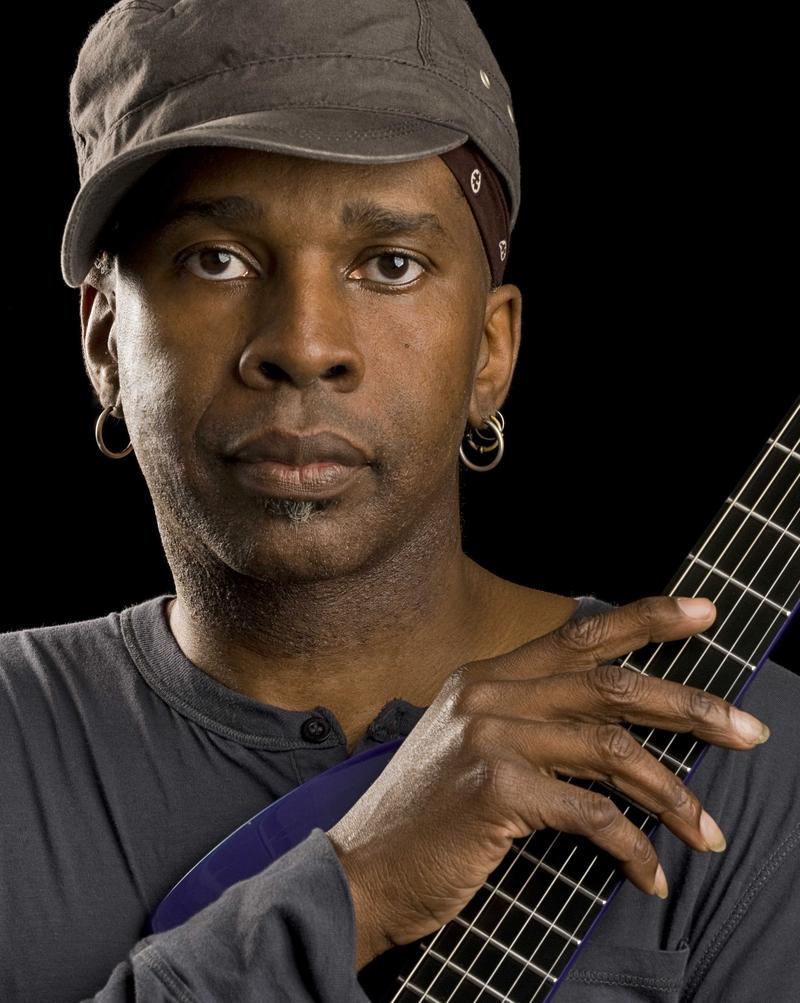 Hear some of "Artificial Afrika," a multimedia work created by electric guitarist and composer Vernon Reid, from a New Sounds Live, recorded at the Winter Garden. Featuring spoken word artist/throat singer Akim Funk Buddha, DJ Logic, and turntablist/percussionist Leon Lamont, the work was commissioned by WNYC and premiered in 2009. Reid is also the guitarist and leader of the band Living Colour, has worked with choreographers Bill T. Jones and Donald Byrd, composed film scores, recorded and toured with DJ Logic as the Yohimbe Brothers, worked as a record producer, including two Grammy-nominated albums, and is a co-founder of the Black Rock Coalition.
Vernon Reid performs with Laraaji on Friday night, 10/14, in the Winter Garden at Brookfield Place. 
Also listen to recordings or rearrangements of work/field songs from Jaimeo Brown's Transcendence, built around samples of old recordings of road gangs, churches, quilters or stonemasons.  Then, there's music from Linda Tillery & the Cultural Heritage Choir, music drawn from spirituals, work and play songs, field hollers and other slave songs in the folk tradition.
Plus, hear the work song "Po' Lazarus," from the prison gang known simply as James Carter & The Prisoners, recorded by Alan Lomax and his father John Lomax in 1959 at the Mississippi State Penitentiary, and later used in the film soundtrack of O Brother, Where Art Thou? (2000).
PROGRAM #3911, Echoes of Africa  (First Aired 10-12-2016)     
ARTIST: Jaimeo Brown's Transcendence
WORK: Be So Glad, excerpt [1:00]
RECORDING: Work songs
SOURCE: Motema Music
INFO: motema.com
ARTIST: Vernon Reid, Akim Funk Buddha, DJ Logic, and Leon Lamont
WORK: Artificial Afrika: excerpts [16:24]
RECORDING: New Sounds Live @ World Financial Center, Oct. 24, 2009
SOURCE: This performance not commercially available. 
INFO: Facebook.com/VernonReid or follow him on Twitter, @vurnt22 

ARTIST: Various: James Carter & The Prisoners
WORK: Po' Lazarus [4:30]
RECORDING: O Brother, Where Art Thou?
SOURCE: Mercury# 088 170-069
INFO: Available at Amazon.com

ARTIST: Last Forever
WORK: Ain't Going Down to the Well No More / Poor Lazarus [7:39]
RECORDING: No Place Like Home
SOURCE: 2ndstorysoundrecords.com 
INFO: dickconnette.com

ARTIST: Linda Tillery and the Cultural Heritage Choir
WORK:Lay Down Body [4:01]
RECORDING: Front Porch Music
SOURCE: Rhino 72881
INFO: Out of print. Try Amazon.com or Singers.com

ARTIST: Jaimeo Brown's Transcendence
WORK: Be So Glad [5:54]
RECORDING: Work songs
SOURCE: Motema Music
INFO: motema.com
ARTIST: Bolo
WORK: Xangô (Shango) [8:01]
RECORDING: Bolo
SOURCE/INFO: bolomusic.org