New Sounds
#3909: Unconventional Solos (and a Duo)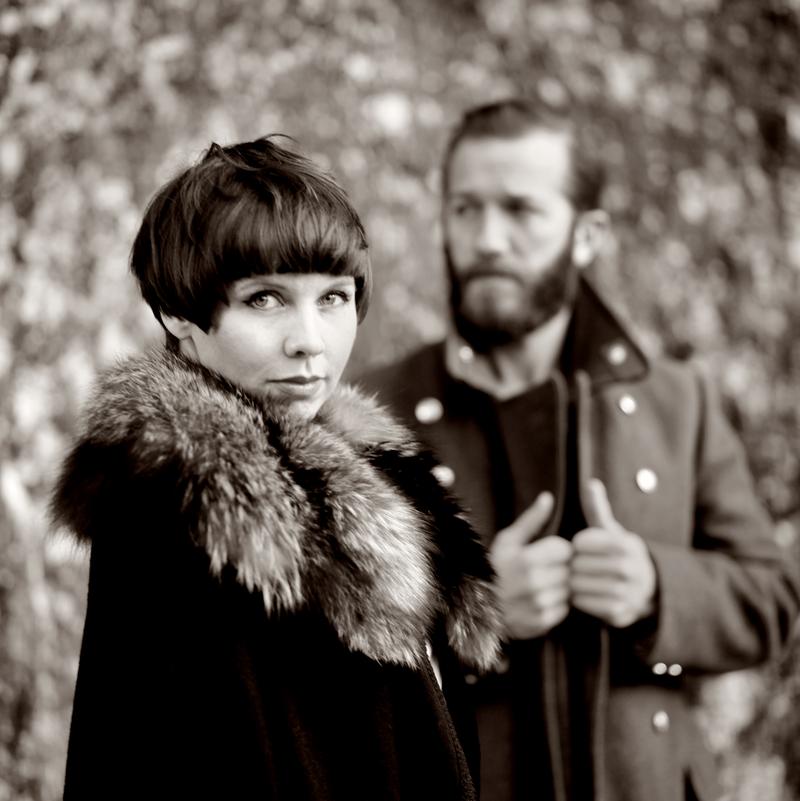 For this New Sounds, hear solos that defy the listener's ability to believe that the music is the work of a single person on a single instrument. There's unbelievable music for saxophone by Colin Stetson, acrobatic feats on violin by Sarah Neufeld, cello soundscapes by way of Iceland, music you can be in space with for zither from Laraaji, plus works for solo flute, voice and tuba.
Listen to music from the saxophone innovator Colin Stetson and his duo partner, the violinist Sarah Neufeld (both are members of Arcade Fire.) Stetson can create the sound of several instruments without any looping or delays – sounds like voice, organ, percussion – with just one guy, live in a room with a saxophone. Hear an astonishing work from Colin Stetson's record, "New History Warfare, Vol. 3 – To See More Light."  Then, hear "pop minimalism" from Montréal-based violinist/composer Sarah Neufeld, who's also a founding member of Bell Orchestre. Sample a piece from her most recent avant-folk release, "The Ridge," which sometimes replicates the sounds of electronic looping, but is completely acoustic. Plus, hear a duo work from Neufeld together with Stetson, recorded in our WNYC studio for the Soundcheck podcast back in April 2016. Note: Sarah Neufeld performs music from "The Ridge" live (with Colin Stetson) at Brookfield Place NY next week on 10/13.
Hear music from the zither player Laraaji, discovered years ago by Brian Eno, (and who also happens to be performing with Vernon Reid next week at Brookfield Place NY, on 10/14.) Plus, listen to a virtuosic piece for flute by Robert Dick recorded hear in our studio, which sounds like two or three people. Hear ambient northern soundscape music from Icelandic cellist/composer/singer Hildur Guðnadóttir, music for ambient tuba by Tom Heasley, which sounds like "a blue whale getting a deep tissue massage," and more.
PROGRAM #3909, Unconventional Solos (and a Duo) (First Aired 10-07-2016)  
ARTIST: Colin Stetson
WORK: Judges [5:01]
RECORDING: New History Warfare Vol. 2
SOURCE: Constellation Records CST 075
INFO: http://cstrecords.com/cst075/
ARTIST: Sarah Neufeld
WORK: From Our Animal [4:59]
RECORDING: live on Soundcheck, 4/16
SOURCE: This performance not commercially available
INFO: The work appears on 'The Ridge', paperbagrecords.com
ARTIST: Sarah Neufeld with Colin Stetson
WORK: Where the Light Comes In [3:40]
RECORDING: The Ridge
SOURCE: Paper Bag Records
INFO: paperbagrecords.com
ARTIST: Laraaji
WORK: Dance No. 2 [8:55]
RECORDING: Day of Radiance
SOURCE: EG #EGS-203 
INFO: Amazon.com
ARTIST: Robert Dick
WORK: Flames Must Not Encircle Sides [4:28]
RECORDING: Live, WNYC Fall 2008
SOURCE: This performance not commercially available.
INFO: robertdick.net
ARTIST: Laurel McDonald
WORK: Nenia Sirenes [5:09]
RECORDING: Luscinia's Lullaby
SOURCE: Improbable Music #04
INFO: improbablemusic.com OR cdbaby.com
ARTIST: Hildur Guðnadóttir
WORK: Into Warmer Air [6:11]
RECORDING: Without Sinking
SOURCE: Touch 070LP double LP or Touch 070CD
INFO: touchshop.org
ARTIST: Tom Heasley
WORK: Prelude, excerpt [7:15]
RECORDING: On The Sensations of Tone
SOURCE: Innova 566
INFO: innova.mu