New Sounds
#3908: With Baird Hersey (Prana) & Garry Kvistad (NEXUS Percussion)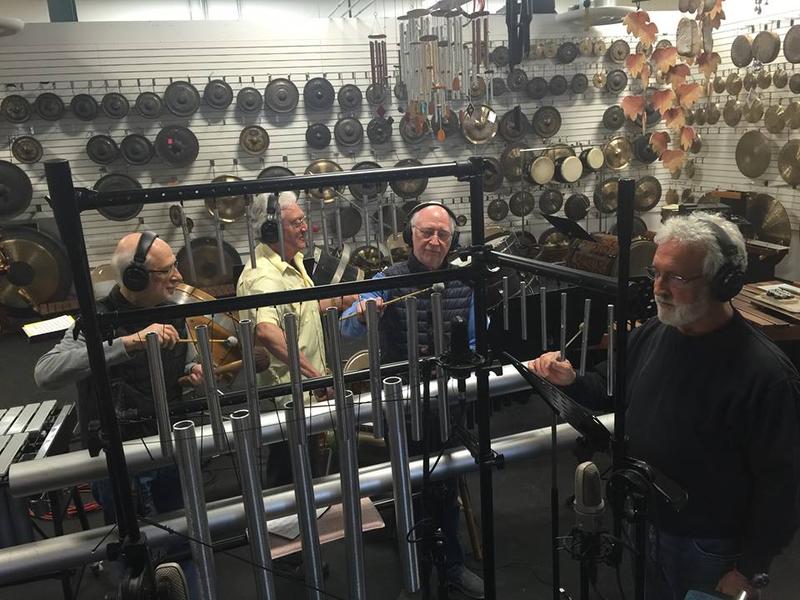 Hear music from Baird Hersey and the harmonic singing group Prana together with the Toronto-based percussion group Nexus led by Garry Kvistad for this New Sounds. Hersey and Kvistad join John in the studio to discuss full-body overtone vibrations, Woodstock Chimes, and the "Monkey Chant."
Hersey comes from a big band jazz background, by way of Tibetan music and has also has worked with collaged vocal samples and tape loops as Tone LeStrange. Kvistad draws his inspiration from such composers and innovators as John Cage, Lou Harrison, and Harry Partch, which might have contributed to his latest percussive creation, the Vistaphone. Kvistad is also the founder and owner of Woodstock Chimes, a member of Nexus since 2002, and has played with the Steve Reich Ensemble since 1979.
Listen to "Chiaroscuro" ("light and dark") by Baird Hersey, a new seven-part suite for nothing more than human voice and percussion. The work explores the ideas of dark and light and employs vocal techniques like Tibetan Buddhist chant and Tuvan throat singing. Overtones are doubled by chiming sounds created by Garry Kvistad's original instrument, the Vistaphone, which is a four octave set of chimes tuned to the harmonic series. The percussion arsenal also includes Balinese gamelan metallophones and tuned Balinese and Chinese gongs.
There's also an adaptation of the "Monkey Chant", for almost 80 tracks of overlaid vocals, as recorded by Prana. Plus, hear music from The Crossing Choir from Philadelphia, and more. 
PROGRAM #3908, With Baird Hersey & Garry Kvistad  (First Aired 10-05-2016)    
ARTIST: Baird Hersey & Prana with Nexus
WORK: A Splinter of Dawn [3:26], Rituals of Dusk [3:36]
RECORDING: Chiaroscuro
SOURCE: Bent Records
INFO:  CDbaby.com
ARTIST: Baird Hersey & Prana with Nexus
WORK: A Vast Expanse of Sky [3:34], The Dance of Shining Darkness [3:32]
RECORDING: Chiaroscuro
SOURCE: Bent Records
INFO:  CDbaby.com
ARTIST: Baird Hersey & Prana with Nexus
WORK: In the Grasp of Invisible Shadows [2:51], A Crown of Radiant Fire [3:17]
RECORDING: Chiaroscuro
SOURCE: Bent Records
INFO:  CDbaby.com
ARTIST: Baird Hersey & Prana with Nexus
WORK: Luminous Ocean Rising Waves [3:11]
RECORDING: Chiaroscuro
SOURCE: Bent Records
INFO:  CDbaby.com
ARTIST: Baird Hersey & Prana 
WORK: The Lord of the Monkeys [9:58]
RECORDING: Chiaroscuro
SOURCE: Bent Records
INFO:  CDbaby.com
ARTIST: The Crossing
WORK: Santa Ratniece: Horo Horo Hata Hata, excerpt [4:45]
RECORDING: 2013 US premiere
SOURCE: Not yet commercially recorded, but there is a Youtube video
INFO: crossingchoir.com