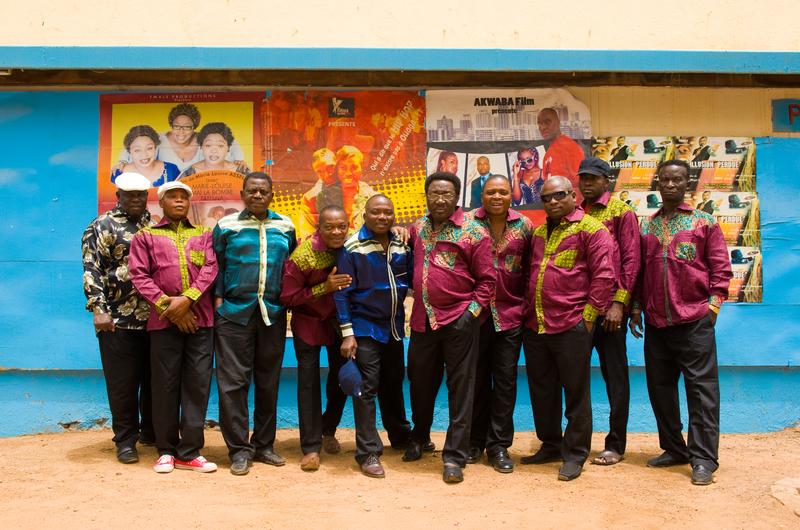 It's the end of the month again, which means it's time for John Schaefer to carefully select from all of the exciting and terrible things that have come into the New Sounds office via digital promo, CD, or the occasional throwback LP or cassette (not that easy to play around the office, sadly - please include digital download!) to present the best of the months' crop of new music releases. 
From where the staff is sitting, it looks like there's music from the forthcoming record by the legendary Beninese "All-Powerful" Orchestre Polyrythmo; they have been going strong for decades. This grand band, on their release Madjafalao ("Watch Out"), takes a mighty and joyous romp through Beninese Vodou rituals and traditional Beninese music to American soul and funk, Nigerian Afrobeat, Congoleserumba, Ghanaian highlife, and Afro-Cuban sounds.
Hear new East-African Retro-Pop from Brooklyn-based Alsarah and the Nubatones, and their second record, Manara, as they continue to share their Nubian/Sudanese inspired music, which is rooted in the silt of northern Sudan and southern Egypt. Then, there's the Brazilian art-rock post-jazz meets punk with Candomblé of Metá Metá, from their record, MM3. Together with singer Juçara Marçal, the band features sax, flute, bass & drums, along with the same "dirty samba" scene guitarist, Kiko Dinucci, who was on Elza Soares' record, A Mulher do Fim do Mundo (The Woman at the End of the World.)
Also, listen to the latest from bassist/composer Daniel Foose – Of Water and Ghosts – it's music for traditional string quartet with percussion, guitar, and acoustic bass, conceived of and composed on land rich with stories in the Mississippi Delta.  There's new music from a long-promised song cycle by English composer Donna McKevitt in collaboration with Jan Noble, "This is what I wanted to give you…"
Then, listen to music from Montreal-based baritone/bass saxophonist/composer Jason Sharp, from his album-length, A Boat Upon Its Blood, where he translates his own breath and heartbeat using sonic triggers and processing, along with contributions from a guest musicians, violinist Josh Zubot and Joe Grass on pedal steel guitar. Plus, hear new music from sax player Donny McCaslin, (who was part of the band that played on David Bowie's final record), and his arrangement of the tune by MUTEMATH, "Remain." And more.
PROGRAM #3906, New Releases, September 2016 (First Aired 09-30-2016)       
ARTIST: Alsarah & the Nubatones
WORK: 3roos Elneel, excerpt [1:00]
RECORDING: Manara
SOURCE: Wonderwheel Records WonderCD-30
INFO: wonderwheelrecordings.bandcamp.com
ARTIST: Daniel Foose
WORK: Wedding Place (for Seuyoung)  [3:41]
RECORDING: of Water and Ghosts
SOURCE: Brooklyn Jazz Underground Records BJUR 059
INFO: Due out October 7, 2016
bjurecords.com | danielfoose.com

ARTIST: Donna McKevitt & Jan Noble, ft. Charlie Finke (Cesarians), vocals
WORK: Donna McKevitt & Jan Noble: And so he... [4:31]
RECORDING: This is what I wanted to give you…
SOURCE/INFO: mckevittandnoble.bandcamp.com

ARTIST: Donna McKevitt & Jan Noble, ft. Frank Moon on oud
WORK: In Salerno [4:02]
RECORDING: This is what I wanted to give you…
SOURCE/INFO: mckevittandnoble.bandcamp.com
ARTIST: Alsarah & the Nubatones
WORK: Nar [4:53]
RECORDING: Manara
SOURCE: Wonderwheel Records WonderCD-30
INFO: wonderwheelrecordings.bandcamp.com
ARTIST: Le Tout-Puissant Orchestre Poly-Rythmo
WORK: Migbe [4:27]
RECORDING: Madjafalao
SOURCE: Because Music
INFO: Due out Oct. 28, 2016
polyrythmo.com | forcedexposure.com
ARTIST: Mehmet Ali Sanlikol & Whatsnext
WORK: An Afro Semai [6:11]
RECORDING: Resolution
SOURCE: Dunya 012
INFO: dunyainc.org
ARTIST: Meta Meta
WORK: Angolana [4:03]
RECORDING: MM3
SOURCE: Jazz Village JV 570122
INFO: jazzvillagemusic.com  

ARTIST: Jason Sharp
WORK: Still I Sit With You Inside Me, Pt I [8:24]
RECORDING: A Boat Upon Its Blood
SOURCE: Constellation CST 119
INFO: cstrecords.com

ARTIST: Donny McCaslin
WORK: Remain (MUTEMATH), excerpt [5:24]
RECORDING: Beyond Now
SOURCE: Motéma Music MTA-CD-211
INFO: Due out Oct. 14 motema.com