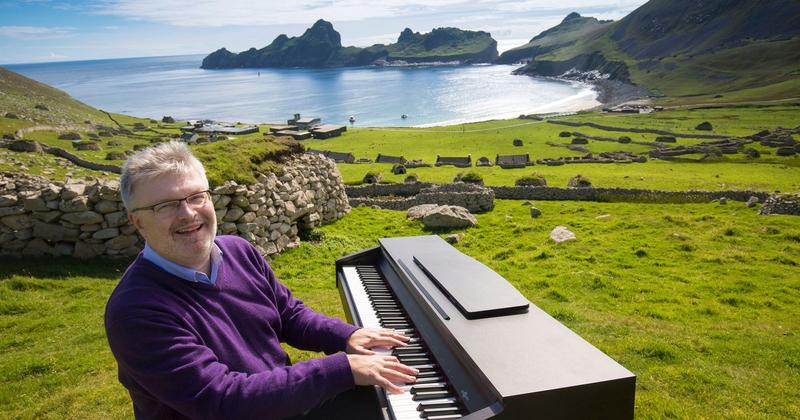 For this New Sounds, hear the musical echoes of people who once lived on St. Kilda, the group of islands about 100 miles off the coast of Scotland. From a just-released record The Lost Songs of St. Kilda, hear these forgotten folk songs of the islanders, in recordings made on a piano in an elder care home of Scotsman Trevor Morrison. Then, hear arrangements of and responses to these songs by Sir James MacMillan, Scottish composer Craig Armstrong, and the Scottish Festival Orchestra.
Trevor Morrison had a music teacher who had come from St. Kilda and was determined to pass down the songs, so the melodies were learned with the teacher's hands over Morrison's own. He passed away a few years ago, but not before he was recorded playing the songs in on a piano in an Edinburgh nursing home.
Sir James MacMillan says of the music, [They're] "forgotten songs, melodies that had disappeared from popular remembrance, and he's kept them alive playing them on the piano. Very beautiful, simple accompaniments. There's something very haunting about those recordings. You can feel the years rolling back: something very ethereal." Just for the story to come full circle, MacMillan hired a piano to be brought to the islands so that the music could live again in its place of origin: 
Hear some of these melodies, each named after an island or rock in the St Kilda archipelago, like  "Hirta" and "Stac Lee," both in their Trevor Morrison piano version, and their responses or arrangements.

Listen also to selections from the haunting record, "Hirta Songs," by Alistair Roberts and poet Robin Robertson, featuring Corrina Hewat on harp, Tom Crossley on drums and flute, Rafe Fitzpatrick on fiddle, Stevie Jones on upright bass and Robin Williamson (Incredible String Band), on Hardanger fiddle. Their texts are inspired by the history, landscape and people of the remote Scottish archipelago, which was voluntarily evacuated in 1930 of its remaining 36 people.
PROGRAM #3903, Songs of St. Kilda (First Aired 09-23-2016)  
ARTIST: Corinna Hewat, harp
WORK: Tuireadh Nan Hiortach, excerpt [1:00]
RECORDING: Hirta Songs 
SOURCE: Stone Tape Recordings  006
INFO: stonetaperecordings.co.uk
ARTIST:  Trevor Morrison
WORK: Hirta[Traditional] [2:09]
RECORDING: The Lost Songs of St. Kilda
SOURCE: Decca Records 4812795
INFO: Available at iTunes, Amazon or Spotify
ARTIST:  Trevor Morrison, Members of the Scottish Festival Orchestra, James Macmillan
WORK: Hirta[Traditional] (Arr. Sir James MacMillan [2:22]
RECORDING: The Lost Songs of St. Kilda
SOURCE: Decca Records 4812795
INFO: Available at iTunes, Amazon or Spotify
ARTIST: Alasdair Roberts & Robin Robertson
WORK: The White-Handled Knife [4:26]
RECORDING: Hirta Songs 
SOURCE: Stone Tape Recordings  006
INFO: stonetaperecordings.co.uk
ARTIST: Corinna Hewat, harp
WORK: Laoidh Fhionnlaigh Oig [2:30]
RECORDING: Hirta Songs 
SOURCE: Stone Tape Recordings  006
INFO: stonetaperecordings.co.uk
ARTIST:  Trevor Morrison
WORK: Stac Lee [3:00]
RECORDING: The Lost Songs of St. Kilda
SOURCE: Decca Records 4812795
INFO: Available at iTunes, Amazon or Spotify
ARTIST:  Trevor Morrison, Members of the Scottish Festival Orchestra, James Macmillan
WORK: Stac Lee (Dawn) {arr. Craig Armstrong} [5:16]
RECORDING: The Lost Songs of St. Kilda
SOURCE: Decca Records 4812795
INFO: Available at iTunes, Amazon or Spotify
ARTIST: Alasdair Roberts & Robin Robertson
WORK: Farewell to the Fowler [3:48]
RECORDING: Hirta Songs 
SOURCE: Stone Tape Recordings  006
INFO: stonetaperecordings.co.uk
ARTIST:  Trevor Morrison, Members of the Scottish Festival Orchestra, James Macmillan
WORK: Stac Lee (Dusk) {arr. Craig Armstrong} [4:06]
RECORDING: The Lost Songs of St. Kilda
SOURCE: Decca Records 4812795
INFO: Available at iTunes, Amazon or Spotify
ARTIST: Alasdair Roberts & Robin Robertson
WORK: The Drum Time [5:14]
RECORDING: Hirta Songs 
SOURCE: Stone Tape Recordings  006
INFO: stonetaperecordings.co.uk
ARTIST: Alasdair Roberts & Robin Robertson
WORK: Exodus [7:22]
RECORDING: Hirta Songs 
SOURCE: Stone Tape Recordings  006
INFO: stonetaperecordings.co.uk
ARTIST:  Trevor Morrison
WORK: Dùn, excerpt [1:00]
RECORDING: The Lost Songs of St. Kilda
SOURCE: Decca Records 4812795
INFO: Available at iTunes, Amazon or Spotify