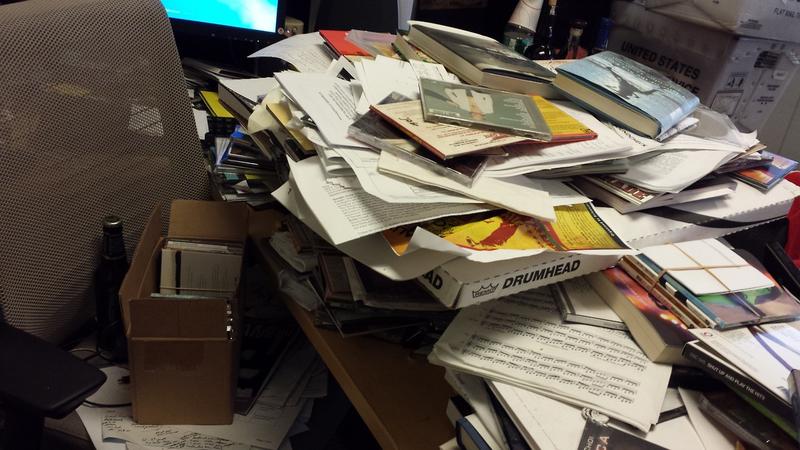 It's the most wonderful music from July 2016, a bit late; it's made up only of new releases that came our way last month. Hear live ritual music, of "wordless hymns" for "personal interpretation and reflection" by violinist/composer, bike messenger, snowboard instructor, and Emergency Medical Technician Christopher Tignor from his new record and video album, "Along A Vanishing Plane." 
Listen to electronic music created on the Buchla Music Easel by record producer, engineer, and composer Beau Sorenson, who operates as Beaunoise. (He's worked with Death Cab for Cutie, Bob Mould, and Sparklehorse, to name a few.) Then, hear electronically-enhanced, yet folk-rooted music from Norwegian musician Stein Urheim, who plays traditional string instruments of Norway, Turkey, and Greece.
Plus, music from trumpet/flugelhorn player Markus Stockhausen (yes, son of Karlheinz) and pianist Florian Weber from their excellent, "Alba." There's also music by Philip Glass, arranged and performed by pianist Anton Batagov, from his new record, "Prophecies."  All that, and more. 
PROGRAM #3884, New Releases, July 2016 (First Aired 8-01-2016)  
Philip Glass: Koyaanisqatsi, excerpt [1:00]
Koyaanisqatsi
Orange Mountain Music 58
orangemountainmusic.com
philipglass.com

ARTIST: Markus Stockhausen, Florian Weber
WORK: What can I do for you [4:42]
RECORDING: Alba
SOURCE: ECM 2477
INFO: ecmrecords.com
ARTIST: Anton Batagov
WORK: Prophecies [9:06]
RECORDING: Prophecies
SOURCE: Orange Mountain Music 0110
INFO: orangemountainmusic.com 
Due out Aug. 26, 2016
ARTIST: Christopher Tignor
WORK: We Keep This Flame [3:14]
RECORDING: Along A Vanishing Plane
SOURCE: Western Vinyl 149
INFO: westernvinyl.com
ARTIST: Beaunoise
WORK: Module I - 04 Novem.minor [5:54]
RECORDING: Buchlaworks
SOURCE/INFO: http://beaunoise.bandcamp.com
ARTIST: Stein Urheim
WORK: Strandebarm [9:38]
RECORDING: Strandebarm
SOURCE: HUBROCD2555/HUBROLP3555
INFO: hubromusic.com
ARTIST: Hypnotic Brass Ensemble
WORK: The Levant, excerpt [1:00]
RECORDING: Sound Rhythm & Form
SOURCE: Pheelco Entertainment
INFO: cdbaby.com
ARTIST: The Album Leaf  
WORK:  False Dawn [5:20]
RECORDING: Between Waves
SOURCE: Relapse Records
INFO: thealbumleaf.bandcamp.comDue out Aug. 26, 2016
ARTIST: Dave Douglas / High Risk
WORK: All The Pretty Horsepower [7:03]
RECORDING: Dark Territory
SOURCE: Greenleaf Music CD-1049
INFO: music.davedouglas.com