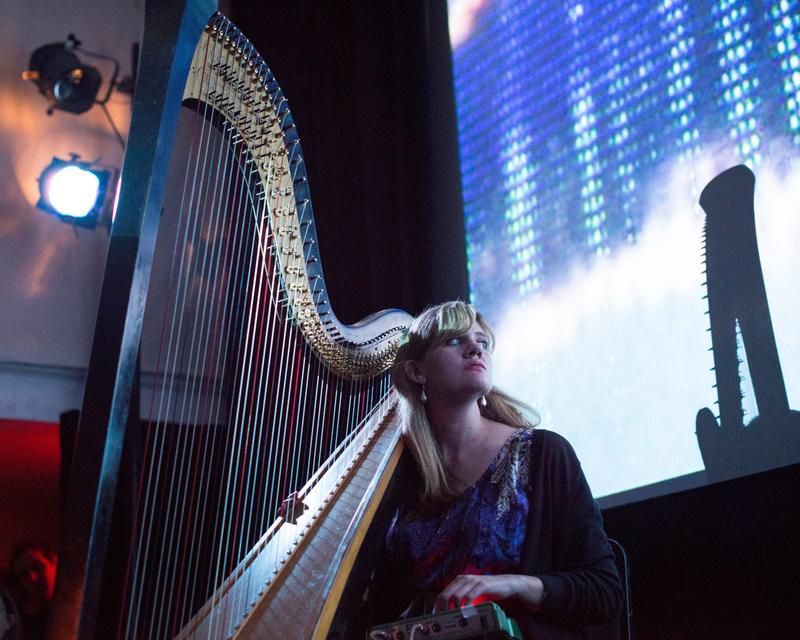 From literary titans like Jack Kerouac to musical legends like Willie Nelson, the idea of getting in a car and going someplace might just be a particularly American phenomenon -  that urge to explore the highways of our country. For this New Sounds, hear works written on the road, about the road, music for a drive, and even pieces for the soundtrack to the film adaptation of American writer Cormac McCarthy's "The Road." 
From Philadelphia-based harpist/composer Mary Lattimore, hear music written while on a road trip after she was awarded the prestigious fellowship from the Pew Center for Arts & Heritage. The work, "Otis Walks Into the Woods" was written in Marfa, Texas, after a visit to her family in North Carolina, and is an ode to a blind black lab named Otis who lived on the family farm. It comes from her inviting and delicate record, At the Dam, named for a Joan Didion essay about the Hoover Dam.
Then, hear music suggesting the expanses of the American west by John Adams and a musical journey by Texas-born Clint Needham which romanticizes wide-open American landscapes. Also, listen to fascinating and kinetic music by San Francisco-based composer George Hurd, who combines found sound collected over the past 15 years of his travels with string quartet (violin, viola, cello, upright bass), piano and electronics. The resulting electroacoustic compositions, on his recent record Navigation Without Numbers, resemble the layers of an onion; there's always another melodic, harmonic, electro-distortion and/or percussive layer to reveal upon repeat listens. 
See George Hurd and the Hurd Ensemble at Spectrum on July 23, 8PM.
There's music for I-5, from California-based composer Sasha Matson, who has also written a chamber-jazz opera about baseball, "Cooperstown." Plus, listen to music from the soundtrack to the 2009 film adaptation of Cormac McCarthy's "The Road," from Nick Cave and Warren Ellis, and more. 
PROGRAM #3883, Road Music (First Aired 7-22-2016)       
ARTIST: Francesca Anderegg, Brent Funderburk
WORK: Clint Needham : On The Road- Nothing Behind Me, Mvmt 1, excerpt [1:00]
RECORDING: Wild Cities
SOURCE: New Focus Recordings fcr168
INFO:   newfocusrecordings.com
ARTIST: Jennifer Koh, Reiko Uchida, piano
WORK: John Adams: Road Movies: Relaxed Groove [4:39]
RECORDING: String Poetic
SOURCE: Cedille Records 103
INFO: cedillerecords.org
ARTIST: George Hurd Ensemble
WORK: Pauca [4:03]
RECORDING: Navigation Without Numbers
SOURCE: Innova 937
INFO: innova.mu
ARTIST: George Hurd Ensemble
WORK: Locked in Place [4:20]
RECORDING: Navigation Without Numbers
SOURCE: Innova 937
INFO: innova.mu
ARTIST: Francesca Anderegg, Brent Funderburk
WORK: Clint Needham : On The Road- Nothing Behind Me, Mvmt 1 [4:47]
RECORDING: Wild Cities
SOURCE: New Focus Recordings fcr168
INFO:   newfocusrecordings.com
ARTIST: Francesca Anderegg, Brent Funderburk
WORK: Clint Needham : On The Road- Everything Ahead of Me [3:33]
RECORDING: Wild Cities
SOURCE: New Focus Recordings fcr168
INFO:   newfocusrecordings.com
ARTIST: Mary Lattimore
WORK: Otis Walks Into the Woods [9:41]
RECORDING: At the Dam
SOURCE: Ghostly Int'l GI 260LP
INFO: theghostlystore.com
ARTIST: Nick Cave & Warren Ellis
WORK: The Road [3:46]
RECORDING: The Road
SOURCE:  Mute / Universal Music 9436
INFO: mute.com,  available at Amazon.com
ARTIST: Nick Cave & Warren Ellis
WORK: The Father [2:57]
RECORDING: The Road
SOURCE:  Mute / Universal Music 9436
INFO: mute.com,  available at Amazon.com
ARTIST: Sasha Matson
WORK: i-5 III: Lost Near Bakersfield [4:30]
RECORDING: Steel Chords / i-5
SOURCE: Audioquest #1013
INFO: valley-entertainment.com
ARTIST: Jenny Scheinman
WORK: Song of the Open Road [5:00]
RECORDING: 12 Songs
SOURCE: Cryptogramophone CG125
INFO: cryptogramophone.com