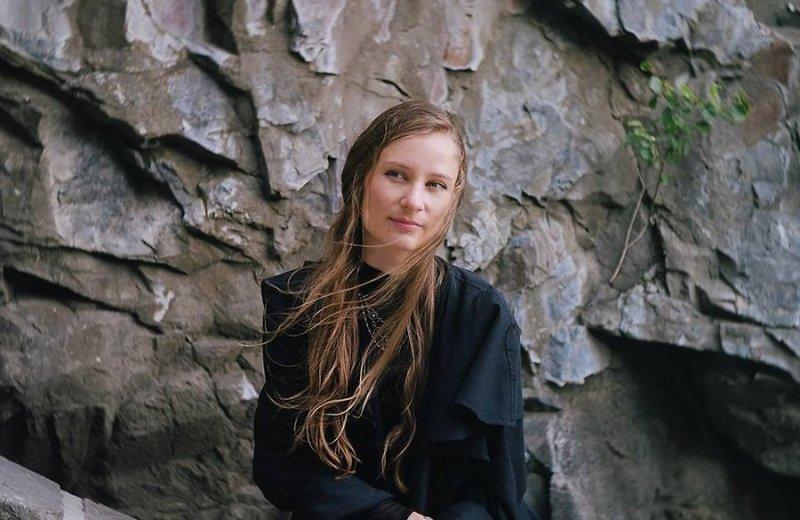 For this New Sounds, hear music made by Montréal-based musicians, including organist/electro-composer Kara-Lis Coverdale, the musician/producer Radwan Ghazi Moumneh, aka Jerusalem in My Heart, music from the chamber group Esmerine, and more.
Canadian composer/musician and church organist Kara-Lis Coverdale writes suggestively menacing numbers such as "Touch Me and Die" - something akin to a spring shower made music, punctuated by handbells, which are then stretched into fascinating and odd tintinnabulations as though Arvo Part met an anime soundtrack. Her work might range from breathy electronica to what VICE has described as "luminous," "focused, but bubbling over with ideas," all envisioned to entice movement, like a dance score. Then there are her collaborative experimental electronic works, like "Disney," made with the producer LXV, which suggests sheets of electronically-enhanced angelic choirs.  She professes to be very open to collaborating with pop musicians like Ariana Grande or Kanye West, should the chance arise (The Quietus, July 2016), and has already worked with the electronic composer Tim Hecker (on his recent "Love Streams") hip-hop producer Lee Bannon, and others.   
Sample some music by the aforementioned Montréal-based Kara-Lis Coverdale, "Disney," along with electronic music by composer Tim Hecker, and the chamber band Esmerine, whose music ranges from drones to post-punk to having even worked with Turkish folk musicians on the very excellent release Dalmak. Plus, music from 9-member strong post-rock band Godspeed You! Black Emperor, the producer and musician Radwan Ghazi Moumneh who operates under the moniker Jerusalem in My Heart, and more.
ARTIST: Arcade Fire
WORK: Neighborhood #1 (Tunnels) [1:10]
RECORDING: Funeral 
SOURCE: Merge Records MRG255
INFO: mergerecords.com and Available on Amazon 
ARTIST: Bell Orchestre
WORK: Water/Light/Shifts [2:58]
RECORDING: As Seen Through Windows
SOURCE: Arts & Crafts
INFO:arts-crafts.ca; allmusic.com
ARTIST: Kara-Lis Coverdale
WORK: Disney [8:06]
RECORDING: Sirens
SOURCE: Umor Rex ‎– UR078
INFO: bandcamp.com
ARTIST: Tim Hecker
WORK: Violet Monumental [8:07]
RECORDING: Love Streams
SOURCE: 4AD
INFO: 4ad.com and Available on Spotify
ARTIST: Tim Hecker
WORK: Castrati Stack [0:11]
RECORDING: Love Streams
SOURCE: 4AD
INFO: 4ad.com and Available on Spotify
ARTIST: Godspeed You! Black Emperor
WORK: Asunder Sweet [6:13]
RECORDING: Asunder, Sweet and Other Distress
SOURCE: Constellation Records CST111
INFO: cstrecords.com and Available on Amazon
ARTIST: Jerusalem in my Heart
WORK: Speak of the Woman in the Black Robe [2:55]
RECORDING: Mo7it Al-Mo7it (Ocean of the Ocean)
SOURCE: Constellation Records
INFO: allmusic.com
ARTIST: Esmerine
WORK: Yavri Yavri [5:20]
RECORDING: Dalmak
SOURCE: Constellation Records CST096
INFO: cstrecords and Available on iTunes
ARTIST: Saltland
WORK: I Thought It Was Us [2:56]
RECORDING: I Thought It Was Us but It Was All of Us
SOURCE: Constellation Records CST 094
INFO: cstrecords.com; allmusic.com
ARTIST: Saltland
WORK: But It Was All of Us [5:38]
RECORDING: I Thought It Was Us but It Was All of Us
SOURCE: Constellation Records CST 094
INFO: cstrecords.com; allmusic.com
ARTIST: Cordame
WORK: Jean Félix Mailloux: Reunion [5:19]
RECORDING: Reve Eveille
INFO: bandcamp.com