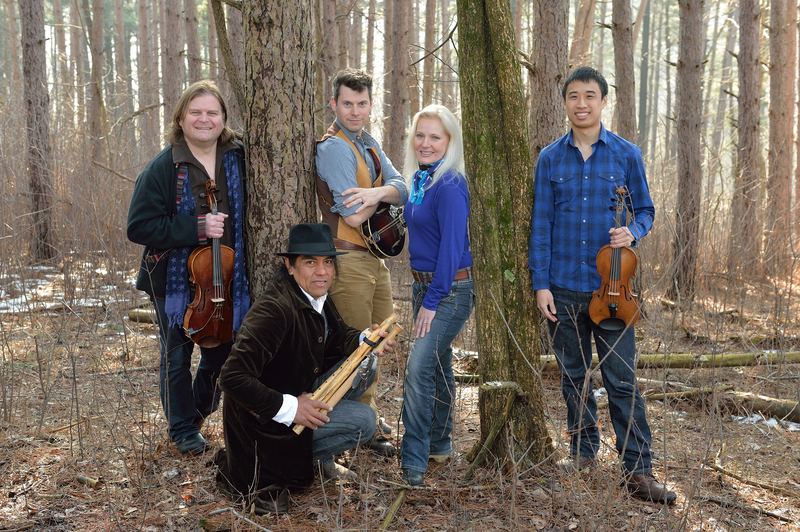 Listen to chamber music packed with strong Americana flavors for this New Sounds. There's music from guitarist William Tyler, ETHEL in collaboration with the Native American flutist Robert Mirabal, violist/composer Jessica Meyer, and music from guitarist/composer Bill Frisell.
Hear a work by the ETHEL cellist Dorothy Lawson, based on the Heart Sutra from the collaborative record by ETHEL & Robert Mirabal, "The River." Also, from another maverick string quartet, Brooklyn Rider, listen to their recording of a work with Americana overtones by guitarist Bill Frisell, his "John Steinbeck."  Then, listen to a lovely folk-inspired work from Nashville-based guitarist/composer William Tyler, from his recent "Modern Country," a collection of songs about the vanishing America.
There's also music by looping violist Jessica Meyer, which draws on Appalachian fiddling, as well as music from cellist Erik Friedlander, who in both a solo and an ensemble setting, puts his own stamp on Americana music. Plus, hear a work from the Modern Mandolin Quartet, composed by and featuring David Balakrishnan, violinist and founder of the Turtle Island Quartet.
Special Podcast of New Sounds #3880, "Americana Chamber Music" Playlist
ARTIST: Jessica Meyer
WORK: Source of Joy, excerpt [1:35]
RECORDING: Sounds of Being
SOURCE/INFO: jessicameyer.bandcamp.com
ARTIST: Sasha Matson
WORK:  Steel Chords III: Steel Dances [6:30]
RECORDING: Steel Chords / I-5
SOURCE: Audioquest #1013
INFO: valley-entertainment.com
ARTIST: Brooklyn Rider
WORK: Bill Frisell: Steinbeck [2:54]
RECORDING: Almanac
SOURCE: Mercury Classics / In A Circle Records #002159302 
INFO: mercuryclassics.com, available at iTunes, Amazon.com, Emusic.com
ARTIST: Jessica Meyer
WORK: Source of Joy [3:26]
RECORDING: Sounds of Being
SOURCE/INFO: jessicameyer.bandcamp.com
ARTIST: Charles Lloyd & Jason Moran
WORK: Lloyd: Journey Up River (Hagar Suite), excerpt [:43]
RECORDING: Hagar's Song
SOURCE: ECM Records 2311 
INFO: ecmrecords.com
ARTIST: Erik Friedlander
WORK: Nostalgia Blindside [4:57]
RECORDING: Nighthawks
SOURCE: Skipstone Records
INFO: erikfriedlander.com
ARTIST: ETHEL & Robert Mirabal
WORK: Dorothy Lawson: Gat'te [6:56]
RECORDING: The River
SOURCE: Innova 946
INFO: innova.mu, available on Amazon and iTunes
ARTIST: Modern Mandolin Quartet with David Balakrishnan
WORK: Balakrishnan: Interplay - Shoka [6:10]
RECORDING: Interplay
SOURCE: d'Note 1034
INFO: dnote.com | modernmandolinquartet.com
ARTIST: William Tyler
WORK: I'm Gonna Live Forever (If It Kills Me) [5:25]
RECORDING: Modern Country
SOURCE: Merge Records MRG 545
INFO: mergerecords.com
ARTIST: Erik Friedlander
WORK: Yakima
RECORDING: Block Ice & Propane
SOURCE: Skipstone Records
INFO: erikfriedlander.com