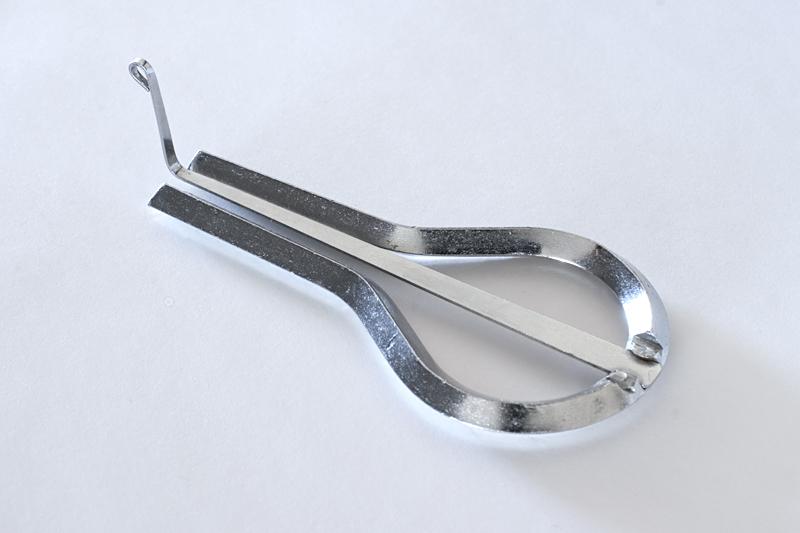 The instrument goes by many names, jaw harp, jew's harp, juice harp, mouth harp, Ozark harp, mouth bow, trump, and morsing. It's called a guimbarde in France, maultrommel in Germany, kouxian in China, komuz in Kazakhstan, changu in Sindhi music (native to Sindh, Pakistan and Gujarat, India), and in Rajasthan it is called morchang. Tuvans call it khomus, and it's thought of as one of the world's oldest musical instruments.  
(In case the urge compels you, Musicologist Phons Bakx of the Netherlands has compiled the nomenclature of over a thousand names for the Jew's harp from all over the world
See:http://www.antropodium.nl/Duizend Namen Mhp.htm)
In short, it's a percussive device that consists of a metal tongue which is plucked with the player's finger, and uses the mouth as resonating chamber.  
For this New Sounds, hear the jaw harp in music from Tuvan throat-singers Huun-Huur-Tu, in a moose-hunting song from Estonia, and a Leonard Cohen song as well. Plus, there's music by Kepa Junkera and Sorginak from the Basque country in Spain and music from Poland's Karolina Cicha, which also uses the jaw harp. 
Not to be outdone, listen to the jaw harp in a work from John Zorn's Masada Songbook, as played by guitarist Jon Madof's Rashanim trio. Plus, listen to Chinese-born, Paris-based Wang Li on kouxian (jaw harp) & Chinese-born, Berlin-based Wu Wei on sheng (mouth organ), from their drone and bounce-filled record, Overtones Les Harmoniques Du Ciel, or The Chant of Stars. SEE Wang Li & Wu Wei at the Lincoln Center Festival on July 23. 
There's also a concerto from Beethoven's counterpoint teacher, Johann Georg Albrechtsberger, which features the jaw harp, and much more. 
PROGRAM #3878, Music for Jaw Harp (First Aired 7-07-2016)         
ARTIST: Edil Huseinov, komuz
WORK: Jew's harp melody [1:50]
RECORDING: The Silk Road: A Musical Caravan
SOURCE: SFW40438_210
INFO: folkways.si.edu
ARTIST: Karolina Cicha & Spotka, ft Bart Patyga
WORK: Za rieczkaju [4:12]
RECORDING: 9 Languages
SOURCE: Karolina Cicha 2013
INFO: Available at iTunes / Info at karolinacicha.eu
ARTIST: Kepa Junkera & Sorginak, ft. Daniel Pando
WORK: Marea Zumaian [3:34]
RECORDING: Maletak
SOURCE: FOL MUSICA 
INFO: Available at iTunes or Amazon.com
ARTIST: Torupilli Jussi Trio
WORK: Moose hunting song [3:53]
RECORDING: Soundcloud
SOURCE/INFO: soundcloud.com/torupilli-jussi-trio 
ARTIST: Wu Man & Friends, ft. Lee Knight
WORK: Old Joe Clark [2:48]
RECORDING: Wu Man & Friends
SOURCE: Traditional Crossroads #4329
INFO: traditionalcrossroads.com
ARTIST: Munich Chamber Orchestra; Hans Stadlmair, cond. / Fritz Mayr, Jew's Harp; Dieter Kirsch, Mandora
WORK: Johann Georg Albrechtsberger: concerto for jew' Harp , Madora and Orchestra in E Major, excerpt [1:22]
RECORDING: Concertos for Jew's Harp Madora and Orchestra
SOURCE: Orfeo C035821A
INFO: Available at Amazon.com or prestoclassical.co.uk
ARTIST: Leonard Cohen
WORK: Story of Isaac, excerpt [1:19]
RECORDING: Songs from a Room
SOURCE: Columbia / Legacy CK-9767
INFO: reissued 2016 on Sony. Available at Amazon or iTunes
ARTIST: Dirtwire
WORK: Ibex [4:39]
RECORDING: Ondar EP
SOURCE: Six Degrees Records
INFO: sixdegreesrecords.com | dirtwire.net | dirtwiremusic.bandcamp.com
ARTIST: Huun-Huur-Tu
WORK: Sagly Khadyn Turu-La Boor (It's Probably Windy On Sandy Steppe) [3:48]
RECORDING: Where Young Grass Grows
SOURCE: Shanachie Records
INFO: Available at iTunes, Emusic, or Amazon.com
ARTIST: Dirtwire
WORK: Taiga [4:07]
RECORDING: Ondar EP
SOURCE: Six Degrees Records
INFO:  sixdegreesrecords.com | dirtwire.net | dirtwiremusic.bandcamp.com
ARTIST: Rashanim
WORK: John Zorn: Terumah [8:27]
RECORDING: Masada Rock
SOURCE: Tzadik 8103
INFO: Tzadik.com
ARTIST: David Simon
WORK: Four Kotekan
RECORDING: Prismatic Hearing
SOURCE: Tzadik 8001
INFO: Tzadik.com
ARTIST: Wang Li & Wu Wei
WORK: Overtone Dance I. Autumn, excerpt
RECORDING: Overtones Les Harmoniques Du Ciel
SOURCE: Harmonia Mundi HM902229
INFO: Due out August 12, 2016 | Pre-order from Amazon.com