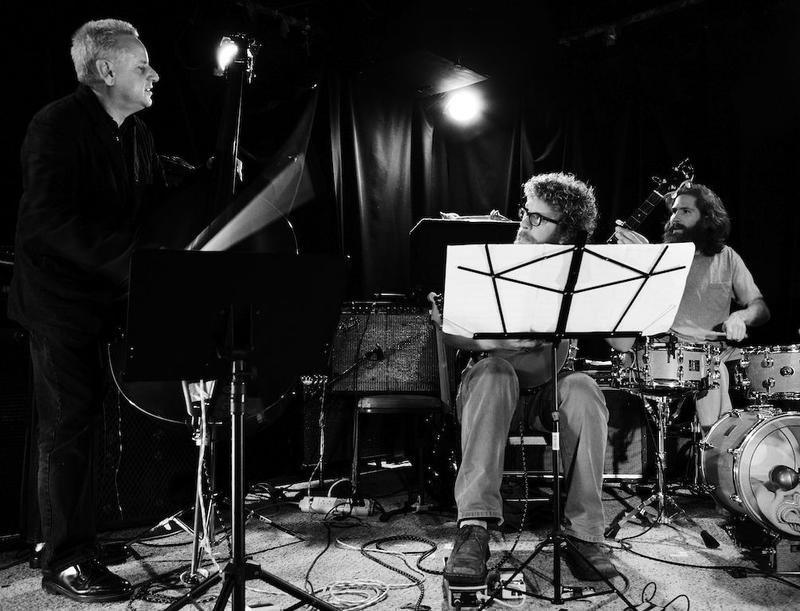 Listen to Appalachian-leaning minimalism in music from composer Arnold Dreyblatt and the trio Megafaun, along with early electronica from Laurie Spiegel, folksong-vocal work from Moira Smiley & VOCO, and one of Yo-Yo Ma's Appalachian projects.
Hear the pulsing music of composer Arnold Dreyblatt and The North Carolina by way of Wisconsin psych-folk trio Megafaun joins together for their recording Appalachian Excitation.  Also, listen to the folk fiddle and hills in music from the Aeolus Quartet, recorded at the University of Texas in Austin. They play a work by Steven Snowden, inspired by the photography of Shelby Lee Adams, called "Appalachian Polaroids,"
Then, bluegrassy string band music (mandolin, banjo) meets minimalism in music from the trio Ellipsis (from the back wall of the New Sounds library.) Also, hear music from Roy Whelden, combining viola da gamba chords and Appalachian fiddle music, from his record named after the town of Galax, VA.
Listen to a work from experimental music pioneer Laurie Spiegel, "Appalachian Grove", which was inspired by banjo, along with music from banjo player Jayme Stone and the griot Mansa Sissoko from their record, "From Africa to Appalachia." Music from Pulitzer Prize winning composer Caroline Shaw rounds out the show. 
PROGRAM #3877, Appalachian Echoes (First Aired 7-06-2016)     
ARTIST: New York Philharmonic / Alan Gilbert, cond.
WORK: Copland: Appalachian Spring, excerpt [1:00]
RECORDING: An American New Year's Eve
SOURCE: New York Philharmonic
INFO: nyphil.org OR Amazon.com
ARTIST: Roy Whelden
WORK: Cantabile [1:42]
RECORDING: Galax
SOURCE: New Albion #059
INFO: galaxquartet.org. Try iTunes, Amazon.com or Emusic.com
ARTIST: Ellipsis
WORK: Lebadang [6:44]
RECORDING: Ellipsis
SOURCE: Flying Fish  FF-339
INFO: Out of print. Try auction sites
ARTIST: Arnold Dreyblatt & Megafaun
WORK: Home Hat Placement [8:26]
RECORDING: Appalachian Excitation
SOURCE: Northern Spy NS 044
INFO: arnolddreyblattandmegafaun.bandcamp.com
ARTIST: Moira Smiley & VOCO
WORK: Whistle Daughter Whistle (Trad. Appalachian) [2:28]
RECORDING: Laughter Out Of Tears
SOURCE/INFO: moirasmiley.com
ARTIST: Aeolus Quartet
WORK: Steve Snowden: Appalachian Polaroids [6:01]
RECORDING: Many-Sided Music
SOURCE: Longhorn Music
INFO: aeolusquartet.com
ARTIST:  Yo-Yo Ma, Mark O'Connor, Edgar Meyer
WORK: Caprice for Three [3:48]
RECORDING: Appalachian Journey
SOURCE: Sony Classical SK 66782
INFO: sonyclassical.com
ARTIST: Jayme Stone & Mansa Sissoko
WORK: Tree to Tree [4:33]
RECORDING: Africa to Appalachia
SOURCE: Factor #JS-200 
INFO:  jaymestone.com
ARTIST: ACME (American Contemporary Music Ensemble)
WORK: Caroline Shaw: I'll Fly Away [5:00]
RECORDING: New Sounds Live @ Brookfield Place Winter Garden 10/16/13
SOURCE: This performance not commercially available.
INFO: carolineshaw.com
ARTIST: Laurie Spiegel
WORK: Appalachian Grove 1 [5:23]
RECORDING: The Expanding Universe
SOURCE: Unseen Worlds UW 09
INFO: unseenworlds.net