New Sounds
#3871: New York Guitar Festival at the Greene Space, part 2 of 2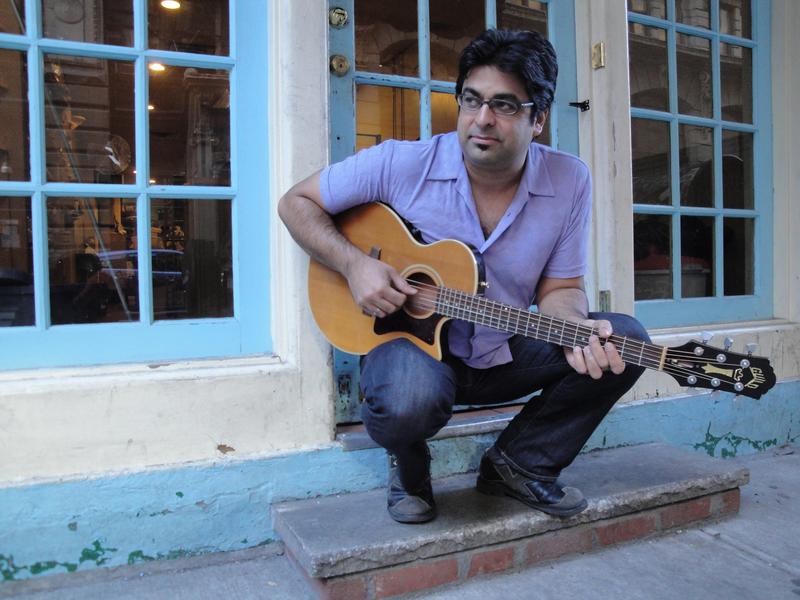 Hear part two of our special New Sounds Live at the 2016 New York Guitar Festival, an evening full of world premiere works by four guitar wizards, recorded at the Greene Space. For this program, listen to the artistry of Rez Abbasi's trio, along with more works from Kaki King, Glenn Jones, and Derek Gripper. 
Listen to the set from Pakistani-born, New York-based guitarist, bandleader & producer Rez Abbasi, who for this event in the Greene Space, put together a new trio, which included upright bass player Michael Gam and tabla player Sameer Gupta. He told the audience that he'd always wanted to play music with that instrument combination, and did so, recasting an original work and John Coltrane's gospel-like "Lonnie's Lament" – which he says, "has magic baked into it." 
Hear more of Glenn Jones' hair-raising American Primitive Guitar, featuring his use of the half-capo, in performances of two works from his latest record, Fleeting. Also, listen to another untitled work by guitarist/songwriter/composer Kaki King and yet another instrument in her guitar arsenal. 
Plus, listen to an arrangement of kora duet, "Miniyamba," originally a tune by Toumani Diabate and his son, Sidiki, but - South African virtuoso Derek Gripper plays it on just six strings of one guitar. Gripper is a wonder, who can somehow perform music originally meant for the 21 stringed lute-harp, the kora, and in this case, for two koras (!).  
See all of the performers in the individual videos of each work performed that night within this YouTube playlist. Additionally, video links are embedded in the playlist information below. Or watch the whole concert from the NYGF show at the Jerome L. Greene Space:

PROGRAM #3871, NY Guitar Festival at the Greene Space 5/12/16, Part 2, (First Aired 6-09-2016)     
ARTIST: Rez Abbasi with Michael Gam, bass & Sameer Gupta, tabla
WORK: Rise Above, excerpt [1:00]
RECORDING: New Sounds Live/NYGF, the Greene Space, 5/12/2016
SOURCE: This performance not commercially available.
INFO: reztone.com
ARTIST: Glenn Jones
WORK: Glenn Jones: Mother's Day [5:24]
RECORDING: New Sounds Live/NYGF, the Greene Space, 5/12/2016
SOURCE: This performance not commercially available.
INFO: The tune appears on Glenn Jones' latest record, Fleeting. thrilljockey.com/artists/glenn-jones
ARTIST: Glenn Jones
WORK: Glenn Jones: Portrait of Basho as a Young Dragon [3:50]
RECORDING: New Sounds Live/NYGF, the Greene Space, 5/12/2016
SOURCE: This performance not commercially available.
INFO: The tune appears on Glenn Jones' latest record, Fleeting. thrilljockey.com/artists/glenn-jones
ARTIST: Rez Abbasi with Michael Gam, bass & Sameer Gupta, tabla
WORK: Rise Above (Abbasi) & Lonnie's Lament (John Coltrane) [16:39]
RECORDING: New Sounds Live/NYGF, the Greene Space, 5/12/2016
SOURCE: This performance not commercially available.
INFO: reztone.com
ARTIST: Kaki King
WORK: Kaki King: Untitled 3 [3:51] 
RECORDING: New Sounds Live/NYGF, the Greene Space, 5/12/2016
SOURCE: This performance not commercially available.
INFO: kakiking.com
ARTIST: Derek Gripper
WORK: Toumani Diabaté / Sidiki Diabaté: Miniyamba - (arr. Derek Gripper) [3:48]
RECORDING: New Sounds Live/NYGF, the Greene Space, 5/12/2016
SOURCE: This performance not commercially available.
INFO: The work appears on his record, Libraries on Fire, New Cape Records NCR4558
https://newcape.bandcamp.com/; Available on Spotify and iTunes
ARTIST: John Williams
WORK: Francis Bebey: The Magic Box, arr. John Williams [3:00]
RECORDING: The Magic Box
SOURCE: Sony Classical #89483
INFO: Available at Amazon or iTunes