New Sounds
#3870: New York Guitar Festival at the Greene Space, part 1 of 2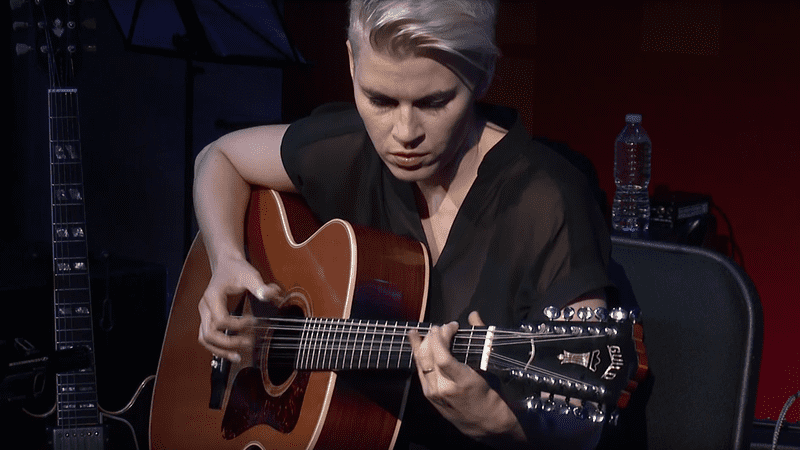 Hear part one of our special New Sounds Live at the 2016 New York Guitar Festival, an evening full of world premiere works by four guitar wizards, recorded at the Greene Space. For this program, listen to the artistry of Kaki King, Glenn Jones, and Derek Gripper. We're saving the music from Rez Abbasi's trio for the next New Sounds.
Hear a brand-new work by Glenn Jones, "The Giant Who Ate Himself." Jones is an acoustic guitar player who has inherited the legacy of the American Primitive Guitar, an incredibly sophisticated way of fingerpicking, and one that has been handed down since John Fahey (1939-2001), the American fingerstyle guitarist and composer.  
Also, listen to music by guitarist/songwriter/composer Kaki King, who plays acoustic, electric, and high-strung parlor guitars from the 19th century, and most recently, a guitar which served as a projection screen for her project called, "A Neck is a Bridge to the Body."  For this Green Space event, she brought both interesting guitars and new works. One of these instruments was a 12-string guitar, which came her way only very recently, and was in the "Leadbelly" set-up, in a unique tuning and using electric guitar strings. She performed an untitled piece written that very morning for said tuning, and other works.
Plus, hear South African guitar virtuoso Derek Gripper, who plays music originally meant for the 21 stringed lute-harp, the kora, on his 6-string Segovia-styled guitar. It's an incredible feat! Listen to unbelievable arrangements of Malian kora greats, including a song which rehabs the image of vultures, some of Ballake Sissoko/Vincent Segal's "Chamber Music," as well as a song about going for long drives with Joni Mitchell.
There are also individual videos of each work performed that night within this YouTube playlist. 
Or watch the whole concert from the NYGF show at the Jerome L. Greene Space:

PROGRAM #3870, NY Guitar Festival at the Greene Space 5/12/16, Part 1, (First Aired 6-08-2016)     
ARTIST: Kaki King
WORK: Kaki King: Untitled I, excerpt [1:00]
RECORDING: New Sounds Live/NYGF, the Greene Space, 5/12/2016
SOURCE: This performance not commercially available.
INFO: kakiking.com
ARTIST: Glenn Jones
WORK: Glenn Jones: The Giant Who Ate Himself [5:39]
RECORDING: New Sounds Live/NYGF, the Greene Space, 5/12/2016
SOURCE: This performance not commercially available.
INFO: thrilljockey.com/artists/glenn-jones
ARTIST: Kaki King
WORK: Kaki King: Untitled 1 [3:50]
RECORDING: New Sounds Live/NYGF, the Greene Space, 5/12/2016
SOURCE: This performance not commercially available.
INFO: kakiking.com
ARTIST: Kaki King
WORK: Kaki King: Untitled 2 [3:46]
RECORDING: New Sounds Live/NYGF, the Greene Space, 5/12/2016
SOURCE: This performance not commercially available.
INFO: kakiking.com
ARTIST: Toumani Diabate
WORK: Musu Maramba, excerpt [1:15]
RECORDING: World Routes - On The Road
SOURCE: Nascent NASCE 001
INFO: Available at Amazon.com, or download from Emusic or iTunes
ARTIST: Derek Gripper
WORK: Sekou Kouyaté: Duga (arr. Derek Gripper) [4:23]
RECORDING: New Sounds Live/NYGF, the Greene Space, 5/12/2016
SOURCE: This performance not commercially available. 
INFO: The work appears on his record, Libraries on Fire, New Cape Records NCR4558
https://newcape.bandcamp.com/; Available on Spotify and iTunes
ARTIST: Derek Gripper
WORK: Fanta Sacko / Toumani Diabaté: Titi / Jarabi (arr. Derek Gripper) [5:44]
RECORDING: New Sounds Live/NYGF, the Greene Space, 5/12/2016
SOURCE: This performance not commercially available. 
INFO: The work appears on his record, Libraries on Fire, New Cape Records NCR4558
https://newcape.bandcamp.com/; Available on Spotify and iTunes
ARTIST: Derek Gripper
WORK: Ballake Sissoko: Chamber Music, arr. Gripper / Gripper: Joni [7:48]
RECORDING: New Sounds Live/NYGF, the Greene Space, 5/12/2016
SOURCE: This performance not commercially available. 
INFO: The work appears on his record, Libraries on Fire, New Cape Records NCR4558
https://newcape.bandcamp.com/; Available on Spotify and iTunes