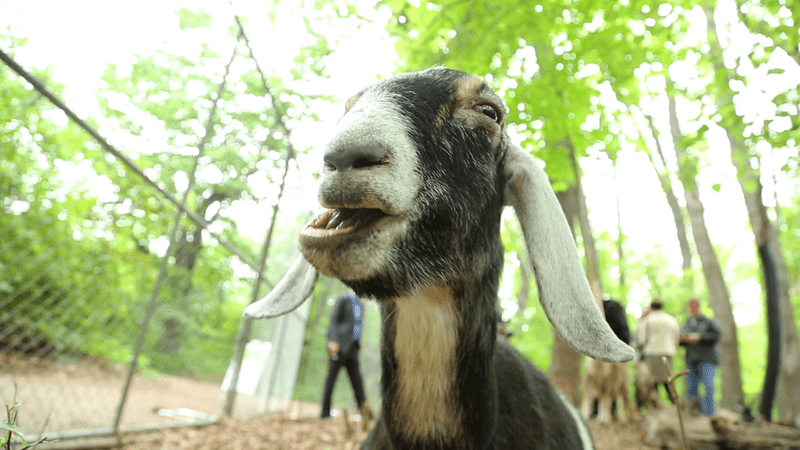 For this New Sounds, listen to a hootenanny of a program, yep – it's time to celebrate the goat as a musical hero. Listen to pieces about goats, and works featuring instruments which were inventively and resourcefully (and hopefully not cruelly) made from parts of the goat.
Listen to sounds from around the world that are made from parts of the goat; goatskin drums from Ireland and West Africa, goats' hooves as shakers called chajchas in music from the Andes, bagpipes called gaida, where the bags are made of goat hide, and Scandinavian music featuring the goat horn as, well, a horn. Nearly every place that people keep goats, they get turned into musical instruments. 
Hear a trio from Prince Edward Island called Ten Strings and a Goat Skin, who play Franco-Canadian, Breton, Irish, and Scottish tunes on their fiddle, guitar and bodhrán (traditionally made with stretched goat skin.) Also, hear music from Norwegian tenor saxophonist, goat horn player, and composer Karl Seglem. Then, listen to music featuring the gaida in music from 3 Mustaphas 3 and from Yo-Yo Ma's Silk Road Ensemble, which also includes gaita, played by celebrated Galician bagpiper Cristina Pato.
Plus, hear pieces about goats in works from the Sierra Leone Refugee All-Stars to a string band featuring mandolin player Chris Thile and cellist Yo-Yo Ma, from The Goat Rodeo Sessions. Listen to more hircine music by Bukkene Bruse ("Billy Goats Gruff"), and Irish sean-nós singer, Iarla Ó Lionáird. And much more. 
PROGRAM #3869, The Goat as Musical Hero (First Aired 6-03-2016)   
ARTIST: Andes Manta
WORK: Sombrero de Paja y Quin, excerpt [2:00]
RECORDING: Andes Manta
SOURCE: Koch International 340002
INFO:  Reissued on the band's own label as Desde Los Andes AM-DA92
andesmanta.com
ARTIST: Ten Strings And A Goat Skin
WORK: Aupres Du Poele (around the woodstove) [3:21]
RECORDING: Aupres Du Poele
SOURCE: Maple Music
INFO: Due out June 12, 2016 via maplemusic.com
ARTIST: 3 Mustaphas 3
WORK: Kaba Mustapha: Valle E Gajdes [4:00]
RECORDING: Heart Of Uncle
SOURCE: Rykodisc #20156
INFO: rykodisc.com
ARTIST: Karl Seglem
WORK: Ørken (desert) [4:29]
RECORDING: Ossicles
SOURCE: Ozella 034
INFO: ozellamusic.com
ARTIST: Yo-Yo Ma & the Silk Road Ensemble
WORK: David Bruce: Cut the Rug - Drag the Goat [5:13]
RECORDING: A Playlist Without Borders
SOURCE: Sony Masterworks 88883 71092
INFO: silkroadproject.org | yo-yoma.com
ARTIST: Iarla Ó Lionáird
WORK: The Goat Song [3:42]
RECORDING: Foxlight
SOURCE: Real World CDRW184
INFO: realworldrecords.com/iarla 
ARTIST: Bukkene Bruse
WORK: Norafjolls (The Northern Fjords) [4:58]
RECORDING: The Stone Chair
SOURCE: North Side #6032
INFO: Try Amazon.com
ARTIST: Yo-Yo Ma, cello; Stuart Duncan, violin; Edgar Meyer, bass; Chris Thile, mandolin
WORK: Goat Rodeo [4:19]
RECORDING: The Goat Rodeo Sessions
SOURCE: Sony Masterworks / Sony Classical 88697841182
INFO: yo-yoma.com
ARTIST: Julie Andrews
WORK: The Lonely Goatherd, excerpt [:30]
RECORDING: The Sound of Music (1965 Film Soundtrack) 
SOURCE: RCA 65872
INFO:  Many reissues exist. Available at Amazon, iTunes, Spotify, etc.
ARTIST: Sierra Leone Refugee All-Stars
WORK: Goatsmoke Pipe [2:49]
RECORDING: Rise and Shine
SOURCE: Cumbancha CMBCD 18
INFO: store.cumbancha.com
ARTIST: Xylouris White
WORK: Psarandonis Syrto [4:38]
RECORDING: Goats
SOURCE: Other Music Recording Co.
INFO: othermusicrecordingco.com
ARTIST: Natraj
WORK: Dha Ra Dha Tin Na (Phil Scarff), excerpt [5:40]
RECORDING: The Goat Also Gallops
SOURCE: Dorian 80124
INFO: dorian.com
ARTIST: Benevento Russo
WORK: My Pet Goat, Mephisto, excerpt [:41]
RECORDING: Best Reason to Buy the Sun
SOURCE: Ropeadope #0962
INFO: ropedope.com