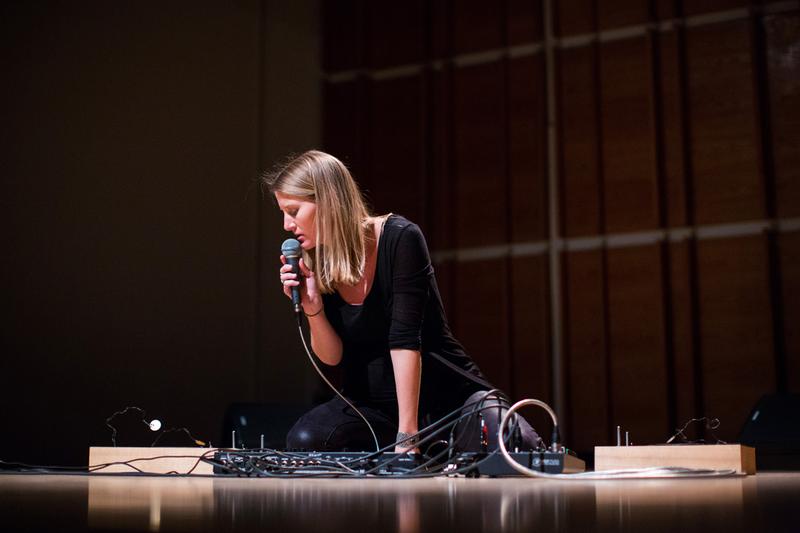 Hear new vocal works, specific to a place, or even a time, on this New Sounds. Listen to a piece built around layers of New York-based Lesley Flanigan's voice. Then there's a work by violinist, vocalist, and composer Finnegan Shanahan inspired by a mid-19th Century of the Hudson River Railroad. Also, listen to a brand-new recording of a piece by Lewis Pesacov, specific to a place and written for one moment in time, the final day of the Mayan Calendar. 
Hear music from electronic musician and instrument builder Lesley Flanigan who creates layered soundscapes using sounds of a variety of homemade speakers and instruments, electronic feedback, a malfunctioning tape deck, and her own voice. Then there's a ritualistic chamber opera from Lewis Pesacov and librettist Elizabeth Cline, "The Edge of Forever," inspired by the day the world was supposed to end, Dec 21, 2012, according to the Mayan Calendar. It was also a site-specific work, to go with the Mayan Revival architecture of the Philosophical Research Society in Los Angeles. Glowing and gliding, a tenor and chorus of four female voices are accompanied by conch shell trumpets, percussion, and sine tone oscillators played through a mixing board, along with traditional woodwinds & stringed instruments.  Sample the end of Pesacov's work, "From Stone and To Forever." 
Also, hear music by composer, multi-instrumentalist, and founding member of the ensemble Contemporaneous, Finnegan Shanahan. His song cycle "The Two Halves" was based on a circa 1852 map of the Hudson River Railroad and written for Contemporaneous. There is corresponding artwork by artist and illustrator Render Stetson, depicting each dream map location visited in the cycle. (See the artwork: finneganshanahan.com)  Plus, listen to a portion of Julia Wolfe's Pulitzer Prize-winning work, "Anthracite Fields," inspired by mining communities of central Pennsylvania.  
PROGRAM #3866, Time and/or Site-Specific Music  (First Aired 5-26-2016)         
ARTIST: Lesley Flanigan
WORK: Hedera, excerpt [2:25]
RECORDING: Hedera
SOURCE: Physical Editions PE009
INFO: physicaleditions.com OR lesleyflanigan.bandcamp.com
ARTIST: Lesley Flanigan
WORK: Can Barely Feel My Feet [5:39]
RECORDING: Hedera
SOURCE: Physical Editions PE009
INFO: physicaleditions.com OR lesleyflanigan.bandcamp.com
ARTIST: wild Up, conducted by Christopher Rountree
WORK: The Edge of Forever, Scene 5: From Stone and To Forever [12:09]
RECORDING: Lewis Pesacov & Elizabeth Cline: The Edge of Forever
SOURCE: The Industry Records
INFO: TheIndustryLA.org 
ARTIST: Bang on a Can All-Stars & Choir of Trinity Wall Street, cond. Julian Wachner
WORK: Julia Wolfe: Foundation [19:35]
RECORDING: Anthracite Fields
SOURCE: Cantaloupe Music 21111
INFO: cantaloupemusic.com
ARTIST: Contemporaneous
WORK: Finnegan Shanahan: The Azimuth [7:58]
RECORDING: The Two Halves
SOURCE: New Amsterdam  NWAM 074
INFO: newamrecords.com | finneganshanahan.com