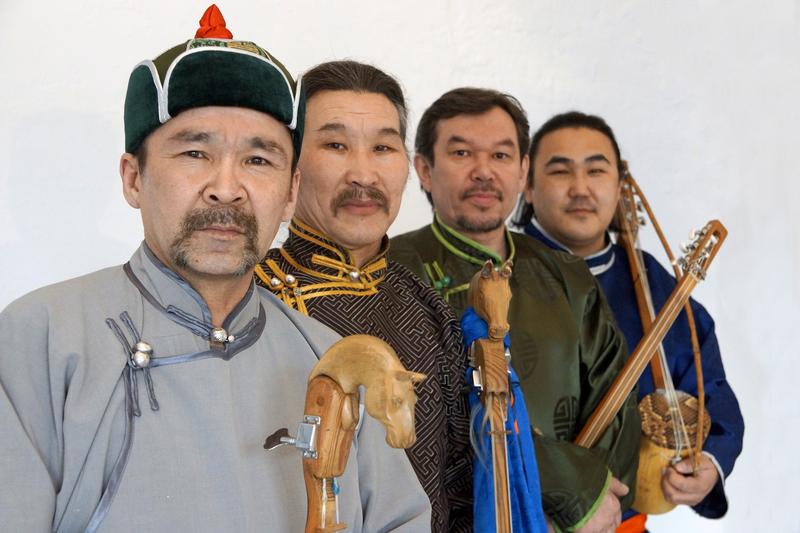 Tuva, out on the Steppes of Central Asia, in southern Siberia and neighboring Mongolia, is an autonomous region of Russia. The people of this Central Asian Republic are nomadic and throat-singing is an unofficial symbol of the republic. Listen to masters of Tuvan throat singing on this edition of New Sounds, from the growling vocal technique kargyraa to the high pitch whistle, called sygyt. Explore the surprising ways in which western folk music and Tuvan folk music intersect. Hear music from the New York-based Hazmat Modine, the Tuvan groups Huun Huur Tu and Alash, as well as music from the late bluesman Paul Pena.
From a forthcoming record, listen to the Tuvan group Alash, in collaboration with New York band, Hazmat Modine and note the throat singing on the harmony vocals on "Your Sister." Then, hear throat singing, in the kargyraa style from the late blind bluesman, Paul Pena, former sideman to blues greats such as B.B. King and John Lee Hooker, who became one of the few Western masters of the throat-song of Tuva. (He even won an audience favorite award at a throat-singing competition in the Tuvan capital Kyzyl, as documented in the film, "Genghis Blues.")
Plus, hear the late Tuvan throat-singing master Kongar-ol Ondar (1962–2013), in a medley of throat-singing styles with accompaniment on the Tuvan banjo, the doshpuluur. Then, listen to Tuvan guitarist and throat singer, Albert Kuvezin, together with Yat-Kha covering Led Zeppelin. Kuvezin was a founding member of the traditional Tuvan group Huun Huur Tu, but left to form Yat-Kha, and pursue links to other styles of music, like American rock music, which he collected growing up. Also, hear collaborative music by Huun Huur Tu with Hazmat Modine, and more. 
PROGRAM #3864, The Tuvan Connection (First Aired 5-23-2016) 
ARTIST: Kongar-Ool Ondar
WORK: Medley Of Throat-Singing Styles, excerpt [:45]
RECORDING: Deep In The Heart of Tuva - Cowboy Music From The Wild East
SOURCE: Ellipsis Arts 4080
INFO: Available at Amazon.com
ARTIST: Hazmat Modine with Alash
WORK: Your Sister, excerpt [1:00]
RECORDING: Extra-Deluxe-Supreme
SOURCE: Barbes Records
INFO:  Also available on vinyl: jaro.de/hazmat-modine
ARTIST: Kongar-Ool Ondar
WORK: Medley Of Throat-Singing Styles [4:31]
RECORDING: Deep In The Heart of Tuva - Cowboy Music From The Wild East
SOURCE: Ellipsis Arts 4080
INFO: Available at Amazon.com
ARTIST: Hazmat Modine with Huun-Huur-Tu
WORK: It Calls Me [3:10]
RECORDING: Bahamut
SOURCE: Geckophonic #CPZ009
INFO: hazmatmodine.com
ARTIST: Hazmat Modine with Alash
WORK: Your Sister [5:35]
RECORDING: Extra-Deluxe-Supreme
SOURCE: Barbes Records
INFO:  Also available on vinyl: jaro.de/hazmat-modine
ARTIST: Kongar-ol Ondar & Paul Pena
WORK: Kargyraa Moan [4:00]
RECORDING: Genghis Blues (soundtrack)
SOURCE: Six Degrees #657036 1038
INFO: genghisblues.bandcamp.com or available at Amazon.com
ARTIST: Jenna Moynihan
WORK: Dolina MacKay [0:10]
RECORDING: Woven
SOURCE: Jenna Moynihan
INFO: http://www.jennamoynihan.com/
ARTIST: Albert Kuvezin And Yat-Kha
WORK: When the Levee Breaks [6:01]
RECORDING: Re-Covers
SOURCE: World Village #468061
INFO: worldvillagemusic.com
ARTIST: Albert Kuvezin And Yat-Kha
WORK: Yenisei-Punk [3:10]
RECORDING: Deep In The Heart of Tuva - Cowboy Music From The Wild East
SOURCE: Ellipsis Arts 4080
INFO: Available at Amazon.com

ARTIST: Oleg Kuular, Mikhail Alperin, Et Al  
WORK: Tuvan Industrial [5:58]
RECORDING: Deep In The Heart of Tuva - Cowboy Music From The Wild East
SOURCE: Ellipsis Arts 4080
INFO: Available at Amazon.com
ARTIST: Huun Huur Tu & Carmen Rizzo
WORK: Mother Taiga [6:49]
RECORDING: Eternal
SOURCE: GreenWave Music, Electrofone Music 2009
INFO: greenwavemusic.ru, electrofone.com
ARTIST: Kronos Quartet with Huun-Huur-Tu (Throat Singers of Tuva)
WORK: Kongerei (Where Has My Country Gone?)  (arr. Steven Mackey)  [3:43]
RECORDING: Night Prayers
SOURCE: Nonesuch 79346
INFO: nonesuch.com