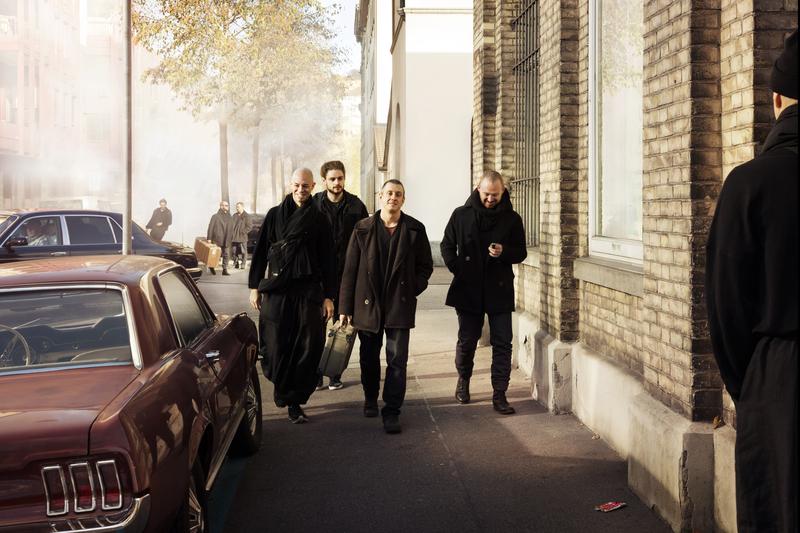 For this New Sounds, listen to acoustic chamber-jazz ritual music by Swiss composer Nik Bärtsch, and his group, Mobile, whose latest recording, Continuum, somehow creates space with its layers of repeating musical patterns.  
Then, sample music by Australian-born Dutch-based composer Kate Moore for Bang on a Can All-Stars cellist Ashley Bathgate, from a years-long collaborative cycle of music for cello, Stories for Ocean Shells. Listen to layers of Ashley Bathgate's cello and electronics in "Broken Rosary" and "Velvet," along with music from Steve Reich's "Counterpoint" series of works. Written for virtuoso cellist Maya Beiser, "Cello Counterpoint" is an octet for eight cellos, on this recording, all played by Beiser.
Plus, hear music by Terry Riley, considered to be one of the founders of minimalism. Hear his work from the late 1980's, "Across the Lake of the Ancient Word," for synthesizers and live tape delay. 
PROGRAM #3860, Layers & Electronics (First Aired 5-12-2016)  
ARTIST: Maya Beiser
WORK: Steve Reich: Cello Counterpoint, excerpt [1:00]
RECORDING: You Are (Variations)
SOURCE: Nonesuch 79891
INFO:     nonesuch.com
ARTIST: Ashley Bathgate & Kate Moore
WORK: Velvet [11:27]
RECORDING: Stories for Ocean Shells
SOURCE: Cantaloupe Music
INFO: Due out May 20, 2016, at bangonacan.org
ARTIST: Maya Beiser
WORK: Steve Reich: Cello Counterpoint [11:31]
RECORDING: You Are (Variations)
SOURCE: Nonesuch 79891
INFO:     nonesuch.com
WORK: Terry Riley: Across the Lake of the Ancient Word  [7:25]
RECORDING: Shri Camel
SOURCE: CBS Records / Columbia 35164 (1988)
INFO: Available at Amazon.com or iTunes
ARTIST: Nik Bärtsch's Mobile
WORK: Modul 5 [8:31]
RECORDING: Continuum
SOURCE: ECM 2464
INFO: ecmrecords.com
ARTIST: Ashley Bathgate & Kate Moore
WORK: Broken Rosary [5:41]
RECORDING: Stories for Ocean Shells
SOURCE: Cantaloupe Music
INFO: Due out May 20, 2016, at bangonacan.org