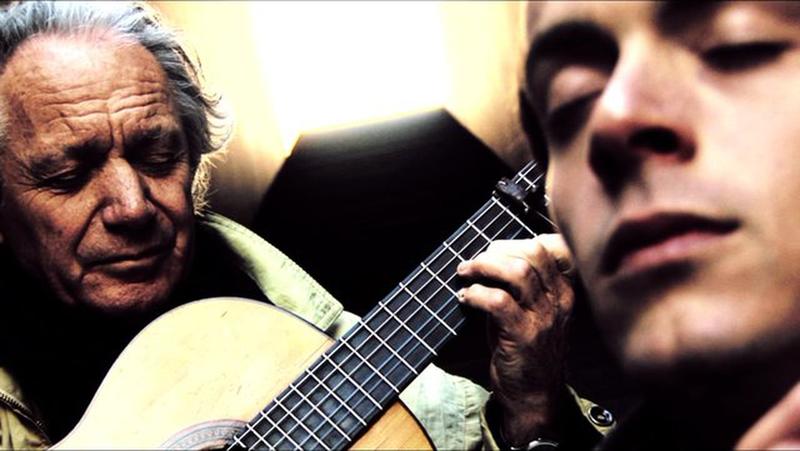 It's the best time of the month on New Sounds – it's the new releases show. John Schaefer has sorted through the overwhelming amount of digital submissions, CDs, and vinyl (with digital download codes), which have come across his desk, (or over the transom), and into his inbox over the past month to present some of the finest new releases. He'll skim off the cream. He'll pick the lentils from the ashes.
Hear music from the celebrated flamenco guitarist Pedro Soler and his son, "cross-country" cellist Gaspar Claus (who collaborates with contemporary classical, improvisatory and pop folks), from a forthcoming record, "Al Viento." Then, hear new music from Nashville-based guitarist and composer William Tyler, from his forthcoming record, "Modern Country."  Tyler's solo guitaristry is brimming with melodies of roads less traveled, and backed by the likes of multi-instrumentalist Phil Cook (Hiss Golden Messenger, Blind Boys of Alabama), bassist Darin Gray (Tweedy, Jim O'Rourke), and percussionist Glenn Kotche (Wilco).
Then, listen to spacious acoustic chamber jazz-ish ritual music from Nik Bärtsch and his group, Mobile, whose latest recording, Continuum, also includes a string quartet. There's also chamber jazz from the Charlottesville, VA-based group Restroy, music from cellist Joan Jeanrenaud featuring percussion by PC Munoz, and a cello-based dreamscape from Janel Leppin. Plus, ambient music from Aukai, who is German-born multi-instrumentalist and composer Markus Sieber, and more. 
PROGRAM #3856, New Releases, April 2016 (First Aired 4-27-2016)       
ARTIST: Pedro Soler & Gaspar Claus
WORK: Vendaval (por Buleria), excerpt [1:00]
RECORDING: Al Viento
SOURCE: InFiné Music 
INFO:  Due out May 13, 2016  | pedrosoler-gasparclaus.bandcamp.com
ARTIST: William Tyler
WORK: Gone Clear [6:09]
RECORDING: Modern Country
SOURCE: Merge Records 
INFO: Due out June 3, 2016 
ARTIST: Aukai
WORK: Cachoeira [3:28]
RECORDING: Aukai
SOURCE: aukai.bandcamp.com
INFO: Due out June 3, 2016
ARTIST: Nik Bärtsch's Mobile
WORK: Modul 44 [10:00]
RECORDING: Continuum
SOURCE: ECM 2464
INFO: ecmrecords.com
ARTIST: Restroy
WORK: Skin [6:54]
RECORDING: Saturn Return
SOURCE: Milk Factory Productions 
INFO: milkfactoryproductions.bandcamp.com
ARTIST: Joan Jeanrenaud
WORK: Dead Reckoning [5:04]
RECORDING: Visual Music
SOURCE: Deconet Records
INFO: jjcello.com/store
ARTIST: Janel Leppin
WORK: Namesake [5:19]
RECORDING: Mellow Diamond
SOURCE: Wedderburn Records
INFO: janelleppin.bandcamp.com
ARTIST: Pedro Soler & Gaspar Claus
WORK: Vendaval (por Buleria), excerpt [1:00]
RECORDING: Al Viento
SOURCE: InFiné Music 
INFO:  Due out May 13, 2016  | pedrosoler-gasparclaus.bandcamp.com