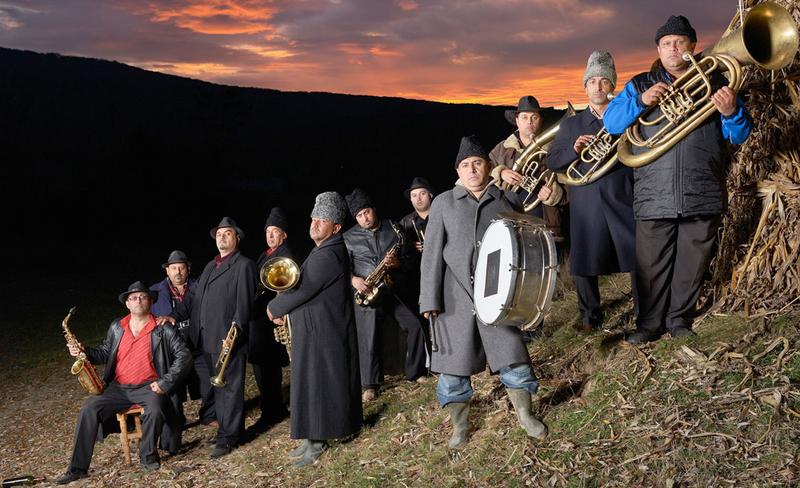 Celebrate the sounds of Romanian music on this New Sounds program, with Romanian bands and artists from France, Ireland, Spain and New York that look to music of Romania and music of the Roma people.
From the village of Zece Prajini in the north east of Romania, listen to powerfully fun music from the self-dubbed "speed kings of gypsy brass" Fanfare Ciocarlia. Their brand new brass-stravaganza is a record called Onwards to Mars! and it's an absolute banger. We'll hear both a tune called "3 Romanians," and a traditional Romanian tune, "Trenul masina mica."
Then, listen to music by fellow Romanian "band of brigands," the string ensemble, Taraf de Haïdouks. They come from the small Romanian Village Of Clejani, southwest of the capital city of Bucharest. Taraf's dizzying fiddle dances are sometimes anchored by an innovative drone generated by pulling a bow hair or fishing line across the strings of the fiddle. Also, from the very same village, listen to more brass music from Gypsy funk and Romanian roots rockers, Mahala Rai Banda – who might be the "Balkan equivalent of the Memphis Horns with the rhythm section from Muscle Shoals." (Asphalt Tango.)

Also, hear music from string quartet Brooklyn Rider, as they play a traditional Romanian tune called a doina - improvisational in nature and highly melismatic. This particular doina comes from along the Olt River, and was arranged by Ljova for "The Silk Road Project", after the Romanian composer/violin virtuoso Grigoras Dinicu. Then, listen to Irish new music adventurers like Nick Roth, Kate Ellis, Adrian Hart - as Yurodny, who interpret music from the Ukraine, the Balkans and Near East, as well as create and new music inspired by the same, like the tune (dig those tasty sevens!), "Tangy Decoherence."
Plus, hear music from a French klezmer Balkan swing band, La Fanfare Couche-Tard, whose name translates to "Night Owl Band" or "goes-to-bed-late band." There's also music from the Balkans, courtesy of Jordi Savall and Hesperion XXI, along with music from the New York-based Luminescent Orchestrii, and funky Romanian music by 19-piece French band Bigre! And more. 
PROGRAM #3854, Funky Romania (First Aired 4-15-2016)  
ARTIST: Bigre!
WORK: Funky Romania, excerpt [1:00]
RECORDING: Les icebergs aussi
SOURCE: Linn Records 42548
INFO: linnrecords.com
ARTIST: Fanfare Ciocarlia
WORK: 3 Romanians [3:22]
RECORDING: Onwards to Mars!
SOURCE: Asphalt Tango Records  CD-ATR 5116
INFO: asphalt-tango.de

ARTIST: Taraf de Haïdouks
WORK: Turceasca [6:09]
RECORDING: Taraf de Haïdouks
SOURCE: Nonesuch 79554
INFO: nonesuch.com

ARTIST: Luminescent Orchestrii
WORK: Dreaming in Turkish (Fand) – [4:53]
RECORDING: Neptune's Daughter
SOURCE: Nine Mile Records 0190 
INFO: ninemilerecords.com

ARTIST: Mahala Rai Banda
WORK: Kolo Baro [3:24]
RECORDING: Ghetto Blasters
SOURCE: Asphalt Tango Records CDATR 2509
INFO: asphalt-tango-shop.de

ARTIST: Fanfare Ciocarlia
WORK: Trenul masina mica [4:36]
RECORDING: Onwards to Mars!
SOURCE: Asphalt Tango Records  CD-ATR 5116
INFO: asphalt-tango.de
ARTIST: Bigre!
WORK: Funky Romania [4:54]
RECORDING: Les icebergs aussi
SOURCE: Linn Records 42548
INFO: linnrecords.com
ARTIST: La Fanfare Couch Tarde
WORK: Coupe Mulet [4:20]
RECORDING: Balkanize Me
SOURCE: Available at Amazon.com or iTunes. 
INFO: Info at Soundcloud or Facebook

ARTIST: Brooklyn Rider
WORK: Doina Oltului (Romanian Traditional) 
Arranged by Ljova for "The Silk Road Project", after Dinicu [4:15]
RECORDING: A Walking Fire
SOURCE: Mercury Records
INFO: brooklynrider.com

ARTIST: Jordi Savall/Hesperion XXI  
WORK: Doina, Hora (Romania) [5:26]
RECORDING: Esprit des Balkans (Balkan Spirit) 
SOURCE: Alia Vox; AVSA 9898
INFO: alia-vox.com
ARTIST: Yurodny
WORK: Tangy Decoherence, excerpt [4:02]
RECORDING: Haivka
SOURCE: Diatribe
INFO: shop.diatribe.ie