New Sounds
#3853: Under the Chamber Music Umbrella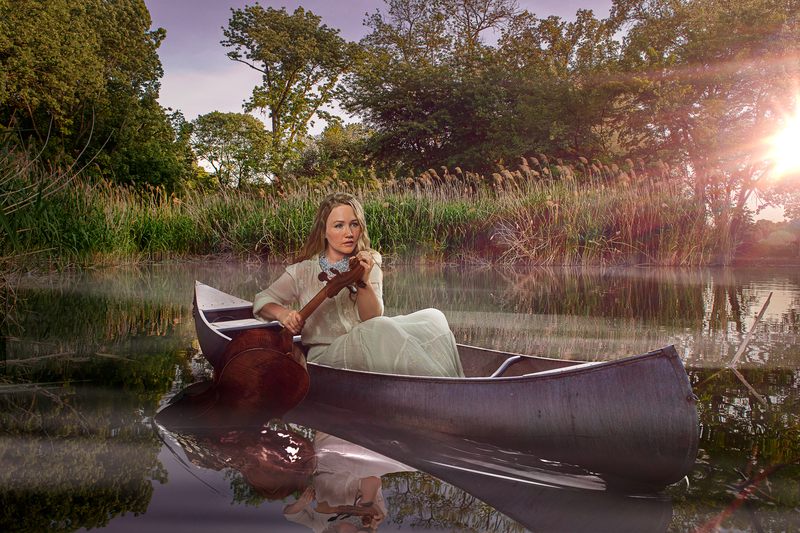 Hear works that fit under the umbrella of chamber music on this New Sounds from a choir of cellos (OK, celli) performed by Ashley Bathgate of Bang on a Can All-Stars, a choir of voices in the group Tenebrae, and a choir of strings in the Tallin Chamber Orchestra.
From a years-long collaborative cycle of music for cello, preview Stories for Ocean Shells by Australian-born Dutch-based composer Kate Moore. Listen to layers upon layers of Ashley Bathgate's cello in the title track from a forthcoming release due in May. (Cantaloupe Music.)  Also, hear a selection from "Labyrinth," a suite of short pieces for string ensemble by Estonian composer Tonu Korvitz, from his recent Mirror, featuring the Tallin Chamber Orchestra and cellist Anja Lechner. Plus, listen to minimalism-leaning melody-rich music by the Sirius Quartet, from their latest, Paths Become Lines, written by their cellist, Jeremy Harman.
Then there's new music from the Sleeping Giant composers collective for the Chicago-based ensemble eighth blackbird from their fresh and piping-hot release, Hand Eye. Listen to a visual work by pianist/composer Timo Andres inspired by a patterned pen and ink abstraction, and intended to be "structured as a gradual zoom outward," his piece, "Checkered Shade." From the same record, hear Jacob Cooper's vibraphone-rooted work, "Cast," which gradually removes the vibes in the way an artist making paper casts removes the original objects. (For reference, please enjoy this paper casting crafty video.) All that, and more. 
PROGRAM #3853, More Chamber Music (First Aired 4-14-2016)     
ARTIST: eighth blackbird
WORK: Jacob Cooper: Cast, excerpt [1:00]
RECORDING: Hand Eye
SOURCE: Cedille Records 90000 162
INFO: cedillerecords.org
ARTIST: eighth blackbird
WORK: Timo Andres: Checkered Shade [13:58]
RECORDING: Hand Eye
SOURCE: Cedille Records 90000 162
INFO: cedillerecords.org
ARTIST: Kate Moore / Ashley Bathgate, cello
WORK: Kate Moore: Stories for Ocean Shells [9:18]
RECORDING: Stories for Ocean Shells
SOURCE: Cantaloupe Music
INFO: Due out May 20, 2016, at bangonacan.org
The piece also exists as a piano work, on  "Dances and Canons" ECM Records 2344
ARTIST: Tallin Chamber Orchestra with Anja Lechner, Violoncello
WORK: Tonu Korvitz: Labyrinth V [2:42]
RECORDING: Tonu Korvitz: Mirror
SOURCE: ECM Records 2327
INFO: ecmrecords.com
ARTIST: Ola Gjeilo & Tenebrae
WORK: Ola Gjeilo: The Lake Isle [6:16]
RECORDING: OLA GJEILO Voices Piano Strings
SOURCE: Decca 4788689
INFO: deccaclassics.com
ARTIST: Sirius Quartet
WORK: Jeremy Harman: Paths Become Lines [6:20]
RECORDING: Paths Become Lines
SOURCE: Autentico Music / Maxos 00004
INFO: autenticomusic.com or Amazon.com 
ARTIST: eighth blackbird
WORK: Jacob Cooper: Cast  [10:50]
RECORDING: Hand Eye
SOURCE: Cedille Records 90000 162
INFO: cedillerecords.org