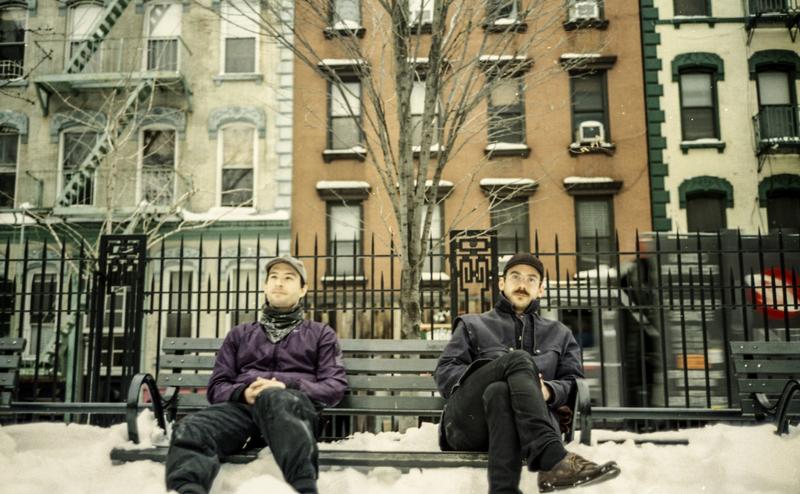 Hear music by the new breed of art-rock bands, who dance with ambitions beyond the pop song, and sample liberally from jazz, minimalism, chamber music, Afrobeat horns,and anything else that suits them. Listen to dense and exuberant new music from Skeletons, which is a rotating cast of collaborators, led by composer and filmmaker Matt Mehlan. From their latest record Am I Home?, hear the spiky, spicy, electricity, and at times, big band-feel of "It's Infinite," where Mehlan sings after an expansive instrumental section. 
Then, hear music from Baltimore-based Horse Lords, whose music exists at the way-station between notated score and improvisation, electronics and acoustic performance, and combines some Afrobeat rhythms with minimalism, a wild sax, and other found sounds as raw material.   
Hit the way-back machine for music from Battles, from their very early release, EP C, back from when they were a four piece band instrumental rockers, over ten years ago. On the track, "B & T," they develop their repeating melodic and rhythmic patterns, crafting them from acoustic and electronic elements, not unlike minimalists, but a little more art-rock and angular.  Plus, listen to music by guitarist, keyboardist and former member of Battles, Tyondai Braxton, and his piece "Central Market" for large orchestra and orchestra.
There's also new music by Marcos Balter for experimental art-punkers Deerhoof and new music group Ensemble Dalniente, music from My Brightest Diamond with Detroit Party Marching Band and then with yMusic, and guitar-based Afro-poppy minimalist band Empyrean Atlas, as well. 
PROGRAM #3849, New Breed of Art Rock (First Aired 4-4-2016)     
ARTIST: Skeletons
WORK: It's Infinite, excerpt [2:00]
RECORDING: Am I Home?
SOURCE: Shinkoyo
INFO: shinkoyo.bandcamp.com
ARTIST: Horse Lords
WORK: Truthers [5:46]
RECORDING: Interventions
SOURCE: Northern Spy Records 
INFO: Due out April 29, 2016
horselords.bandcamp.com

ARTIST: Battles
WORK: B & T [6:30]
RECORDING: EP C
SOURCE: Monitor #019
INFO:  bttls.com OR warprecords.github.io
ARTIST: My Brightest Diamond & Detroit Party Marching Band
WORK: Resonance [4:24]
RECORDING: This Is My Hand
SOURCE: Asthmatic Kitty Records AKR103
INFO: mybrightestdiamond.bandcamp.com
ARTIST: Skeletons
WORK: It's Infinite [8:29]
RECORDING: Am I Home?
SOURCE: Shinkoyo
INFO: shinkoyo.bandcamp.com
ARTIST: My Brightest Diamond &  yMusic
WORK: Hi Low Middle [3:33]
RECORDING: All Things Will Unwind
SOURCE: Asthmatic Kitty Records AKR 085
INFO: mybrightestdiamond.bandcamp.com 
ARTIST: Deerhoof & Ensemble Dal Niente
WORK: Marcos Balter: meltDown Upshot 1. Credo [4:47]
RECORDING: Balter / Saunier
SOURCE: New Amsterdam Records 
INFO: Due out April 29, 2016  dalnientedeerhoof.bandcamp.com
ARTIST: Deerhoof & Ensemble Dal Niente
WORK: Marcos Balter: meltDown Upshot 6: Cherubim [2:42]
RECORDING: Balter / Saunier
SOURCE: New Amsterdam Records 
INFO: Due out April 29, 2016  dalnientedeerhoof.bandcamp.com
ARTIST: Tyondai Braxton
WORK: Opening Bell [5:01]
RECORDING: Central Market
SOURCE: Warp Records 184 
INFO: warp.net
ARTIST: Empyrean Atlas
WORK: Green Arrow [3:43]
RECORDING: Empyrean Atlas
SOURCE: empyreanatlas.bandcamp.com