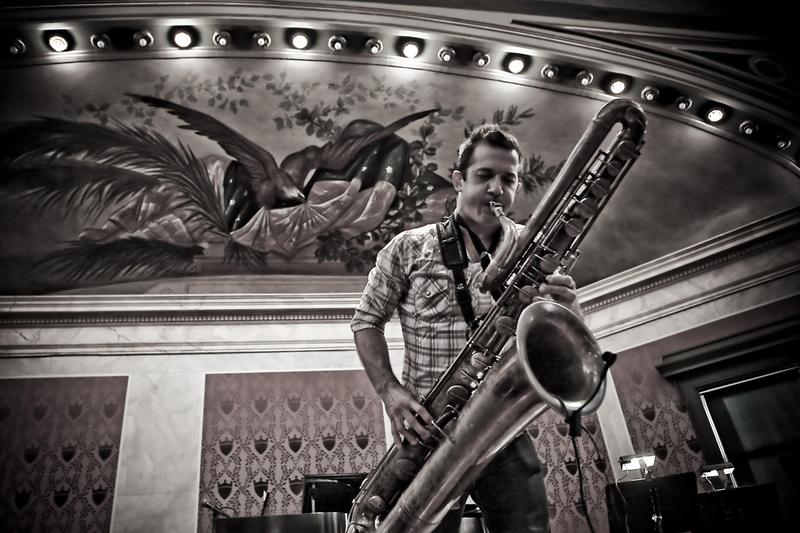 It's that time of the month again for the new releases show on New Sounds. John Schaefer carefully sorts through the stacks of new CDs, the album trailers & teasers, Soundcloud files, and other digital submissions which have come across his desk and into his inbox over the past month to present some of the finest new releases. He'll skim off the cream. He'll pick the lentils from the ashes. You get it.
On tap are previews of forthcoming records by Leyla McCalla, Colin Stetson, and Brian Eno. Cellist and singer Leyla McCalla, formerly a member of the Carolina Chocolate Drops, swings through a tour of the Fertile Crescent on her latest record, due out in May, "A day for the hunter, a day for the prey." (A Haitian proverb provides the record's title.) McCalla's music cuts deep, despite her light touch, and is infused with a Cajun feel, all the while drawing on Creole and Haitian roots, as well as American folk and string band music.
Then, listen to an excerpt of Colin Stetson's reworking of Henryk Gorecki's "greatest hit" – his Symphony No.3, "Symphony of Sorrowful Songs," as well as a bit of Brian Eno's latest ambient electronic creation - "The Ship." Also, hear music from the South African guitar virtuoso, Guy Buttery, along with cosmic music by the duo of Vijay Iyer and Wadada Leo Smith. Borderless music from Algerian bassist Michel Benita, featuring a Japanese koto player, together with a Swiss flugelhornist, a Norwegian guitarist, and a French drummer rounds out the show. 
PROGRAM #3848, New Releases, March 2016 (First Aired 3-31-2016)      
ARTIST: Colin Stetson
WORK: II, Excerpt [1:30]
RECORDING: Sorrow: a Reimagining of Gorecki's Third Symphony
SOURCE: Kartel Music Group, Due out April 8, 2016
INFO: colinstetson.com 
ARTIST: Tinariwen
WORK: Imidiwan Ma Tenam [4:52]
RECORDING: MusicNOW 10 Years
SOURCE: brassland.bandcamp.com

ARTIST: Guy Buttery, ft. Vusi Mahlasela
WORK: Werner Meets Egberto in Manaus [6:39]
RECORDING: Guy Buttery
SOURCE: guybuttery.bandcamp.com

ARTIST: Michel Benita, Ethics
WORK: Hachi Gatsu [4:42]
RECORDING: River Silver
SOURCE: ECM 2483
INFO: ecmrecords.com
ARTIST: Colin Stetson
WORK: II [10:13]
RECORDING: Sorrow: a Reimagining of Gorecki's Third Symphony
SOURCE: Kartel Music Group, Due out April 8, 2016
INFO: colinstetson.com 
ARTIST: Vijay Iyer & Wadada Leo Smith
WORK: Passage [6:09]
RECORDING: a cosmic rhythm with each stroke
SOURCE: ECM 2486
INFO: ecmrecords.com
ARTIST: Leyla McCalla
WORK: Bluerunner [2:09]
RECORDING: A day for the hunter, a day for the prey
SOURCE: Jazz Village, Due out May 27, 2016
INFO: jazzvillagemusic.com 

ARTIST: Brian Eno
WORK: The Ship, excerpt [9:28]
RECORDING: The Ship
SOURCE: Warp Records, Due out April 29, 2016
INFO: brian-eno.net/the-ship